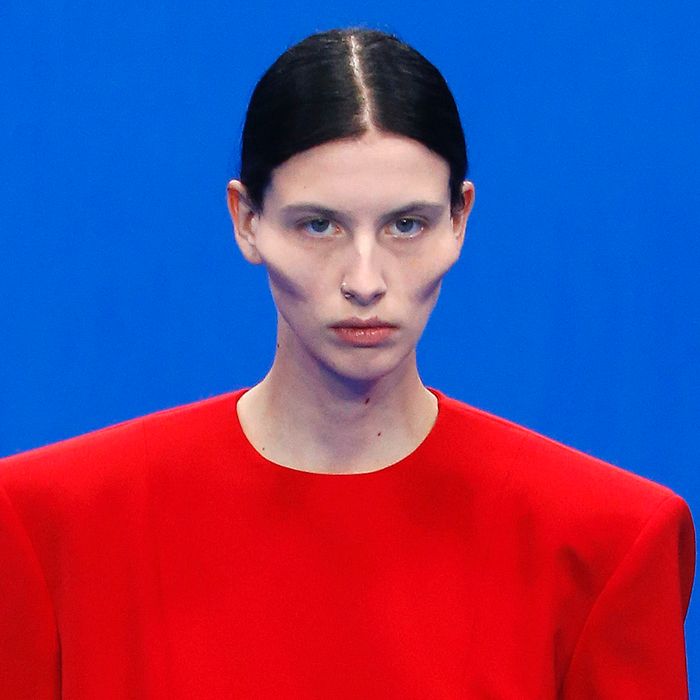 Photo: Estrop/Getty Images
At Balenciaga's S/S 2020 runway show at Paris Fashion Week on Sunday, power dressing was the theme of the day. As WWD reports, the show's notes described the collection as a reimagined dressing for a working person's lifestyle: "power dressing, no matter what one does as a job." While the collection had the sorts of pieces one typically thinks of in relation to business wear — blazers, suits, and sheath dresses — they were all accompanied by overemphasized features, like huge, angular shoulders and cartoony, oversized cuts. Other non-workwear items included enormous ballgowns that bobbed whimsically down the runway and humongous puffer jackets that dwarfed the shoulders of the models who wore them.
But there was one detail, not seen in the clothes, that was hard to overlook. The exaggerated elements of the pieces had also extended to the beauty component: Models sported prosthetic facial makeup that resembled extreme cheek implants and enlarged lips, while others had more hollowed-out cheeks.
Whether the prosthetics could be a comment on the continuously rising popularity of modern cosmetic treatments, or a nod to the belief in some cultures that prominent cheekbones are a sign of power and authority, or even an homage to Angelina Jolie in Maleficent, is anyone's guess.
Balenciaga's creative director, Demna Gvasalia, told WWD that the collection was about dressing in a uniform. "It's like fashion as uniform to me," he said. "Like, I try to imagine and to kind of create this aesthetic uniform."