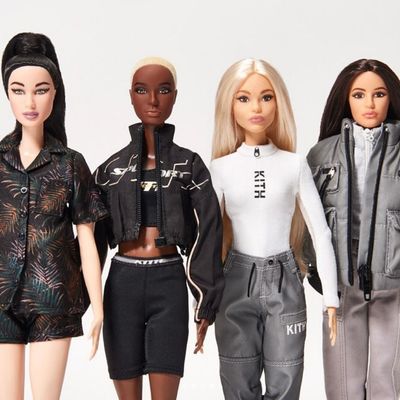 Barbie, noted bellwether of regressive western beauty standards, unveiled a fresh new look today: If you look closely, you may notice that the doll's faces have been altered by what appears to be some not-so-subtle cosmetic enhancement:
The collection is a collaboration with the women's division of streetwear brand Kith, in honor of Barbie's 60th anniversary. And while we're mourning the loss of the doll's signature natural features, it's worth noting that the toy has always acted as a gauge for whatever the most aspirational beauty standards of the day happen to be. The '60s-era Barbie was a swishy blond that appeared to be missing ribs; in the '90s, she was a leggy, blue-eyed pageant queen. In 2016, Time ran a cover story about Mattel's big, brave, market-driven decision to start selling Barbie Dolls with different body types (petite, tall, and curvy).
So, that these latest Barbies are all suffering from a bad case of Instagram Face — marked by filled lips, teeny noses, and high cheeks — makes sense. A wave of Instagram-friendly clinics like Alchemy 43, Kate Somerville, and Skin Laundry have popularized medical beauty treatments (services like Botox, fillers, lip injections, and laser treatments) for the under-30 crowd. And Allergen, the maker of Botox and dermal filler Juvéderm, has been targeting the 20-something market for some time now. According to the American Academy of Facial Plastic and Reconstructive Surgery's 2018 survey, the number of Botox treatments among 22- to 37-year-olds has risen 22 percent since 2013.
Mattel has been dogged about reflecting problematic, unrealistic beauty standards for the half a century it's been making kid's toys. Why stop innovating now?