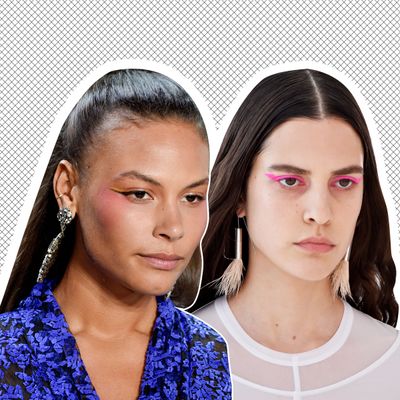 Try putting blush and squares on your eyes.
Photo: Getty Images
While all the youths are heading back to school, we're heading backstage at New York Fashion Week for abbreviated, AP-level classes on how to do your makeup and hair better. The classrooms are littered with no-crease clips, the lectures are taught by world-renowned hairstylists and makeup artists, and everything is demonstrated on the most symmetrical faces in the field. We did some studying over the weekend, and we're letting you copy our homework. Here are five lessons we've learned so far.
1. Fake Freckles Like You Fake Your Brows
In 2019, faking freckles is nothing new. It's a great way to distract from pimples or make it look like you've been getting a cute amount of sun damage without actually putting your skin in harm's way. The latter is the exact role they served backstage at Brandon Maxwell, where lead artist Tom Pecheux dotted supermodels' noses and cheeks to complete the look's "when the beauty comes back from the beach" vibe. Instead of using the expected eyeliner for the job, Pecheaux cocktailed multiple shades of MAC Veluxe Brow Liner to get a more realistic effect before dabbing his handiwork with his fingers to melt it into the skin.
2. Dry Your Hair to Get the Wet Look
Like a shiny, wet-looking face, purposely shiny, wet-looking hair has a certain je ne sais quoi to it. The hair at Prabal Gurung looked extremely hydrated, but lead stylist Laurent Philippon used zero water to create the effect. "If you just wet the hair, this look doesn't work on a lot of textures, so we're using product only." Philippon started on models' dry hair, saturating the roots with Bumble and bumble Thickening Spray, then hitting everything with a Dyson Supersonic hair dryer. Next, everything got re-saturated with Sumo Liquid Wax + Finishing Spray (seriously, don't hold back), and scrunched with a little Sumogel ("It's an extremely gelly texture, not wet at all"). Right before showtime, Phillippon sprayed even more Bb. Curl Luminous Oil Spray to amp it all up. "If you use it an extreme way, it really makes the hair look wet." Have at it.
3. Don't Make Beyoncé Mad
Backstage at Tommy x Zendaya, makeup artist Sir John was telling all of us some of his his makeup pet peeves, among them "baking" — a long-wear makeup technique that involves saturating your skin with powder — and faulty highlighter placement. He doesn't bake, he cooks. "It's unnecessary unless you're on CNN like all day," he explains. Cook by using a smaller, fluffy brush, dipping it in highlighter, dusting it off, and applying in the T-zone only.
He also doesn't love it when you can see highlighter when you're looking at someone straight-on. "You should only see it when someone is turning their head," placed in the C shape around the bones of the eye, otherwise it's distracting and "weird," he says. Personally, he favors warm and gold tones like Lancome Dual Finish Highlighter in Luminous Gold. Since he is Beyoncé's makeup artist, by additive properties, she must not be a huge fan of these beauty pet peeves either, and you wouldn't want to upset Beyoncé now, would you?
4. Square Off Your Eyeliner
Winged liner and cat eyes are notoriously tricky, but the bold liner looks at Helmut Lang are granting us permission to capitalize on our liner mishaps. Lead artist Susie Sobol created bold, punk-inspired liner looks in neon greens, yellows, pinks, and good ol' black. Each winged out and upward, sure, but in a thick, way-more-attainable square shape that you can (and should) just draw with a kohl pencil. Another plus of this liner shape is that it looks great with the light and see-through-lensed sunglasses you'll be wearing next spring, because Sobol dreamed up the neon-liner lineup with them in mind. But if you're still a black-liner truther, she recommends running Code 8 Precision liquid liner into the lash line and beyond for maximum impact. "It's super, super, super, black and has a little bit of a shine to it."
5. Try Some Eye Blush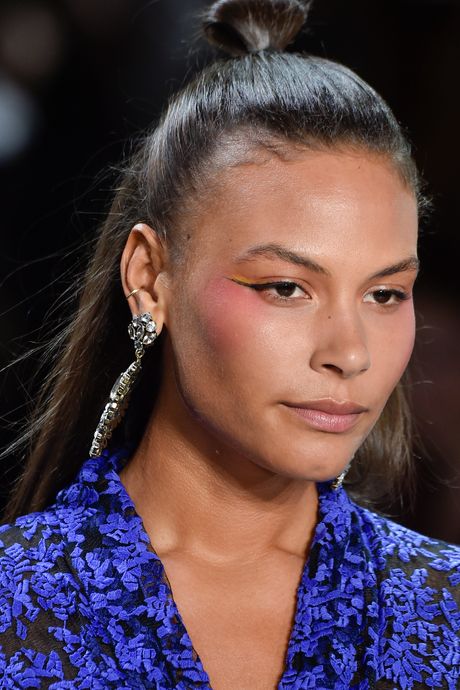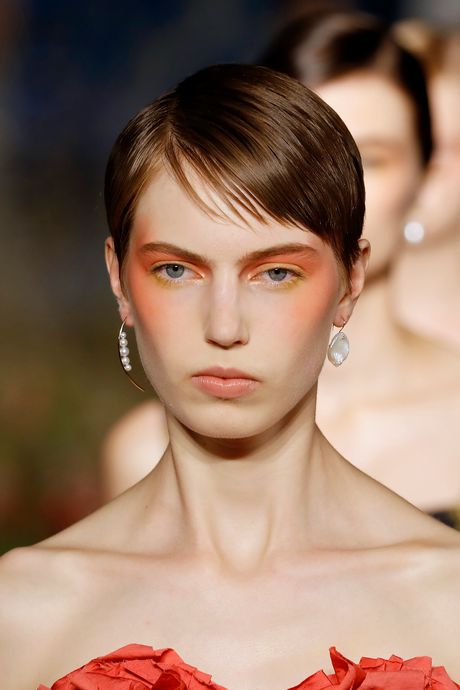 If Euphoria or life in general is making you want to experiment more with makeup, try eye blush. Makeup artists like Daniel Martin and Diane Kendal have taken to applying blush around the eyes. At Tadashi Shoji, Martin's look was a light take on Harajuku girls, and Kendal was inspired by Jason Wu's fascination with Irving Penn flowers. Using Maybelline's Lemonade Craze palette, Kendal used a fluffy brush (she suggests a foundation brush) to pat and tap a light pink shade all over the eye, going from the eyelid to under the eye. It kind of looks like you have a haze of cotton candy decorating your eye, which is better than a dark circle.
If you buy something through our links, New York may earn an affiliate commission.