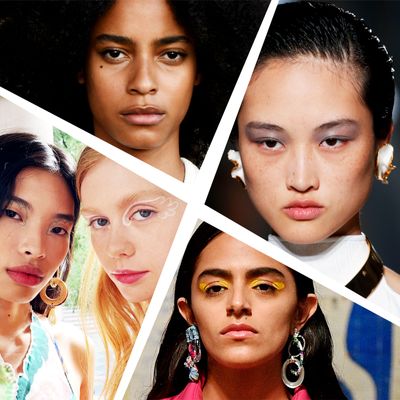 Photo: Getty Images, Daise Bedolla
If backstage is beauty school, then New York Fashion Week ended with the year's final: The Marc Jacobs show, featuring 60 models all with totally different looks. We've been diligently studying the best makeup and hair artists in the business, and we're currently available for extra tutoring and college prep courses. Here are the five most useful tips we learned from the last batch of Spring 2020 shows.
1. Your Cheek Should Be Naked
Backstage at Zero Maria Cornejo, makeup artist Romy Soleimani continued the professional tradition of using products anywhere they please. Lipstick? Not just for the lips. It can be used on the eyes and on the cheeks for a lived-in looking blush. Emulate this and we promise you a lighter makeup bag.
Solemani used a tinted lip balm (Bobbi Brown Extra Lip Tint) for pops of various sheer but vibrant cheek color. When going the multi-use route, she suggests keeping the foundation underneath light, or skipping the base altogether. "It's better to let the cheek color blend with the actual cheek," she says, as balms have a tackier texture. "Should you need coverage in that area, dab on a dryer concealer, but only spot-conceal where you need it." —Jane Larkworthy, Beauty-Editor-At-Large
2. Try Drawing Anything on Your Eyes
Lips, skin, move aside. The hottest real estate at Fashion Week was the space between your eyes and eyebrows. Makeup artists unleashed their creativity on the eyelids, drawing colorful clouds, wings, tails, and other whimsical creations around the area. Maybe Jonathan Cohen, Rosie Assoulin, and Anna Sui all saw Euphoria? —Kathleen Hou, Beauty Director
3. Let Your Eyelids Sweat
Effortless-looking dewy skin is great, but if you want to truly look like you just woke up like that, try taking your eyelids into sweaty territory. At Gabriela Hearst, makeup artist Hannah Murray created one of the most convincing no-makeup makeup looks by completely skipping mascara, liner, and lash curlers. Instead, she simply used a wash of Bobbi Brown Matte Bronzing powder two shades deeper than the models' skin tones on the lid and underneath the lash line, before gently patting lipstick (Bobbi Brown Crushed Lip Color in BlackBerry) into the center of the lid and layering even more lip balm on top. The end result was a "subtle, sweaty texture," that made models skin look "clean and raw."
4. Try an '80s Eye
Michael Kors, Coach, and Proenza Schouler all showed a version of the power shoulder. Extending that to the makeup, Proenza did a softer version of an '80s eye. Yes, eye shadow extended all the way up to the eyebrow, but it was a muted wash of light gray. "Sort of an '80s Armani eye," is how makeup artist Diane Kendal explained the look. Kendal used a gray eyeliner pencil (Maybelline Tattoo Studio Sharpenable Gel Pencil in Intense Charcoal) to line the lashline and diffused it up into the brow. It wasn't as intense as a shoulder pad, and modern. —Kathleen Hou, Beauty Director
5. Dab Your Lipstick On
Most of us smush our lipstick onto our lips, dragging it across our lips. But Soleimani suggests you try dabbing. Don't actually dab — that looks awkward. But tap and press your lipstick over your lips, then use your finger to push the pigment in. It's a technique Soleimani prefers that allows the lipstick (even if it's a bright color) to look more natural and comfortable on the face, rather than like it's sitting there. She and her team used it backstage at Batsheva. —Kathleen Hou, Beauty Director
If you buy something through our links, New York may earn an affiliate commission.