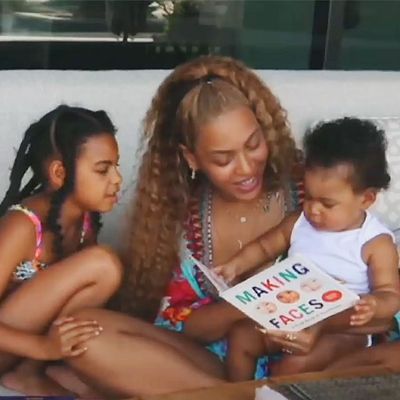 In classic Bey surprise-drop style, the artist released Beyoncé Presents: Making the Gift on ABC last night, a documentary chronicling the creative process behind The Gift, her companion album to July's live-action Lion King remake.
Bey called the album a "love letter to Africa," and much of the film takes viewers along for a Carter-family road trip through the continent, where the record was created.
Beyoncé, who voiced Nala in The Lion King, is generally private, but the documentary offers a rare behind-the-scenes look at her personal life. Her 2-year-old twins, Rumi and Sir, have several cameos (including their walking and talking debuts), and 7-year-old Blue Ivy Carter gives an impressive rendering of "Brown Skin Girl," for which she earned her second writing credit.
Making the Gift follows Homecoming, Bey's first documentary for Netflix, which covered the lead-up to her historic 2018 Coachella performance. Like this latest project, it gives viewers a candid look at the artist's life, with Bey sharing frank details about her post-pregnancy body and the challenges of balancing motherhood and work. (Homecoming inexplicably lost to Carpool Karaoke in the variety-special category at the Creative Arts Emmys over the weekend.)
In spite of her inclination for privacy, Beyoncé's most recent pregnancy has figured prominently in her public persona over the past several years. She's performed while pregnant, shared Instagram photos of her pregnant body, and in last year's Vogue September issue described the harrowing details of an emergency C-section she underwent. For someone who curates her public image as rigorously as she, the decision to share the (frequently uncomfortable) realities of motherhood is deliberate and profound. As Soraya Nadia McDonald put it in The Undefeated, Bey's performance of pregnancy is a political act, a way to reclaim "a positive image for black women amid a history of degradation and slander."
In any case, intimate documentaries seem to be Bey's preferred way of giving peasants a glimpse into her life, and a $60 million, three-project deal with Netflix suggests that more could be in our future.