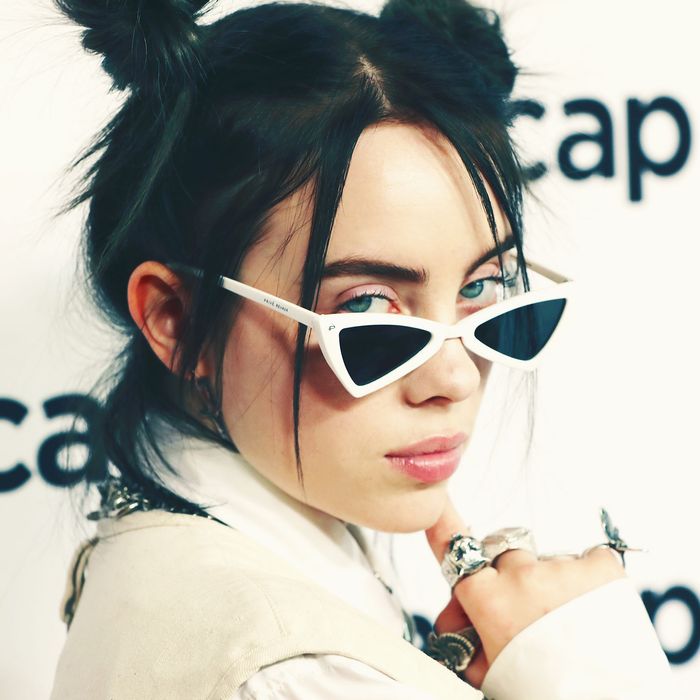 Photo: Ari Perilstein/Getty Images for ASCAP
Teen musician Billie Eilish deigned to comment upon the media's unhealthy obsession with her figure.
In her October cover story for Elle, the 17-year-old talked about her body, which is often clad in oversized sweatshirts and neon parkas. Of course this should not be up for public discussion in the first place, given that Eilish is a minor, but it has been. Eilish discusses in the interview how a photograph taken of her in a tank top after a performance in Nashville this June went viral on social media. "My boobs were trending on Twitter!" Eilish told Elle. "At number one! What is that?! Every outlet wrote about my boobs!" She continued. "It makes me mad. I have to wear a big shirt for you not to feel uncomfortable about my boobs!"
This is a sobering reminder that whether or not young pop stars dance in schoolgirl outfits and swing naked on wrecking balls or wear a paper bag to work, they'll be objectified. Eilish riffed on this impossible choice in the interview, saying, "I'm gonna be a woman. I wanna show my body. What if I wanna make a video where I wanna look desirable?"
There's absolutely nothing wrong with tank tops but there's a lot wrong with people, and Eilish knows it. She told Elle:
"I was recently FaceTiming a close friend of mine who's a dude, and I was wearing a tank top. He was like, 'Ugh, put a shirt on!' And I said, 'I have a shirt on.' Someone with smaller boobs could wear a tank top, and I could put on that exact tank top and get slut-shamed because my boobs are big. That is stupid. It's the same shirt!"
Can't agree more that we live in a very stupid world!