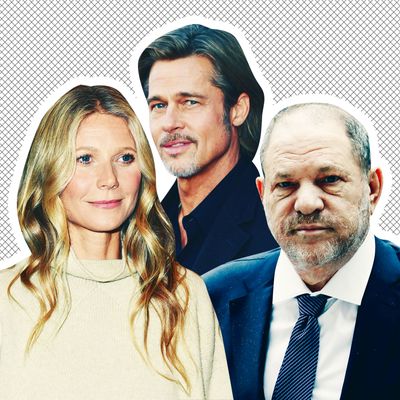 Gwyneth Paltrow, Brad Pitt, and Harvey Weinstein.
Photo: Getty Images
In an interview with CNN's Christiane Amanpour this week, Brad Pitt discussed confronting Harvey Weinstein after the disgraced Hollywood mogul allegedly harassed Pitt's then-girlfriend, Gwyneth Paltrow, saying, "At that moment, I was just a boy from the Ozarks on the playground, and that's … and that's how we confronted with things."
As Paltrow told the New York Times in 2017, shortly after she landed the lead role in the film adaptation of Jane Austen's Emma when she was 22, Weinstein invited her to his hotel suite, and tried to force a "massage" on her. Paltrow told Pitt, who she says later went up to Weinstein at a Broadway production of Hamlet, and told the producer, "If you ever make her feel uncomfortable again, I'll kill you."
"What he did was he leveraged his fame and power to protect me at a time when I didn't have fame or power yet," Paltrow told the Times. "He's the best."
"It's obviously Gwyneth's story to tell, and the reporters story to tell," Amanpour said in this week's interview, referring to Times reporters Megan Twohey and Jodi Kantor, who reported extensively on the allegations against Weinstein, including Paltrow's. "But I wonder if you can add anything to that, because you do come out as one of the heroes of this story. You confronted a guy that very few people were willing to confront, apparently."
"Oh, well I think that's a bit much," Pitt replied. He explained that, growing up in Missouri, getting in someone's face was how he learned to deal with things.
"I just wanted to make sure nothing was going to happen further because she was going to do two films [with Weinstein]," he went on. "I think the interesting thing is that we, Hollywood specifically — but the workplace, men and women's dynamics — is being recalibrated, recalibrated in a very good way that is long overdue. And I do think that's an important story to tell."