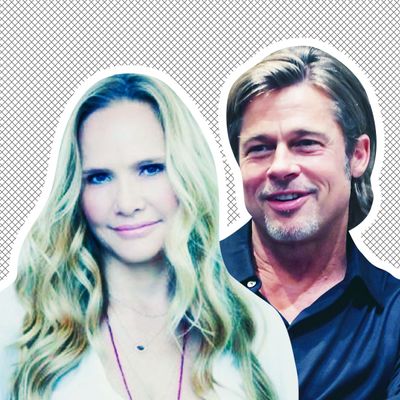 Sat Hari Khalsa and Brad Pitt.
Photo: AMRIT Jewelry, Getty Images
It's been a big year for Brad Pitt. The actor and noted handsome man finalized his divorce from Angelina Jolie, starred in two blockbuster movies, and has a whole new look. And now, he has gone from not dating an MIT professor to not dating a holistic healer.
Last year, tabloids buzzed with reports that the Ad Astra actor was infatuated with architect and MIT professor Neri Oxman. The rumors persisted for a couple of months, but then it turned out that Oxman was still with her billionaire boyfriend, Bill Ackman. As for Pitt, he bounced back with another murky relationship rumor.
On Tuesday, Us Weekly (which, as the Cut's Allie Jones noted last year, has grown "more fantastical since it was sold to the Trump-friendly AMI" in 2017) reported that Pitt, 55, is dating Sat Hari Khalsa, 50, a jewelry designer and holistic healer.
"She's very strong and has a beautiful mind," said one source. "That's what he's attracted to." (Is Pitt trying to say he's a sapiosexual?)
The tabloid said the pair "first sparked hookup rumors a year ago," when they both attended a Silverlake Conservatory of Music gala. It noted, however, that their relationship "isn't too heavy or serious just yet."
Indeed, according to another report from E! hours later, the relationship is so light and unserious because it is nonexistent. "Brad Pitt Is Not Dating Sat Hari Khalsa Despite Report" the headline read.
Per E!, Pitt and Khalsa's connection is not romantic but spiritual. "She's providing him with some guidance and has been a welcome breath of fresh air and spirituality in his life," said another source. "He feels like he has a lot to learn to better himself."
In any case, at least he always has his pottery.