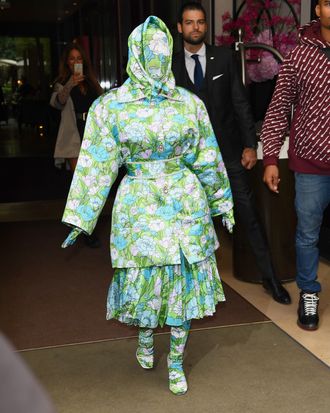 Photo: Beretta/Sims/Shutterstock
As much as she loves her Fashion Nova 'fits, Cardi knows how to work high fashion, whether she's wearing archival Thierry Mugler or resembling walking wallpaper. The rapper arrived at Paris Fashion Week in an outfit consisting of literal head-to-toe floral print: a belted coat, pleated skirt, gloves, and tights, complete with a matching mask and a hood that disguised her hair and face. No one could guess that it was Cardi hiding underneath the surreal ensemble, which is by British fashion designer Richard Quinn. That was, until she spoke, and a familiar cackle was heard from all.
"What's poppin' baby?" Cardi says in an Instagram video announcing her presence at PFW. "I heard you bitches were missing me at Fashion Week New York. I'm here to serve it to you motherfuckers, and serve it to you cold," Cardi warns, as she walks down a street in front of the Eiffel Towel. "You bitches could really never," she says, adding, "make sure a car don't hit me, 'cause a bitch can't see."
She looks like a high-fashion superhero. This, to, me is the perfect disguise to wear when you want to go incognito on a Taco Bell run.
The look was debuted during Quinn's fall 2019 collection show at London Fashion Week this past February, and was also worn by Karlie Kloss and photographed by Steven Meisel for British Vogue.
Later, Cardi wore a seemingly more subdued look for Thom Browne's show: glasses, a gray blazer, and a pencil skirt. However, upon a second glance, both the blazer and skirt have an exaggerated, bubblelike silhouette.
Can't wait to see what else Cardi wears this week.