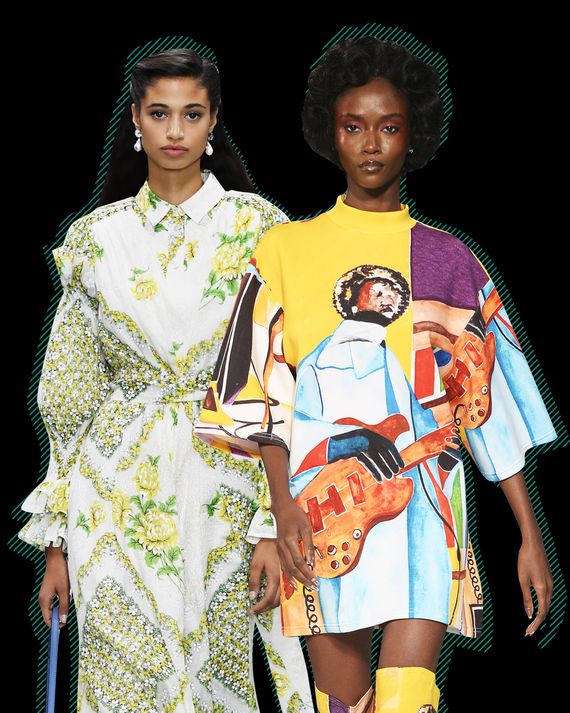 Photo: Getty Images. Illustration: Lauren Tamaki
Ninety minutes before last night's Pyer Moss show at the historic Kings Theatre in Flatbush, Brooklyn, the line swept down the block, and at ten, well after the scheduled start, there were more than 2,000 people outside. Finally, around 10:30, things got going. A choir of some 60 strong filed in, dominating the massive stage, and a small band, dressed in white, settled into the pit framed by a low runway. Then the author Casey Gerald came out and for several minutes spoke about enslavement and freedom. "We're here tonight," he said, "to claim our wings."
After that, the fashion show began.
Its creative director, Kerby Jean-Raymond, violates almost every convention of the fashion world: The late-night show. The tone of seriousness. (In the past, he has done shows around depression and his relationship with his father.) Jean-Raymond doesn't even believe in doing regular shows; he skipped last season, and yesterday he said, "I won't even promise you one a year." He chooses collaborators and sources of inspiration that touch him but whose names are fairly obscure, like Richard Phillips, who spent 47 years in prison before being exonerated and whose artwork was used for prints, and Sister Rosetta Tharpe, who is often referred to as "the Godmother of Rock and Roll."
Her example as a queer woman and trailblazer who was nonetheless overshadowed by male performers, white and black, led Jean-Raymond to consider how the rock theme has been so appropriated by designers that it has lost its meaning and, perhaps, innocence. How many versions of Jimi Hendrix or KISS have we seen on runways or in magazines? Jean-Raymond's clothes, mostly tailored pieces in solid hues of red, yellow, blue, and white satin — some with a detail that evoked a keyboard or the curve of a guitar — seemed rooted in Sunday and church-revival dress.
Initially, I didn't care for those styles. The instrument details seemed hokey, first degree. And maybe because I've seen a ton of rock-inspired clothes over the years, I expected Jean-Raymond to dig a little deeper.
Well, look again.
Jean-Raymond was attempting to consider rock at its absolute infancy and from the perspective of a woman who probably crafted her own outfits — without guidelines. As he explained later, "You know, there is a barrier of entry into any hobby or sport or activity you want to do, an economic barrier. I want to show what that ingenuity would look like." In fact, the results would probably look quite naïve.
Over the four or five years that I've covered Pyer Moss, I've sensed that Jean-Raymond doesn't want to be fenced in — not by the industry's terms or a critic's opinion, not by the expectations of a partner (he has a deal with Reebok), and not by his growing renown. Asked by a journalist about emerging as a leader in the fashion world, Jean-Raymond, after a pause, said, "I don't see myself as that yet. But I'm not going to pretend that I don't see it. I took chances when a lot of [other] people wouldn't."
He is also quick to point out that he's "not the race guy," though many of his shows have focused on African-American culture and communities and how they are often stereotyped. He said, "I'm just open to think about the things that inspire me."
Jean-Raymond isn't being coy or cagey. One thing that people seem to admire about him — and this will cause some readers to raise an eyebrow, given that we're talking about fashion — is that his shows offer an authentic experience. He cast many of his models, for example, from an open call on Instagram, yet he doesn't try to overstate the point on the runway. He has consistently used musical performances — typically a choir — that have grown in size and quality. But, again, these touches feel integral to the whole mood. And he has been extraordinarily thoughtful about streetwear and related styles, avoiding the overly embellished or aggressive stuff you tend to see on runways. You simply never know what to expect at Pyer Moss.
Still, Jean-Raymond may owe it to himself and his team to get serious about the business side. I'm not saying he isn't serious; he seems to have a good partnership with Reebok, and he developed some cool leather pieces with Sean Combs, for whom Jean-Raymond once interned. One of my favorite looks in the show was a pair of wide, generously side-draped pants in what looked like washed denim, shown with red spiky boots and a white tank top that said "Vote or Die." It looked elegantly new and sexy without effort.
Jean-Raymond told reporters backstage that he doesn't care if he sells any clothes. Well, okay, he wants to stay free in his head. But the talent and ideas on his engaging runway deserve a wider presence in the world.
Tory Burch also had a great show on Sunday. Apparently her inspiration was Diana Spencer. Don't let images of hats and jolly sleeves put you off, though.
Burch and her team did a wonderful job loosely interpreting English style, from blouses with handkerchief fronts, to cardigans, to sheer, summery dresses in sparse floral patterns. A white handkerchief blouse with a fine-gauge striped cardigan looked chic with wide navy cotton pants and flats. Ditto a princess-y black coat over a long white dress. There was also (to my eye) a nice touch of the kind of cotton dresses that Saint Laurent used to do with gathered sleeves, a peasant neckline, and a belted waist. The funny thing is the view Burch was offering was far wider and more layered than Lady Di.