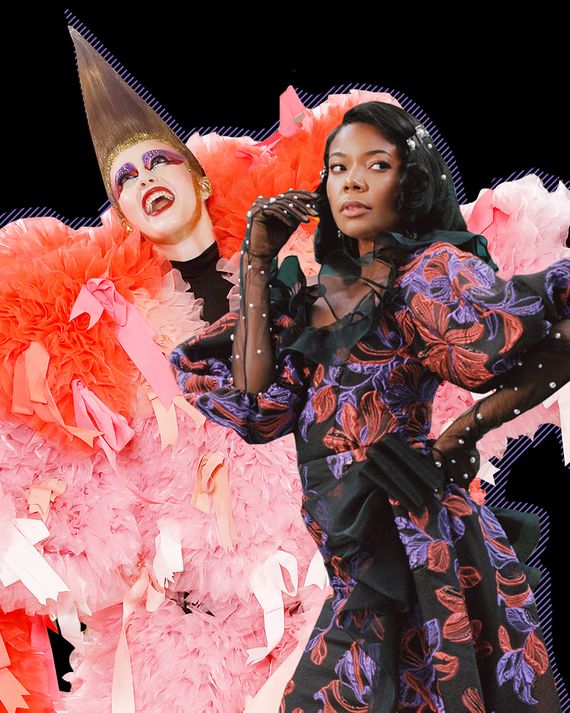 Photo: Getty Images/Daria Kobayashi Ritch. Illustration: Lauren Tamaki
Between shows during a shortened and stuffed Fashion Week that now includes trips to Brooklyn, I plan to catch "Paris, Capital of Fashion" at the F.I.T. Museum. Is there any better time than New York Fashion Week to visit an exhibition that defines why Paris has been the capital of fashion for several centuries? The answer might give some much needed perspective to current fashion.
Our sense — my sense — of what's new and interesting is complicated by a barrage of factors that just keep coming. Store bankruptcies and closings. Shrinking media pages and a digital shallowness. That millennial thing — which is, at best, a shifting target. Is it the big brands, the "icons," that millennials love or the quirky, don't-define-me-bitch start-ups? It makes for amazing times. And actually it's the unprecedented speed of change that I love, the constant obliteration of values and assumptions, maybe more than the new stuff it produces.
So last evening, a poky rainy start to Fashion Week, I wandered out of a near-deserted Barneys, where I'd been seeking shelter, and down past John Pawson's sublime monument to minimalism, the boarded-up Calvin Klein store, and into the warm hubbub of the Marc Jacobs boutique. Someone handed me a glass of Champagne. A forest of mannequins sported the black, feather-pieced knit caps from his fall collection. Jacobs, along with his friend the stylist Katie Grand, was again playing host to the young designer Tomo Koizumi, giving him the lower level to present his collection, as he did last season.
With everyone gathered on the steps or looking down from the railings, one model — Ariel Nicholson — proceeded to go through seven changes of Koizumi's signature tulle creations with the help of some dressers. Nicholson's hair — or was it a wig? — was plastered into a sleek, sharp-pointed cone that remained intact through changes and one bridal-like veiling.
"That's pretty tough hair," someone murmured behind me.
Koizumi's overscaled, rainbow-bright creations were dense confections of tulle occasionally pierced with ribbons, and at least one piece came with built-in pantaloons. After each change, Nicholson would flounce and leap about with her unicorn hair, sometimes pausing to examine herself in a mirror, then perhaps fling herself to the floor, Norma Desmond style. Some in the crowd no doubt recalled the famous Viktor & Rolf show, when the model Maggie Rizer, standing in a catsuit on a revolving platform, was dressed in layer after layer of garments. But the point of that performance was to show how a silhouette was built. Nicholson was simply changing costumes and resuming her act.
For me, Koizumi's designs became more interesting the more you (mentally) pulled back from the steps, the store, and a murky Friday night in New York. The hairstyle was punk by way of the 18th century. The ribbons were straight from Madame de Pompadour's bodice, the mirror and the self-regarding poses not a selfie but a tiny snapshot of Versailles. The silhouettes and fat sleeves were ancien régime, with perhaps a touch of Japanese tradition, while the lollipop tones held you fast to the greedy present.
Maybe we are evolving our own aristocratic age, with extreme clothing and fantasies for a knowing few. I was really taken with the images of the Rodarte collection that Kate and Laura Mulleavy released this week in lieu of a show. The backdrops and colors are in the vein of Franz Winterhalter's portraits of royals and society women, with a nod to the Surrealists in the deliberately mannered poses of the models. The models include Kirsten Dunst, Yalitza Aparicio, the members of the band Haim, and January Jones and Kiernan Shipka, who, having played the roles of mother and daughter in Mad Men, are now role-playing in a classic "mother and daughter" portrait — it's fabulous.
The clothes are hardly incidental and include dreamy evening gowns and ruffled or head-to-toe metallic looks that, to me, nicely played on the outmoded convention of "day dressing." True, someone will probably hoot at them and say "Housewives"! Go right ahead. It was the total conception that set this modern fantasy apart.
Catherine Holstein's Khaite show, this morning in Brooklyn, evoked the past, too, though with different results. Her inspiration was a visit to her grandparents' former home in Vermont after a break of 20 years. The idea allowed Holstein to deftly mix muted plaids with feminine tulle and jeans with a lovely ruched top with prim, sculptural sleeves. Also strong were well-fitted trousers in prints and solids with smart-looking jackets. But if she'd hoped for the strange effect that a memory can have, that never happened.