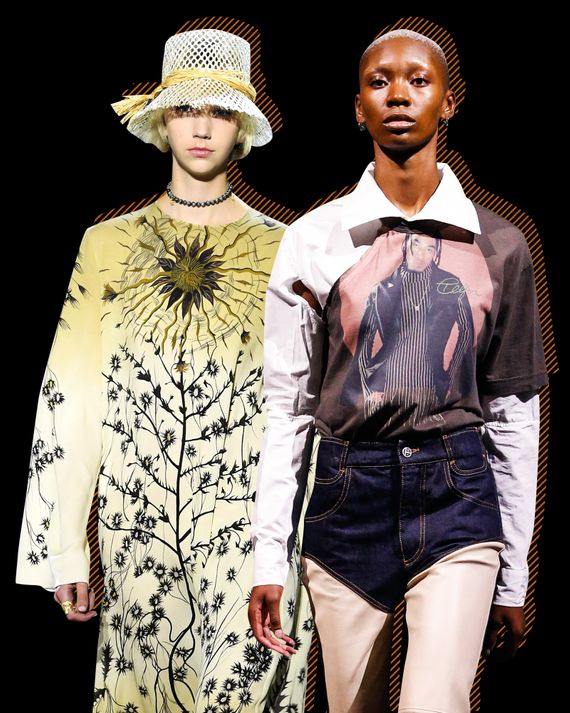 The long-stemmed roses still arrive. This season, Demna Gvasalia, the creative director of Balenciaga, sent an enormous bouquet of hydrangeas and asters — the latter in crazy, unnatural shades of blue and chartreuse — and I brought it down to the hotel lobby, where the color scheme happens to be the same. Some things about the Paris collections never change.
But much else has, and fast.
Paris, of all cities, was the one that gave us extraordinary innovation — whether it was the radical patternmaking of the Japanese designers in the '80s, the anti-luxury of the Martin Margiela in the '90s, the bold expressions of gender from guys like Jean Paul Gaultier and Helmut Lang in the same era, or the complete sense of mastery we got from Karl Lagerfeld and Azzedine Alaia. Some designers still carry on that particular creative battle. I'm thinking of Gvasalia, Claire Waight Keller at Givenchy, Pierpaolo Piccioli at Valentino (though more in haute couture than in ready-to-wear), Nicolas Ghesquiere at Louis Vuitton, and Virginie Viard, Lagerfeld's successor at Chanel. But my guess is it won't be long before even those dedicated soldiers — and what they represent — will start to seem like Quixotes charging at windmills.
Message is what counts now. Brand message, first and foremost, but also political and social messages that brands hope will click with millennials, like inclusivity, feminism, and environmentally sound practices. At Dior on Tuesday — the first big day of the French spring 2020 collections — Maria Grazia Chiuri offered a textbook lesson in how it's done.
Her setting was a giant, rustic wood-sided box in the middle of the lush turf at the fabled Longchamp race course. Inside, arranged in a symmetrical grove, were dozens and dozens of fully leafed-out trees with their root balls, the kind that might sell for upwards of $2,000 each. According to the press notes, they were supplied by Coloco, "an atelier committed to the collective art of cultivating gardens as a driver of urban inclusiveness." And they will later be replanted, so nothing was wasted on a fashion show.
Chiuri cited as an inspiration Christian Dior's sister, Catherine, who had a passion for gardening. She was also active in the Resistance during World War II, and was arrested and sent to the Ravensbruck concentration camp.
Chiuri went on to say that her aim with the collection and set was "to create an inclusive garden, a place of coexistence and diversity in which every gesture counts."
Interestingly, Chiuri, who has made something of a campaign with her feminist slogan T-shirts, refrained from saying anything about sustainability. Indeed, she has acknowledged in interviews that the issue is a complex one for a luxury brand like Dior. Anyway, the energy expended on constructing the box and moving the trees, not to mention the congestion of cars and the huge collection — nearly 90 looks — would pretty much defeat a green message.
Still, in all the videos and images, the public will see the trees, the oneness with nature. That will be the uncomplicated takeaway. Chiuri is clever.
Moreover, she has steadily whittled down the sartorial message at Dior. The day clothes are youthful — sometimes sporty-boyish, sometimes pretty — and the evening looks have largely adhered to the same princess shape that can be decorated (this season with mostly wildflowers in subdued hues) or left alone and layered. To me, the shape is generic. But, again, it's a simplified message.
This time there's a lot to like in the collection, in part because of a palette that seemed drawn from the colors of a garden as it goes from full June bloom to late-August fade. Chiuri showed everything with flats — lattice-cut combat boots or hemp sandals — and I rather liked her stubborn take on denim, a supersoft, wide-leg trouser with a schlumpfy, faded sweater picked out with flowers.
At Marine Serre's show — held outdoors at another elite racetrack in the 16th arrondissement — the key words in her program notes were "climate wars," "heatwaves," and "apocalypse." And it rained!
The reality is her clothes were totally on brand message — a remarkable accomplishment, given that her label is only a few years old. She successfully hit on two main points — her distinctive, nipped-waist tailoring and her layered, tough-looking separates, which include new versions of her crescent-moon logo print and some great denim pieces.
From its inception, in 2005, Telfar Clemens's label has been about inclusiveness and non-gendered statements. Or as he said in his notes for his Paris debut, called "The World Isn't Everything," at the storied La Cigale theatre, "Our shows are the result of a radical form of collaboration that we hope borders on conspiracy — the search of the collective form; the human form; of music; of theatre and of style." For a film that ran as a backdrop, Clemens collaborated with Slave Play playwright Jeremy O. Harris, who jumped up from his seat in the front row and joined the models dancing on the floor at the end.
As for the clothes, they were classic Telfar — reconstituted classics like sweatpants, utility vests, polo shirts, and jeans.
Does it matter that the use of political messages feels pretty superficial? To some people, yes, of course it matters. I wish Serre would leave behind her self-consciously bleak imagery. She's a better designer than that. But I can also appreciate that many consumers aren't looking today for the kind of complexity — in cut, fit, history — that they once counted on from Paris designers. That kind of fashion requires too much explanation and time.
Instead, a clear, powerful image of trees and watery nature must suffice.