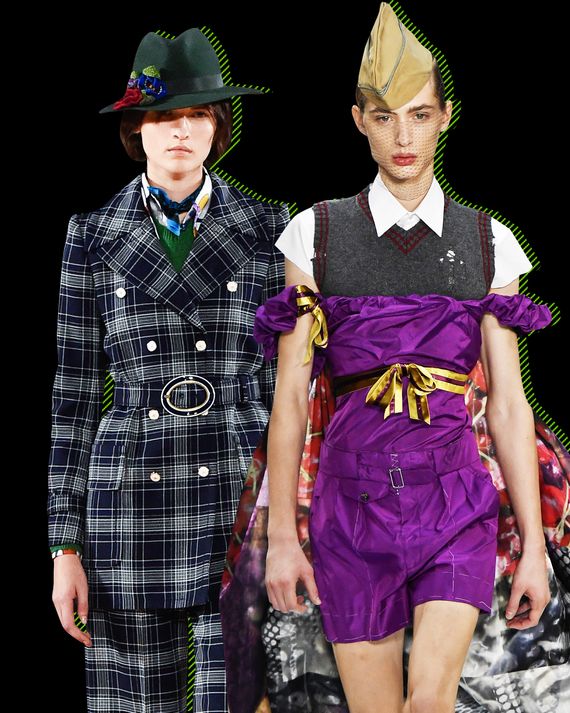 Marc Jacobs (L) and Maison Margiela (R).
Photo: Getty Images
Yesterday in Paris, for the second time this season, I had the buoyant feeling of having swallowed pure air. The first time was back in New York at the Marc Jacobs show, watching him deftly weave together disparate images — Bob Fosse, Doris Day, Anita Pallenberg, the Mamas & Papas — for a collection that felt lighthearted and not really, in the end, burdened by any of those references. And he did so with only some scattered chairs as props. I had the same wonderful feeling yesterday, watching John Galliano's Maison Margiela show — in a plain white room at the Grand Palais in Paris.
Galliano's key reference was World War II, which doesn't come out of left field. Next year marks the 75th anniversary of V.E. Day — the day Europe declared victory over Nazi Germany. And there's been a rash of new books and movies about the war, as if offering a distraction from the siege of Brexit. Yet the mood Galliano struck was hardly nostalgic.
Like Jacobs, he took the stylistic elements he needed — airmen and nurses caps, a military cape in dark wool with chunky buttons, knitted vests that were once standard in the British working- and middle-class wardrobe — and then used them, it seemed to me, to help make timeless statements about character, freedom and dignity.
In his very masculine suit jackets, with slightly exaggerated shoulders, I saw not just a dignified attitude, but also the double fantasy of Dietrich in male drag and gay men impersonating her and, as well, camping up the virile aspects of military uniforms. Don't forget the 1930s and '40s produced a froth of highly styled entertainers, from singers to actors. That was the sense I got from a superb blue-gray suit, its broad-shouldered jacket lopped off at mid-chest and worn with high-waisted trousers, and another jacket in olive leather that Galliano had basically reduced to a bustier over a knitted vest.
But the point is there was more than one meaning behind the clothes.
This collection was much less chopped up than Galliano's past collections for Margiela. This time, Galliano didn't rely on the effect of deconstruction and slap-dash layering to evoke the feeling of a chaotic, noisy culture. Which was a relief since that approach has become a little hackneyed. In addition to the tailoring, there were almost-elegant dresses and coats with a grid pattern of quarter-sized holes, probably made by laser cutting. And the fresh-faced makeup — by the incomparable Pat McGrath — underscored the essentially optimistic tone of the show.
Another reason to link Jacobs and Galliano at this moment is that they're proof of the power of strong sensibilities, not to mention long careers. Both designers, now in their mid-50s, have had their ups and downs. (Galliano, in particular — and quite memorably — has a complicated history with this era. In 2011, he was fired from Dior for anti-Semitics comments, including a reference to Hitler, to people in a Paris bar.) Yet given the themes of their shows and the way they extracted just the right spirit from them — and no more — you have to think they've never been more in control of their medium than they are now.
The super talented Guillaume Henry is back on the scene. Formerly at Carven, he has revived Patou (with LVMH), a label that was big on jaunty sportswear in the 1920s and later was associated with a string of designers, including Karl Lagerfeld and Christian Lacroix. Patou has been out of the picture for about 30 years.
Henry makes it worth looking at. For one thing, he has dug into a youthful French style without the icky sweetness — meaning, a cool, slightly boxy military jacket with gold buttons, sailor shirts in faded denim, wide-leg jeans, cute puffball mini dresses, and accessories that include ballet flats and wicker bags. And for another thing, the prices are said to be well below the designer range.
Bruno Sialelli, in his second season at Lanvin, had some relaxed pantsuits and decent, playful knits, but … so many flaps and dangling bits. It all got on my nerves. Sialelli needs to prune.
As for Yolanda Zobel, the relatively new designer at Courreges, she had an inspired idea: stage a runway show along a Paris canal, with the model arriving by boat. Unfortunately, the bright Courreges colors couldn't camouflage the banality of the clothes.
More From Paris Fashion Week
See All