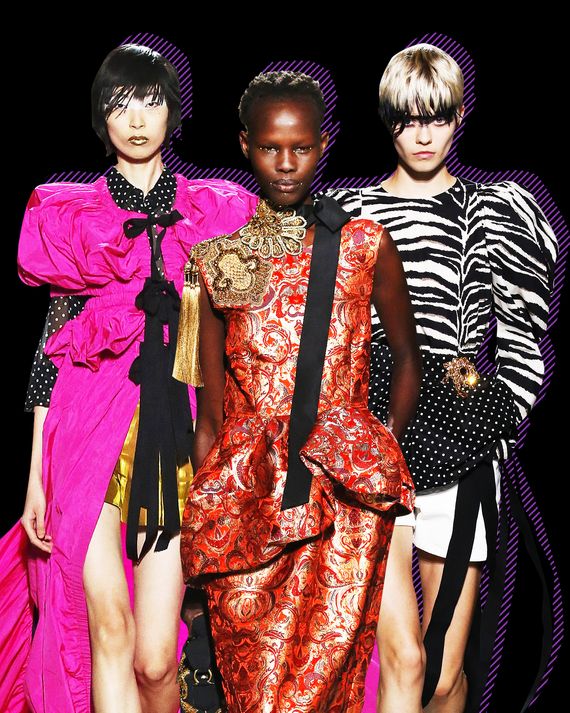 The day after their surprise union at the Opera-Bastille, Dries Van Noten and Christian Lacroix could be found in Van Noten's tidy showroom in the Marais, two graying lions in pullovers. Next door, buyers from across the globe were already writing orders for the collection. Hanging from rails the length of the room, the frothy skirts, zebra prints, and embellished matador jackets that had stirred the audience (there were reports of tears) now looked like soldiers at rest.
Van Noten, based in Antwerp since 1986, is one of the few major independent designers. (Last year, he sold a majority stake in his company to Puig, but still operates independently.) Lacroix is a grand couturier and one of the most beloved figures in Paris. In the fall of 1987, he spectacularly turned New York society on its head with his Bo-Peep crinolines and ribbons. And then came the Wall Street crash that October. It would auger Lacroix's own career: the investment from LVMH in his own couture house — in an exquisite maison with a private garden, opposite the Bristol Hotel — and then his struggle to gain a footing in the harsh battleground of ready-to-wear, and finally the collapse and sell-off of the brand. Lacroix presented his last couture collection a decade ago. It was a beaut, perhaps in part because it was done on a comparative dime. Since then he has been a costume designer.
What he and Van Noten did on Wednesday wasn't rare. It was unprecedented. As far as I can tell, no couturier and ready-to-wear designer have ever worked together before on a runway collection. There have been "capsule" collaborations between designers and mass or leisure brands — Karl Lagerfeld and H&M, for example, or Rick Owens and Birkenstock. But from the outset, Van Noten says he didn't want his project with Lacroix to be seen in that context — as just another marketing opportunity. "I think it would be a pity to call it a collaboration, and it especially couldn't be an homage, because Christian is still alive and kicking," Van Noten said. "It was more of a conversation. He could teach me certain things, and I could teach him things, and we could talk … and see where it was going to end."
From their initial meeting in March in Paris, the two men agreed to keep the project secret, in part to avoid the impression that it was a standard brand collab. Indeed, most people only learned that Lacroix was involved when they entered the show space — the monumental backstage of the opera house, where a raised catwalk was set up in the center and the seating around it. A red rose stem rested at each place. That was the first clue: audiences at Lacroix's shows used to pelt the runway with flowers.
"I started to work on this collection in February," Van Noten said, explaining what led him to contact Lacroix. "Normally, I try to avoid escapism and nostalgia, but the world is not a very nice at the moment. So many things go wrong, and I thought maybe it would be interesting to do something about escapism."
As he and his youngish design team began to gather images for an inspiration board — images of historical costumes, romantic shapes, and prints, movie stills — he realized there were a number of pictures of Lacroix's '80s fashion. Van Noten thought, why not be really transported to that world of beauty?
He emailed Lacroix.
"I was quite amazed, of course," the couturier said. "We never had a personal relationship. I was just an admirer."
Yet when Lacroix saw the detailed mood board, and the fabrics that Van Noten had already developed — florals based on 18th-century textiles, vibrant zebra and leopard prints, papery taffetas and grosgrain ribbon galore — he thought, You don't need me.
Lacroix did not actually sketch anything for the collection. Rather, when he and Van Noten met for monthly fittings in Antwerp, they worked on silhouettes and proportions, on combining fabrics in bolder ways, and — crucially — on the presentation itself, including hair and makeup.
Van Noten recalled a session early on when, studying a model in a blend of patterns and a peplumed skirt, he wondered if "it was too much."
"Then [Christian] took a feather and stuck it in her hair," Van Noten said, "and then another feather, and the girl was standing there with this wavy ostrich feather. It made it more believable." He added, "Okay, it was a gesture what he did, but that gesture liberated us. You look at what you're doing in a different way. We felt really free doing this collection. We completely forgot 'is it cool?' 'Is it fashionable?' Let's just do polka dots!"
With all the freedom that Van Noten has as a designer — and, as a financially successful independent, he has more than most — he still knows that "you become conditioned to a format," he said, with the business dictating more and more decisions. Inviting Lacroix to the "conversation" was a reminder to stay open.
For me, that was the chief thrill of the show — this willingness to depart from convention, in an industry that wants to lock everyone down. And the clothes are that much better for it. What I especially loved was the easy blending of attitudes: the formal (the brass-buttoned officer tunics, the splendid toreador jackets in pale blue and scarlet red) and the informal (a white singlet with a feather-slashed tulle top, the loose chemise dresses, the comfy sweaters over ball skirts). You can see the high-fashion kick of Lacroix in a billowing, sleeveless fuchsia gown closed with grosgrain over a sheer dotted top and silk shorts, but it's tempered by Van Noten's practical sense of ease. I also liked the way the designers handled the historical elements, such as the Edwardian mutton sleeves and those beribboned 18th-century chemises — with a sense of fun and freedom, and certainly without couture linings and padding.
"I didn't want him to do the worst collection of his life because of me," Lacroix said at one point, with a laugh.
Van Noten smiled. "And for me, I didn't want him standing there as a kind of decorator of my collection. It really had to be a blend of creativity."
So it was.