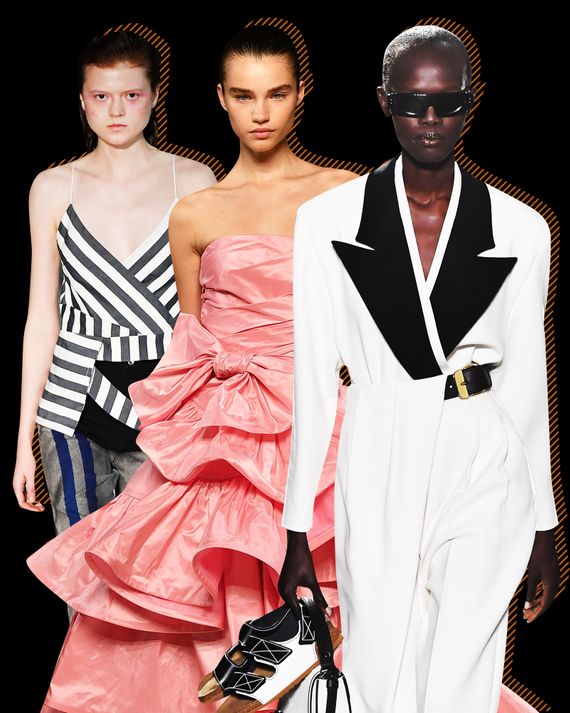 Left to right: Eckhaus Latta, Oscar de la Renta, Proenza Schouler.
Photo: Shutterstock, Getty Images
Guests arriving yesterday for Eckhaus Latta in a warehouse on Baltic Street in Brooklyn discovered not one enormous room but two. With the seating set up near the walls, the open space felt hugely generous — and more than a little symbolic. The designers, Mike Eckhaus and Zoe Latta, were in effect saying, "We have room to grow; that's how confident we are in our work."
This was Eckhaus and Latta's 19th collection, and from the start, they have been experimenting with fabrics (initially dead stock), and with conventional notions of beauty and luxury, without modifying the basic forms of clothing. They're not avant-garde wannabes, concocting jackets with three sleeves. Nor are they ransacking the archives of Margiela for his anti-luxury ideas, though their modest shapes, non-sexy shoes (now made with UGG), and homemade-looking knits fit in that category. And though they are hardly the first designers to cast artist and musician friends as models — a practice that goes back to the '80s — Latta and Eckhaus have certainly left their mark, especially with models who represent more contemporary attitudes about gender.
So it was striking to see this independent label, with its clear if quirky aesthetic and alignment with artists and museums — most recently the Whitney — take a conspicuous step toward the mainstream.
There was a more uniform quality to the manufacture of the knits and tailoring — not slick and "flat" exactly, but gone was the individual or hand-made feel that had characterized most of Eckhaus Latta's pieces.
And I'm not suggesting this is a disappointing change. Not at all. It is a move that almost every gifted and intelligent designer has to make to survive the horrendous challenges of staying in business.
Nonetheless, it was jolting to see how confidently Latta and Eckhaus had made the move, and with their aesthetic not only intact but expanded upon. They made three noteworthy additions. One was the use of girlish ruffles for knit dresses and tops and, best of all, pants with a muted zigzag pattern and a spree of ruffles at the cuffs. The second was to propose knitwear with a wider appeal — in fit as well as a refined, lightweight quality. The pattern might suggest Missoni's style, but my impression was that Latta and Eckhaus took care to make theirs distinctive. And finally, the third addition was sequins, for a pair of tank dresses and a sleeveless top, worn with a striped knit skirt. The designers made the glitzy embellishment their own by using two raunchy colors — royal blue and bright orange — and then proposing shapes that clearly had nothing to do with sex.
Also worth noting were the pantsuits. Though not new for the label, they are definitely more refined and particular, in dark jade and white, with oversize pants and a beautifully cut, natural-shoulder jacket.
Acknowledging the changes backstage, the designers said they wanted their clothes to look more "straightforward." "We still work the same way we always have," Latta said, "but it might have gotten more micro in the details." Today, the scrappy brand that started with dead stock now produces in Portugal, Italy, China, Peru, and the U.S.
The other big shows of the day, Oscar de la Renta and Proenza Schouler, offer a contrasting view of how to stay relevant.
Throughout his long career, the late de la Renta continually updated his style — the crisp tailoring in tweed and double-faced wool, the decorative knits, the sumptuous gowns. He had lots of references in his cultivated head, but, at the same time, he was attuned to what women would buy.
Creative directors Fernando Garcia and Laura Kim, who both spent years working for de la Renta, operate the same way. They use references sparingly — this time, it's a breezy nod to de la Renta's Latin roots. They've taken the layers and corsetry out of evening clothes in response to modern tastes. Among the best looks were floaty taffeta dresses hiked up in front and wispy, embroidered dresses in shades of blush, taupe, and silver. And they've claimed the caftan, once a staple at Oscar (he mostly made them for private clients for entertaining at home). Of course, caftans are hot again. Theirs are in vivid colors, with well-done details, and for night in pleated gold lamé.
And in just a couple of years, Kim and Garcia have revamped Oscar's day-time image, generally keeping the suits off the runway and spotlighting knits and more versatile separates. Still, the signatures haven't been lost to change.
The trouble with Proenza Schouler is that designers Lazaro Hernandez and Jack McCollough never really set down a recognizable signature. They were known for their experiments with novel material, and for themes or flourishes that had a contemporary-art-world connection. And like a lot of youngish designers, they sampled the ideas of others.
But now, with the retail and fashion industries under pressure, I had the feeling that maybe things are coming home to roost for Proenza. The designers, who have a new backer, said their aim was to evolve their last few collections, with an eye on softness. Hence the long, belted dresses in yellow or printed silk, the draped tops under blazers, and a slim, sleeveless dress with draping down the sides that (to me) looked like air-cooling fins.
The pantsuits were great. Perhaps, as McCollough said backstage when I asked him about Proenza's direction, it was the show's styling — the white stockings, the many belts, the bound ponytails — that caused things to look complicated, stilted. "If you strip it all away, it's pretty soft and simple," he said.
But I think he and Hernandez might be kidding themselves if they think the foundations don't need serious defining.