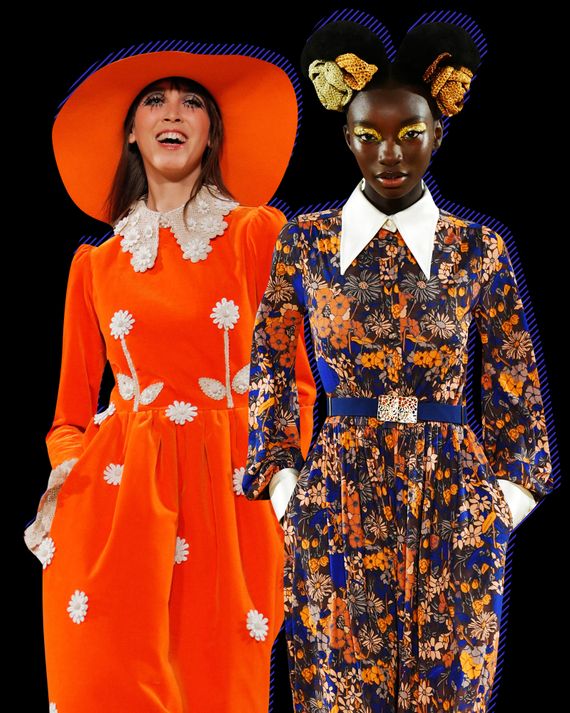 Marc Jacobs
Photo: Getty Images
It was a few minutes past six on Wednesday, and Marc Jacobs hadn't started his show yet. No one seemed concerned, though. What was a few minutes' delay when expectations ran high and the end of Fashion Week was nigh? We had entered the Park Avenue Armory, Jacobs's usual venue, to discover the vast barn nearly empty, with a white-painted porch and patio chairs of no particular vintage arranged in scattered groupings at the opposite end. Mark Holgate of Vogue was assigned a rattan chair in the shape of petals, someone else a mushroom stool. Old girl that I am, I got a rocker. And I set to rocking.
So it was with some surprise that the show began before we fully realized it. The girls suddenly came through the front door, across the wide expanse of negative space, first in a trickle, then in a mob that spread outward to the walls as Cass Elliot of the Mamas & the Papas sang "Dream a Little Dream of Me."
Soon they reached us on our mock veranda, a summer storm of carnation pink, lemon yellow, frizzy hair, and hats galore. They swept around us and through us. And then they seemed to be gone, somewhere deep in the armory.
Heads wheeled around. Wait. What? Is that it? I laughed. Shane, come back! 
But presently they did return. From each end of the chair section came a model. Some merely walked, but others strutted or danced, and some turned their heads to us and flashed a big smile or tipped their hats.
I felt immediately refreshed, as though I had been very thirsty and now I wasn't.
The human quality of Jacobs' shows — probably always on display to some degree but certainly abundant in the last four or five seasons — is what sets him apart in the fashion industry. He is more in touch with this quality, this power, than ever before, at whatever age he now is. He can access it when he needs to, and more miraculously, he can convey it with a minimum of props.
Think about this for a moment. In the past few seasons, he's relied on the arrangement of the guests' chairs, the scale of the armory, lighting (last season, it was a spotlight; this season, full illumination), and a key piece of music. There is no set — in contrast to what we've seen in recent years at, say, Louis Vuitton (a re-creation of the Pompidou Centre) and Chanel (the sky's the limit), and indeed in contrast to what Jacobs used to do.
This approach seems to give full flight to your imagination, to let you see and feel things about the past and present that perhaps Jacobs himself is feeling and can best articulate via symbols and gestures, which of course includes clothing. But he's also never overbearing or didactic about it. He might be full of passion and demands while working on a collection such as this one, but through some combination of genius and maturity, he doesn't try to force a response from the audience. It just comes naturally.
To me, the clothes, and the joy they imparted, reflected a number of realities. The most obvious is the desire to embrace better qualities than those of the current political climate — not to escape in a froth of silk but to continue to reach for life-affirming values, like optimism and individuality. Significantly, like in Jacobs's last collection, every outfit was unique (and, not incidentally, wearable). There were gorgeous pantsuits in glen plaid or a combo of fitted black jacket and flared canary-yellow trousers; a sweet poppy-red dress with loopy white flowers and a lace collar; flowing granny dresses; wonderful wide-wale-corduroy trousers with cute knits; floral prints that ranged from 1950s perky to vintage-shop psychedelic; and a very sharp midi skirt worn with a snug, cropped leather jacket. The splendid hats — fedora to cowboy to floppy hippie — were by Stephen Jones.
But another reality that the show drew upon was the passage of time and the role of memory and — now — the flood of digital images. Jacobs has always been extremely attuned to the history of fashion, but this show was far more than a jaunt down memory lane, with nods to favorite icons — Anita Pallenberg, Karl Lagerfeld, Bob Fosse, the irrepressible Doris Day, to mention a few that Jacobs cited. The brilliance was in how he converted the fact of being a sensitive man, alive to all these feelings and images, saddened by the passing of friends and touched by the power of great art, into a positive expression of how not only to dress in 2020 but also how to be.
So the New York shows ended on a high. I want my rocking chair to accompany me everywhere.
Michael Kors also delivered a powerful show around the themes of optimism and tolerance. Ordinarily, a Kors presentation is an upbeat, Top 40 occasion — and yesterday's show, at the glass house at the Brooklyn Navy Yard, certainly caused you to tap your toe and perhaps even get misty-eyed when the Young People's Chorus of New York City launched into Simon & Garfunkel.
But, between the historic setting, the terrifically diverse and interesting cast of models, and the thoughtfulness of the designs, the show was, in fact, multilayered. I loved how Kors integrated fashion genres — a '40s-era dress in polka dots with a sweetheart neckline, preppy rugby stripes, patrician blazers and exquisite shirts with dickies, picnic gingham, and even a dash of punk in the frayed edges of a classic tennis sweater.
This was a hefty collection for Kors — that's the main thing. But it's also nice to see him, at least occasionally, widen his aperture and reflect more ideas. Showing those '40s dresses on the Brooklyn waterfront, where ships were built during the Second World War and communities employed, was a tender idea.
Of course, none of this matters. When these clothes, and also those of Jacobs, reach stores in a few months, nobody is going to be thinking of mamas and papas. But if a hundred small gestures can add up to an extraordinary sense of optimism, then there might just be some new hope for American fashion.