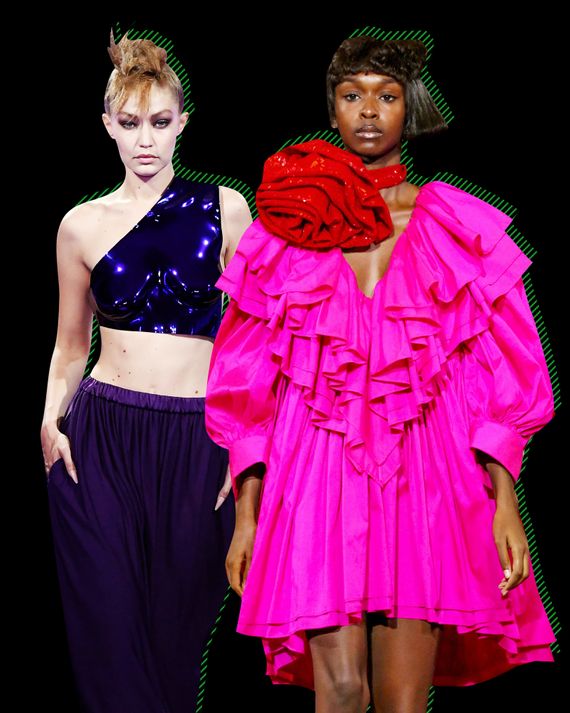 Who doesn't get the willies descending into an abandoned subway station on the Bowery, with only one obvious exit? "Are you one of those people whose first thought was to see how you'll get out in a fire?" an editor, grinning, asked me last night at Tom Ford's show, held on the platform.
Since we'd all come down the same grimy stairs, I told him I would opt to run screaming down the darkened tunnel.
He grunted. "Hope you don't run into a rat."
Ah, New York in the new Age of Innocence, if that's indeed what it is. I borrow the handle not from Wharton but from Maria Cornejo, who used it to characterize the naivete and sense of discovery she hoped to impart in her collection, held in the late-afternoon breeze on a terrace at the Standard Hotel. "There was a time when the things that we now take so much for granted — mechanization, technology, global communications … were thrilling harbingers of a better future," Cornejo said in her show notes.
Another group of designers, the very young team behind Vaquera, were also in a reflective mood yesterday about the city. "New York City Dies on the Runway," the cover of their program declared, under a picture of Lady Liberty. "When you love someone, you don't notice the smell."
By contrast, Mary-Kate and Ashley Olsen presented their line, The Row, in the solemn atmosphere of their showroom. But considering the rather spiritless results, maybe they should consider venturing out more.
Ford, who worked as a design assistant in New York in the '80s before going to Gucci, drew on an eclectic bunch of images, citing the 1965 photo of Andy Warhol and Edie Sedgwick coming out of a manhole cover, Luc Besson's Subway, Isabelle Adjani's punk hair in that film, Ursula Andress in a shiny metal bra, Loulou de la Falaise in clashing pinks and red, the Beatles in Berlin, his young son Jack's love of basketball shorts and Ford's own dismay at them. As he said in his show notes, which actually provided insight into his design process, the question was "how to make such a contemporary fixture in modern clothing chic." His shorts, in sumptuous jersey, took away some of the volume for a more graceful fit, and turned the elastic waist into a more considered detail.
In the past, some of Ford's attempts to do modern, relaxed clothes have looked awkward, like he was stranded between an American sportswear sensibility and a European sense of decadence. This collection showed a lot more confidence, beginning with the opening trio of long, lightly gathered skirts (with side pockets) worn with sleeveless T-shirts. It's a classic American look, buffed up with Ford's wonderful eye for fabrics with a sheen or a slightly oily effect. In the same offhand vein were sleeveless jumpsuits in white, gathered jersey or a dusty turquoise. The latter was terrific, with the elastic "sports" bands again serving as a detail. He paired the basketball shorts with sleek blazers, and because he's the ultimate scene-setter, both as a designer and a filmmaker, he put them with black seamed stockings and strappy metallic heels.
As for the glossy breastplates worn by Gigi Hadid and others, they're in molded plastic, their colors inspired by Jeff Koons's balloon dogs. Just as there is nothing new about showing in a subway — Martin Margiela did it 30 years ago, in Paris — so too does the breastplate have a long history. Saint Laurent, for one, showed them. Still, Ford's considered reduction of the elements — the lines, the materials — and his timing makes the style feel fresh. Who will wear it during the movie awards season?
The Row and the essentially minimalist designs of Cornejo were not so much a study in contrasts as a difference in technique and connectedness with the world. Where the Olsens stressed an expensive simplicity — a plain black cotton camp shirt with black slim pants, a French blue shirt with a long navy straight skirt, a strapless black cotton dress — Cornejo was offering more texture and interest. Not a lot, just enough to show that things still delight and challenge her as a designer.
Many of the garments are made in organic cotton and recycled polyester. Cornejo's  skirts and dresses have always had a floaty quality, achieved through her skillful pattern making, but this season I particularly loved the raw, woven texture of a sleeveless, slim indigo-blue wrap dress blended with other blue-colored patterns, and, at the other extreme, the volume of a jacket in off-white cotton canvas with wide matching pants.
Perhaps the Olsens saw this season as a pause after spring's ethereal layers and handsome coats. The problem is such plainness exposes minimalism's key pillars — Jil Sander, Zoran, Calvin Klein.
The designers of Vaquera — Claire Sullivan, Patric DiCaprio and Bryn Taubensee — decided to share a show venue (and expenses) with two other brands. I'm sorry but I only had eyes for Vaquera's wonderful, knowing silliness. New York may have forgotten her history, as they said in their notes, and become jaded and fucked up, but the designers are magisterial in their wit. Their classics, from trench coats and flouncy smock dresses to bullet bras, are again super-sized, with the addition of some terrific denim. I came away with a new sense of control and pragmatism from the kids. They've got something to say, and they're not afraid.
Earlier this week, I mentioned the idea of a new aristocracy — not unlike the way fashion and art worked in the 18th century, with a rarefied group creating style for like-minded people. Looking at Vaquera's theatrical yet quite wearable looks, I think they belong in that vanguard.