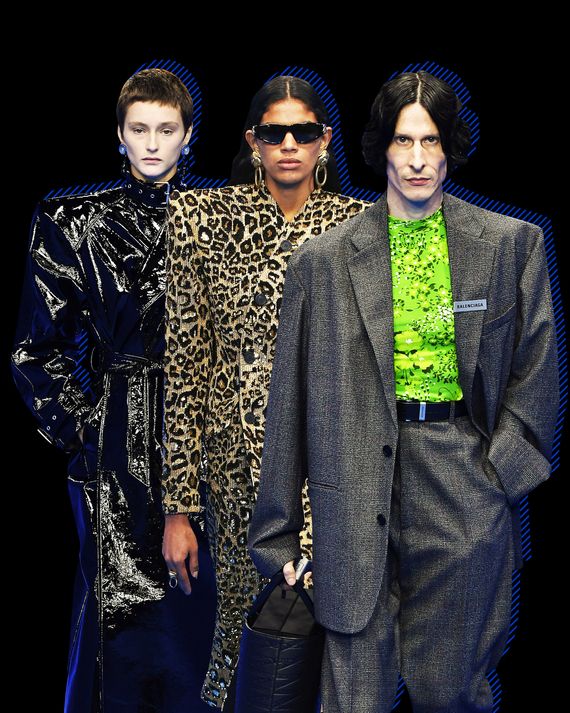 Balenciaga.
Photo: Getty Images. Illustration: Lauren Tamaki
No contemporary designer gets under people's skin like Demna Gvasalia of Balenciaga. His latest show, staged in a bright-blue modern arena that resembled a government assembly, evoked the terrors of a world controlled by soulless bureaucrats and overrun with refugees. Among the comments I heard afterward were "toxic" and "detestable — without hope."
My own response to the first two models — a professional-looking, unsmiling middle-aged woman in a baggy black pantsuit and a gaunt-looking man in a similar suit — was to giggle. They looked like extras in the background of a Hollywood movie about politics, or the real-life aides scurrying after heads of state at a G20 summit.
Actually, the woman who opened the show is Neda Brady, a Dusseldorf-based architect, and the man in look No. 2, Ivo Raspudic, is a mechanical engineer and part-time model. In addition to the professional models, including the current star Bella Hadid and the legend Nadja Auermann, Gvasalia cast a law student, a private-equity manager, a gallerist, a teacher, and a hotel cleaner. The man whose outfit made me think of a refugee, because his suit was clearly too big for him and it didn't go with his bright-green T-shirt, was Antti Kettunen, a performance artist and dancer.
Does it matter for one's opinion on the merits of the show that we know the identities of these individuals? Yes, because identity — and, broadly, how we see people in a world saturated with media images — is certainly connected to the issue of power. That was Gvasalia's theme, but he hardly would have gone to the trouble to construct a parliamentary room in the blue of the European Union, flood it with a thumping, slightly sinister soundtrack (the brilliant work of Loik Gomez), and outfit his models in a dark, wide-shouldered "uniform" so shapeless it largely dissolved physical and gender differences — well, he wouldn't have done all that if he were just thinking about clothes.
It made me think of an essay by Karl Ove Knausgård called "Vanishing Point," in which he talks about images and "the mechanism in our societies that turns people into a mass, how ordinary that is and how closely bound up with the media, which by its very nature creates remoteness, its narrative structures rendering every event equal, every occurrence identical, thereby dissolving the particular, the singular, the unique, in that way lying to us, or, put differently, fictionalizing our reality."
Gvasalia's work has a way of flattening class, decades, and meanings, and this show worked on many levels. The styling had a haphazard quality, as if these well-crafted luxury goods might have been sourced and recombined from the ocean of disposable clothing at a Salvation Army. One of his models wore a tee that said "Top Model," and others wore silky tops and pants printed to look like denim. The effect was hilarious — why wear real, heavy, possibly uncomfortable denim when you can wear soft, light simulacra of the original garments? He shows us both the humor and the horror of what it means to try to make sense of a work wardrobe or a travel uniform. I laughed because Gvasalia is just so good at alluding to the randomness around us.
As it happens, he and his staff researched the dress of politicians, and in the office they discuss politics and social issues. As for the set, Gvasalia said, "For us, it started with the idea of a minimalist arena of the future. You don't even have to climb stairs. So it created a minimalist space of a hopeful, futuristic assembly."
Or not. It is true that many of the designs had a futuristic cast or at least hovered over that thought, notably the five nearly identical ballgowns that closed the show. The first two, in a crinkly metallic fabric spread over a crinoline, looked like a pan of Jiffy Pop about to explode. The others were in velvet, their form so smooth and flawless over the crinoline that they looked like three-dimensional Disney-princess memes.
"I love the idea of leaving a space for a little interpretation," Gvasalia told me afterward. Was it hopeful? That depends on your perspective.