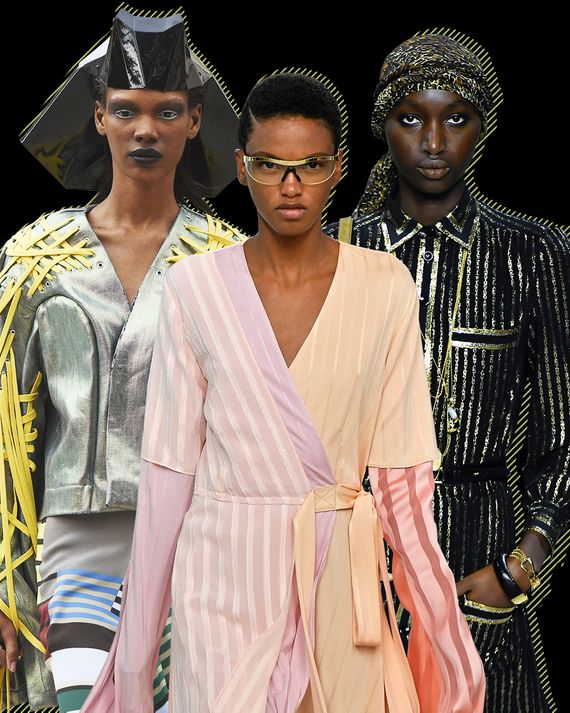 Photo: Getty Images/Shutterstock. Illustration: Lauren Tamaki
Halfway through designer Hedi Slimane's Celine show last night—after a fleet of tousled-hair girls in boot-cut jeans, patchwork rodeo skirts, shearling vests, and poetic blouses of the '70s Left Bank genre—I was suddenly imagining Dolly Parton on the stage of the Grand Ole Opry singing "Jolene."
It was all the denim, the models with their paws tucked into their pockets, and then there was a subtle shift, and Slimane introduced sparkle into the affair—shimmery bow-neck blouses and matching skirts, cardigans, many gold chains, and metallic, turban-like caps. Anyone who has observed fashion over the past half century knows that this chic '70s look is connected with the world of Yves Saint Laurent. As I write, I can see all those turbaned New York and Paris socialites in the pages of W magazine. In fact, in his Saint Laurent show the other night, Anthony Vaccarelli also had the twinkly ensembles with vests and luxe head wraps. Given the practice of using archival styles, nobody can be too surprised at the similarities this season between Celine and Saint Laurent, where Slimane previously worked.
The thing is, though, the divides that once marked various aesthetic universes have been obliterated by the very elements that Slimane has so successfully harnessed—marketing, social media, celebrity. Removed from the context of Western Europe, from the runway, and worn, say, by a young woman in Shanghai, I can imagine those bow-neck blouses and pleated skirts having a totally different effect. They would catch your eye, in a fresh way. The same goes for Slimane's frilled cream blouses and fitted jeans and denim skirts. It's not a stretch—and no joke—to imagine them on a girl in Nashville and Dallas, which already appreciate that style, and for wholly different reasons than a woman in the 16th arrondissement of Paris.
Is Slimane's approach—his seemingly literal exhumation of classics and touchstone pieces—-cynical or pragmatic? I happen to think the latter, even as I wished for a touch more variety in this show. I loved the pants suits with the masculine vests, but can't we also see a simple cotton dress, and something besides white sneakers and high boots?  Yet, like it or not, I also realize that Slimane understands that branding is primary today and that a "twist" on a classic or a bit of conceptual fireworks isn't any more original than his method, and might actually be more dishonest.
Loewe, the Madrid leather-goods house, is known for craft, and on that narrow footing designer Jonathan Anderson has built an impressive and diversified label. The striking feature of this collection was the abundance of handwork—lace, crochet, silky fringe—and the way Anderson and his team incorporated it into shapes (mostly dresses) that didn't overly emphasize the hand details. Everything looked of a piece—the fabrics, the silhouettes all worked in harmony.
That was my problem with his last collection: he snatched bits and pieces from various historical periods and tried to combine them, but the results looked calculated. This time, I felt, he spent more time on proportion and on making a clear connection with Loewe's craft image. The results were beguiling—linen-white dresses slightly fitted through the bodice and then flaring out, a pair of cocoon-like coats in black or khaki cotton, a "bed-jacket" cardigan with a mid-calf knit skirt over cropped knit pants, an exquisite white silk and lace gown with airy puffed sleeves.
"I wanted it to look a bit aristocratic," Anderson said. Indeed, the white lace dress could have been based on a christening gown. And take a look at the outline of those cocoon coats. Are they not a kind of palimpsest of Irving Penn's 1950 photo of a model in Balenciaga's black harem dress?
"I never really explored my Mexican-ness," Rick Owens said, "but the debate over a border wall made me more conscious of who I would be separated from."
That comment, from Owens' fascinating show notes, could also apply to his design process. The California native, whose mother is Mexican and who moved his business to Paris in the early 2000s, doesn't want to be limited in any way. This collection was a logical extension of the very linear, body-conscious shapes he offered for fall, with influences coming from the Mexican architect Luis Barragan, the actress and glamour queen Maria Felix, and Aztec culture as if filtered through the lens of filmmaker Fritz Lang (hence the helmet/crowns).
And for fun, Owens invited some bubble artists to fill the terrace of the Palais de Tokyo—"to give the affair a bucolic lightheartedness I associate with the Mexico I used to know."
Everything is material for him. But what I especially admire about Owens' recent work is that while the results may look quite strange and alien—and why not?—the underpinnings, in fabrics like cotton canvas, silk crepe, and duchess, show the evolution of a remarkable dressmaker. You have the feeling he can now get anything he wants from a piece of cloth.
At the end of day, do we all come back to the house of Yohji Yamamoto? Look at the first few looks from his collection—black jackets and dresses with randomly gathered ruffles and streamers made in the same cloth, a portrait hat leaping from the Edwardians—and ask yourself if his aesthetic, his method of extracting modern shapes from period forms, is not in the spirit of some of the styles we saw this week at the Van Noten-Lacroix show? I'm not suggesting Yamamoto's early work was an influence. Not at all. I'm only saying that when you deconstruct historical couture shapes and play with romantic gestures, as he did, you come close to his pioneering style.
He has now simplified everything. It's cotton fringe, not fancy fringe. It's a whisper, not shout. It's the summer dress you wished for, the emblem of your invisible days.