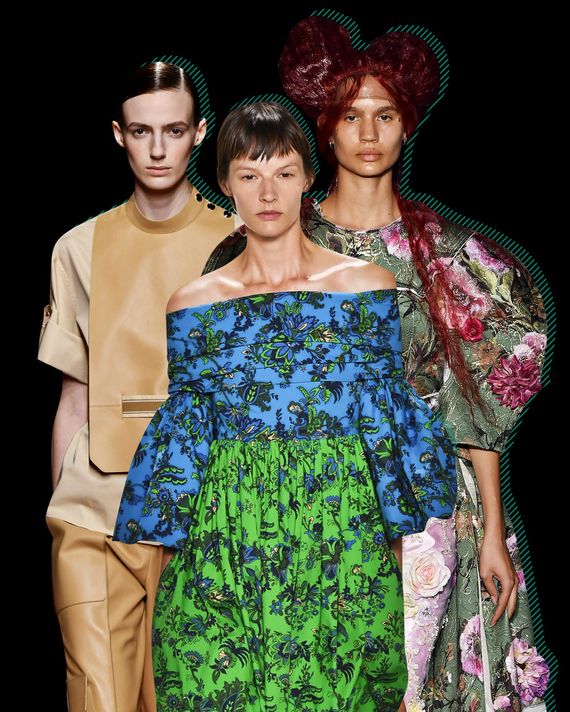 Left to right: Hermes, Givenchy, and Comme des Garcons.
Photo: Getty Images. Illustration: Lauren Tamaki
You could say the Paris shows this season are woven together by a certain thread of politics. Nods to power, inclusivity and the future of the planet, have all come up. Givenchy, on Sunday night, introduced jeans repurposed from old stock, a significant first step for a couture house better known for princesses, from Audrey to Meghan Markle.
But what about Hermès, whose legacy is, well, saddles? How does it confront the issue of sustainability and remain authentic? As its women's fashion director, Nadège Vanhee-Cybulski, said, "It's quite challenging today to talk about leather, and Hermès is working in a very particular way in terms of sourcing and craftsmanship."
The answer is to make sure the designs pull their weight, that they justify every aspect of producing leather, and that the garments will be ones customers will want to keep for a lifetime. Also, there's the question of price — which in the case of climate change has it's first truly practical application: when things are made in sustainable ways, by trained craftspeople in limited quantities, they cost more and last longer.
That's exactly what Vanhee-Cybulski did. So far, her Hermès show is my favorite of the spring 2020 season. Leather comprised roughly 70 percent of the collection, with the rest in double-faced knits or cashmere, cotton, and tissue-thin wool. But the leather styles had the same textural weight as the wovens and knits, and every minimalist line conveyed sensuality. We know from her previous show — particularly the one a year ago at Longchamp — that Vanhee-Cybulski loves color. This time she stuck to tones more often associated with leather — khaki, burgundy, ginger, olive, white, black — which helps account for the lack of trendiness. Every outfit was shown with the same flat, dark, almost-Roman sandal.
But Vanhee-Cybulski's real coup was somehow using this lightweight leather for a variety of shapes — a mini shift, coats, a black tunic based on a workman's apron, with straps in the back — that could also remain stable and not tear. To do that, she had the leather bonded with organdy. As a bonus, it feels great against your skin. There are other pieces worth calling out in this exceptional collection, like a long, black tissue-wool dress with a cape top and a kind of sailor shirt-cum-blouson (in leather) with white cotton cargo pants. It's the completeness of the vision that stays with me because it's so rare in any creative field.
Before the Givenchy show, Clare Waight-Keller talked about a dialogue she wanted to set up between her early '90s self, when she was a design assistant in New York (at Calvin Klein) and there was "a raw, boyish energy" in the streets, and the high-styled fashion coming out of Paris. That meant romantic crepe de chine blouses with distressed jeans (or boy pants), blazers with Bermudas, and some lovely, flowing print dresses that wouldn't look out of place that offers drinks and a sunset. Waight-Keller also spoke candidly about the challenges of doing up-cycled denim. "It's every layer [of the process] — the sourcing, taking it apart, the labor involved, the export issues," she said. "It makes you realize how difficult it is going to be to move forward." So far, Givenchy has committed to the cause, as sustainability is an issue with more and more fashion consumers.
For me, though, the show lacked the visual sharpness of Waight-Keller's previous collections. It was neither one thing nor the other — the tomboyish, downtown-girl styles drifting into the territory of Stella McCartney, and the Parisian elements missing the patrician smartness of Givenchy. The denim, ultimately, didn't make a distinctive design statement.
Both Joseph Altuzarra and Pierpaolo Piccioli of Valentino delivered the kind of updated looks you'd expect from their brands — summery prints, a Mediterranean palette, well-cut pantsuits (in the case of Altuzarra) for working women, some fresh but restrained hints of craft, like hand-knits and lace; and Piccioli continued to give dresses an airy, relaxed volume. Though Junya Watanabe's reshaping of the trench coat might seem old hat, the designs merit closer attention — for the extraordinary precision of the collaged pieces and the papery lightness of the raincoat fabric.
In New York, I wrote that an aristocratic attitude seemed to be frisking around fashion's skirts. I didn't think that designers would take it literally; in Paris, we've seen 18th-century panniers at Loewe, Rick Owens, Thom Browne, and, to a degree, at Comme des Garçons. Browne's Marie Antoinette turn included the whole aristocratic kit, including wigs. But in the spirit of the French Revolution, I wanted to lop off the silly skirts — and keep every jacket. They were divine.
In terse press notes, the Comme des Garçons collection was called "Orlando, Act II, transformation and liberation." Rei Kawakubo has been asked to do the costumes for Olga Neuwirth's adaptation of Orlando, the Virginia Woolf novel about an English nobleman who becomes a woman and lives for centuries. The new opera will debut in December at the Vienna State Opera.
But forget the 18th-century, forget Orlando. It's a red herring! The collection wasn't strictly based on the book. For one thing, the transformation goes in the opposite direction: the shapes and tones begin as traditionally feminine — fat sleeves, pouffy skirts — and end in more ambiguous terrain. The final four pieces hold the clues. The simple pod shapes are gender-neutral and all rendered in black — historically, a masculine tone. And of course, the tone most identified with Comme des Garçons since its fashion revolution in the '80s when it put an army of women in black, wide-leg trouser suits.
The last piece is a killer. Basically, it's a minidress in black cotton twill with two rigid panels descending from broad shoulders to around mid-calf. The sharp fall of the panels frames the neckline, suggesting a minimalist evening dress. Without a doubt, it's wearable. But the line of the shoulders also implies a jacket — the foundation of Comme des Garçons. It is one of the most remarkable designs I've ever seen. It clearly comes from Kawakubo's aesthetic but at the same time, it stands apart as something wholly new.
Does this final passage bode the "liberation" of Kawakubo herself? She has been frank in recent years about the difficulties of finding a new creative direction. Hence the sculptural pieces she has put on the runway in lieu of actual clothes. Could this be a marker? Only time will tell.