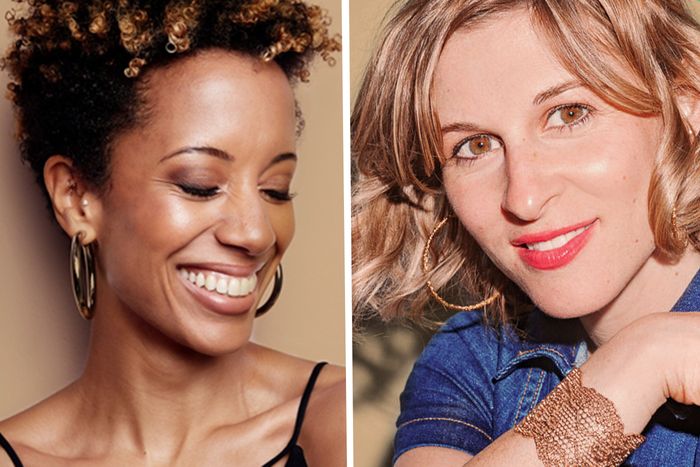 Photo: Courtesy of Carly Cushnie and Jordan Salcito
Today, "women's empowerment" messages are everywhere. It seems like we're supposed to seek it all the time: Seize the moment, take the reins, and, of course, be a boss. Because the term's become so ever-present, it can be hard to recognize what actually does feel powerful in day-to-day life. While we're busy looking for it in major moments, we tend to overlook that it can be something simpler and much more ordinary.
To get a better sense of what empowerment looks like in the everyday context, we talked to two women who find it in their daily routines: Carly Cushnie, creative director and CEO of the beloved fashion brand Cushnie, and Jordan Salcito, New York's most charming sommelier who elevated the wine cooler with her company Ramona. They became acquainted with feeling empowered years ago through their high-profile careers, but recently, they've come to count time with family, moments of solitude, and their self-care routine — including their Clé de Peau Beauté rituals — as a quieter way to take charge of their lives.
Carly Cushnie, CEO and creative director of Cushnie
What must you do every day?
I have to eat three meals — I just know that I can't perform or think straight without them. It's really rare for me to skip breakfast or lunch, no matter how busy I am. After work, I'll try to squeeze in a quick workout or class before I race home to be with my baby girl, and I also make an effort to include meditation in my evening routine.
You're big on balance. Was there a moment that made you realize it was necessary?
One morning in 2012, I woke up with tremendous chest pain from an inflamed heart wall, which was caused by stress. Thankfully, I wasn't having a heart attack, though at the time it felt like one. It really scared me into always making my health and well-being a priority.
What was the first change you made?
I added yoga to my routine. I found that I had always gravitated toward more intense workouts and felt like I needed to slow down. I also really focused in on my diet, and I began to take supplements, such as turmeric to help with inflammation, and make daily green smoothies in the morning.
What's another way you like to slow down?
My morning and evening skincare routines. They're pretty similar, but the primary difference is I add sunscreen for day, and in the evening, I add eye cream, a face oil, and a sheet mask once or twice a week. Overall, I like to keep it simple with a great cleanser, toner, and moisturizer. I love Clé de Peau Beauté Hydro-Softening Lotion. It feels so clean and fresh, but it's incredibly hydrating for my dry skin. The Serum is also fantastic, and it gives you a glow to match the bottle it comes in. I've begun to use Intensive Fortifying Emulsion in the evening. It feels ultra-light, but it is so nourishing and really revitalizes my skin after a long day.
What other healthy habits do you practice?
Drinking a lot of water is essential for me. A few months ago, I would have said sleep as well, but that has drastically changed since having a baby! I always take a multivitamin and probiotic, and I aim to work out three times a week. I also try to see my acupuncturist once a month as she seems to keep me in one piece.
Jordan Salcito, CEO of Ramona
How do you fit self-care into your daily routine?
Generally, our son, Henry, is my alarm clock, so I spend 20 to 30 minutes playing with him and trying to be present — away from my phone. Two or three mornings each week, I'll block out time for a ballet workout that I can either attend in person or stream from my computer. I usually walk to work, too.
Did you always prioritize self-care?
I learned it when I was pregnant with our first child. While I'd long tried to lead a healthy-ish lifestyle, I had a massive sweet tooth and a tendency to choose work — and everything else — over sleep. I ended up in the hospital at 26 weeks pregnant when my husband was out of the country on business, and that moment shook me.
What changed after you were hospitalized?
I started meditating, and I began carving out time for silence, reflection, and hydration. Truly slowing down was the hardest part. Once I did, and once I let go of the idea that my body needed rigorous exercise each day, I discovered an extraordinary new kind of balance.
Skincare rituals can be another way to slow down. What's yours like?
The first thing I do is wash my face each morning. I like Clé de Peau Beauté Softening Cleansing Foam. It's extremely gentle yet very effective, and I love the scent. It's quite calming. From there, I add a few drops of Clé de Peau's Serum before moisturizer. It's a perfect serum that adds lift and bounce — I am pretty sure I look five years younger than I did last year. During the summer, I spread an SPF lotion on my cheeks and nose. This Protective Fortifying Emulsion 22 SPF has become my go-to. In the evening, I repeat the regime but add under-eye cream and a richer moisturizer.
What are your non-negotiables when it comes to self-care?
Movement. I need to move a fair amount, for my sanity. Nutrients. I try hard to eat foods that energize — not deplete — me. Stillness. I've become a massive fan of meditation and acupuncture. And laughter! Time with girlfriends is an essential part of my routine.
This is paid content produced for an advertiser by New York Stories. The editorial staff of The Cut did not play a role in its creation.