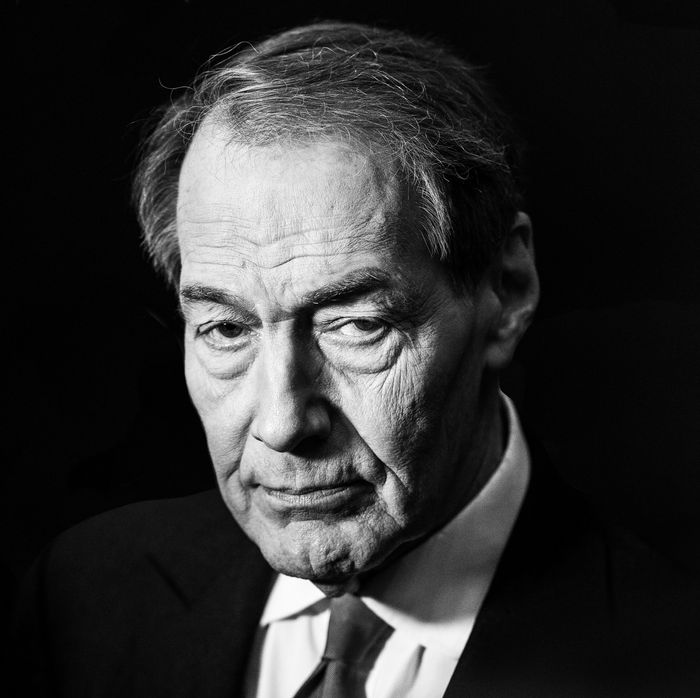 Photo: Roy Rochlin/Getty Images
Gina Riggi, a longtime makeup artist for Charlie Rose, who worked with the talk-show host for 22 years on his eponymous PBS show, is suing him and Bloomberg LP, describing "a toxic work environment suffused with sexual harassment and gender-based abuse." She also accuses Rose of "using the Show as an instrument of his predatory sexual behavior and the Bloomberg studio where he recorded it as a sexual hunting ground." The makeup room, she writes in the suit, was a "refuge from Mr. Rose," where young women "often came to her in tears, distraught and visibly shaken."
Riggi says Rose "targeted young, attractive women just beginning their journalism careers," promising them internships and jobs, many of which never materialized. The ones who did get jobs, she writes, were subject to harassment. She says Rose was verbally abusive to her on a daily basis, berating her about her weight, and that he frequently swatted away her hand while she worked, and once "forcefully grabbed and twisted her arm, physically hurting her." The show was canceled in November 2017, after the Washington Post reported that eight women accused him of harassment and assault. The reported tally eventually rose to at least 35 women.
Rose is already fighting a sexual-harassment suit brought by three young former assistants: Sydney McNeal, Chelsea Wei, and Brooks Harris. (CBS News, which employed Rose as an anchor and correspondent, settled with them last December.) Riggi says she saw Rose be "handsy" and comment on the looks of the same women, who she says often complained to her.
Riggi says she frequently witnessed Rose inappropriately touching and ogling his female employees, including "holding a female intern on his lap." At a pool party at his house in Bellport, the younger female employees didn't want to get in the pool because, they said, he was watching them from the second floor.
Two unnamed assistants allegedly told Riggi they received unwanted late-night phone calls from Rose. He allegedly asked one "whether she had a boyfriend and inquired about her love life." Riggi also describes a personal assistant who said she met Rose at a BMW dealership in Manhattan and claims that in exchange for employment at the show, an apartment, and the use of a car and credit card, "Mr. Rose asked her to have sex with him and give him massages."
Riggi's suit is the first to name Bloomberg LP, where Rose's PBS show was filmed, and which aired the show on its cable channel, as a defendant. Riggi argues that Bloomberg illegally misclassified her employment status and that she was actually their employee rather than an independent contractor. She also says Bloomberg received "numerous complaints" about Rose, including when Riggi complained about the arm-twisting, and that in some cases, supervisors themselves were harassed. In November 2017, the company told my co-reporter and me for a Washington Post story that they had no records of any complaint, and a Bloomberg spokesman told the Cut today that the company stands by that statement. "We understand that the plaintiff was a contractor of Charlie Rose Inc., and given that they operated independently of us, any of her compensation would have been handled solely by Charlie Rose Inc."
An attorney for Rose, Jonathan Bach, said "Mr. Rose vehemently denies and will vigorously contest these allegations. Among other things, the allegations in the complaint are completely inconsistent with written statements made by the plaintiff to Mr. Rose, including 'I love working for you at your show, and would love to be part of any show that you host,' 'I consider it an honor to be a member of your team,' and 'hope to see you more often! Please stop by anytime.'" (The messages, he said, were sent between 2010 and 2012.) In response, Riggi's lawyer Patrick Walsh said, "Ms. Riggi's complaint details decades of unrelenting abuse to her and her co-workers. It is unfortunate that, to this day, the Defendants, including Mr. Rose, do not appreciate the gravity of his conduct and the damage it has done to those who endured it. We look forward to proving all of the allegations in court."
In the suit, Riggi recalls watching Rose interview Tina Brown about Harvey Weinstein after he was accused of assault and harassment. "One of the women commented, to general assent, that Mr. Rose was the wrong person to be conducting this interview."