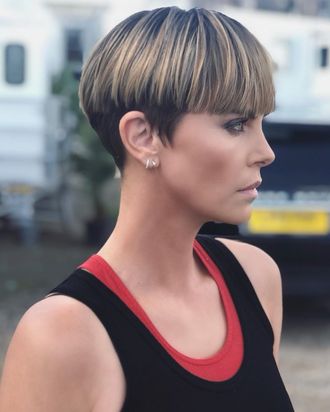 Photo: @charlizeafrica/Instagram
Despite how controversial a bowl cut can be, it's proving to be a resilient hairstyle, particularly in the year of our Lord, 2019. Case in point: Charlize Theron's new circular 'do.
In an Instagram post, Theron announced that her character from The Fate of the Furious (aka Fast 8) was back for the action franchise's upcoming ninth installment, with a shocking revelation. A photo of Theron shows the actress sporting a bowl cut that can best be described as Chynna Phillips in the music video for Wilson Phillips's "Hold On" meets Minkus from Boy Meets World.
Compared to Timothée Chalamet's medieval royal bowl cut and Celine Dion's high-fashion bowl cut, Theron's is more of a traditional take on what seems to be this year's hottest hairstyle. Who knew?
Before you scream, "wig!" like I did, it appears that Theron's bowl cut is, indeed, legit. As Popsugar reports, celebrity hairstylist Adir Abergel gave Theron the cut, which was inspired by a photo Peter Lindbergh took of Linda Evangelista in the early '90s. Unsurprisingly, Theron pulls off this somewhat contentious hairstyle quite effortlessly.
In Fast & Furious 9, which comes out in May of next year, Theron will be reprising her role as cybervillain Cipher, alongside franchise regulars Vin Diesel, Michelle Rodriguez, Tyrese Gibson, Jordana Brewster, and Ludacris. Dame Helen Mirren is also returning, and John Cena is joining the cast.
For what it's worth, at least Theron won't be sporting white-girl dreads like she did in Fast 8.