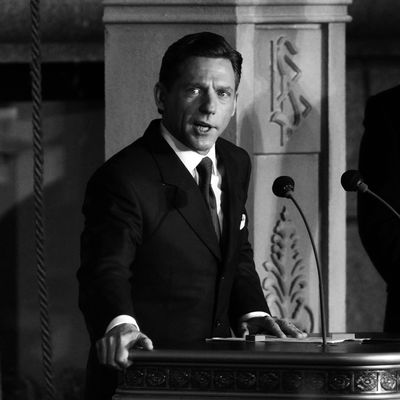 Photo: Yui Mok - PA Images/PA Images via Getty Images
A lawsuit filed against the Church of Scientology and its leader, David Miscavige, accuses Miscavige and various church branches of a number of charges, including sexual battery, racketeering, negligence, and conspiracy. According to the Tampa Bay Times, it's the third suit filed in the past three months alleging similar claims.
The suit was filed by a 25-year-old woman in the Miami-Dade Circuit Court this week. The woman, referred to as Jane Doe in the complaint, says that she was repeatedly sexually assaulted as a child while in Scientology's care. She alleges the abuse began when she was in kindergarten at the organization's Clearwater Academy in Clearwater, Florida. The claim says that a Scientologist employee "forced Jane Doe and other young girls to perform sexual acts on each other; masturbated in front of and ejaculated on Doe; and, on at least one occasion, forced his penis into her mouth."
After reporting that she was assaulted by the son of a high-ranking Scientologist official at 11 years old, Doe says church officials retaliated and she was forced to do three months of physical labor. She was then sent to cruise-ship-based Sea Org, which the suit described "as a human trafficking scheme." Former Scientologists have also described being held against their will on the ship, separated from parents, and forced into indentured servitude at Sea Org.
Doe escaped Scientology in 2018 and was reportedly stalked and harassed by church officials.
The behavior is in keeping with Scientology's so-called Fair Game policy, which encourages retaliation against enemies of the church. What's more, the complaint notes that church members were aware of the abuse, but that per rules laid out by L. Ron Hubbard, the late founder of Scientology, it is a "high crime" to report a Scientologist to law enforcement. In regards to assault, the suit notes that per Scientology practices, "one who suffers sexual abuse, whether an adult or a child, is assumed to have done something to incite or invite such abuse."