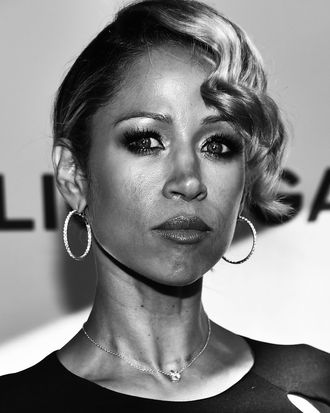 Stacey Dash.
Photo: Alberto E. Rodriguez/Getty Images
Stacey Dash, of Clueless and failed congressional candidacy fame, has been arrested for domestic violence. According to reports originally from TMZ, the actress-turned-conservative commentator is being held in jail for 24 hours after police responded to a domestic dispute call from her Pasco County, Florida, home.
Dash was taken into custody for allegedly being physically violent with her new husband, Jeffrey Martin, who according to TMZ and Floridabar.org is a lawyer currently working in corporate counsel. Martin was found with some scratches, and Dash is being held on $500 bail.
Dash has mostly laid low since withdrawing her short-lived bid for a seat on California's 44th Congressional district a year ago. An outspoken Republican and former Fox commentator, she'd ran on a baffling platform of anti-"Plantation Politics," her blanket term for economic inequality (the district has historically voted Democratic, and she withdrew her candidacy after about a month).
As a celebrity, Dash has been criticized for her conservative views and anti-black sentiment (the Bronx native is Bajan, African American, and Mexican). Her brief move into politics followed negative comments she'd made about then-president Obama, derogatory comments on transgender people, and claims that she's been "blacklisted" by Hollywood for her conservative views. Dash has also called for ending Black History Month and the BET awards.