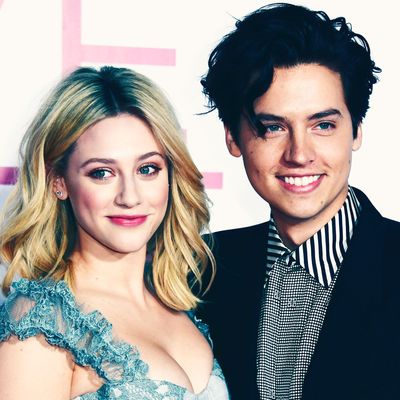 Lili Reinhart and Cole Sprouse.
Photo: Frazer Harrison/Getty Images
Back in July, rumors began to swirl that Riverdale stars Cole Sprouse and Lili Reinhart had broken up after two years of dating, and Bughead as we knew it was over. But then, W published a joint interview-slash-apocalypse cosplay with the two — that had been shot two months earlier — in which Sprouse, while "pulling on a Malboro," said: "We're acknowledging that we're in a relationship, but it's a small part of who we are as people. We want our own separate identities." So maybe they were still together? Or maybe they had been two months earlier, but they weren't anymore? Then they both shared pictures from the shoot, with captions about consuming "the flesh of reliable sources," and also that "a reliable source has confirmed that none of you know shit."
And that's where things stood — us not knowing shit — until this weekend, when Reinhart sat down with Coveteur while promoting her new film Hustlers at the Toronto International Film Festival, and said the words, "my boyfriend, Cole" and also teased the possibility of an elaborate couples Halloween costume.
When discussing her skill for special-effects makeup ("I've done a lot in the past. Now I don't really have the time,") Reinhart added: "I think I'm leaning in towards a character for Halloween. I think I'm going to do it with my boyfriend, Cole. I don't want to spoil it if it's not going to happen, but it's a TV duo."
"My boyfriend, Cole."
Her boyfriend, Cole.
Cole, her boyfriend.
Cole, Lili Reinhart's boyfriend.
There you have it, Bughead is back, just in time for the new season of Riverdale to premiere on October 9. What do you think their "TV duo" costume is going to be? I know what I hope it is.