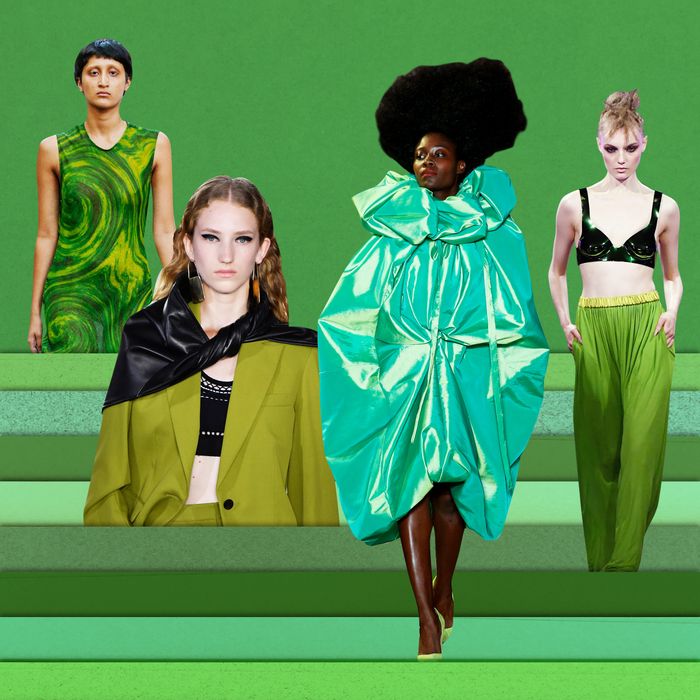 Photo: Getty Images, Shutterstock
On Saturday afternoon at New York Fashion Week, botulism was the unlikely topic of conversation at Rosie Assoulin's spring 2020 presentation, where guests were offered the opportunity to pickle their own vegetables in little mason jars, which were then sealed with swaths of the designer's fabric. Everyone had questions. Is there such a thing as over-pickling? (Yes.) Do homemade pickles need to be refrigerated? (Yes.) What should one drink while pickling? (Orange wine, duh.) Cause of death: Rosie Assoulin pickled vegetable. Can you imagine?
At the same time, across town, Collina Strada designer Hillary Taymour hosted a mini farmers market of her own at Rutherford Place. Last season, models carried Tupperware, but this year it was a full bacchanal; models pealed oranges as they walked, slinging bushels of grapes and kale. "There was a naked person throwing fruit," one of my colleagues told our #fashion-week Slack channel, which surprised absolutely no one. "Eat more plants," read the show notes. "Start a garden. Grow your own food. Cook at home. Plant a tree — plant many trees … " When the show was over, guests were invited to throw leftover fruit and bread in complimentary Baggu bags.
Later, at another show, I saw a woman snacking on a carrot front row. "Where did you get that?" her friend asked, as though it was a hot new accessory. The answer, of course, was Collina Strada. Earlier in the week at Kate Spade, models carried actual plants.
Plants, like trends, come and go. (Last season, Prada showed dead, wilted flowers. "Dark florals" was a predicted trend for fall.) Thankfully, though, we'll be brought back to life for spring 2020, when the clothes will be as green as our diets. The runways so far have been verdant with greens of all sorts, from emerald at Kate Spade to olive at Phillip Lim, Scroll down for nine looks that make us want to eat our vegetables.