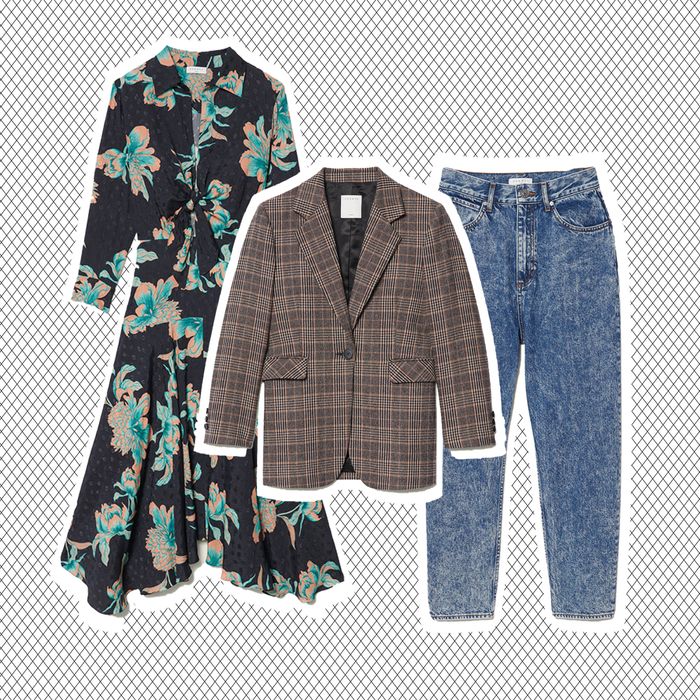 Photo: Courtesy of Sandro
Nothing says "sweater weather" better than aggressively purging your closet of all things strapless and starting anew. In regard to fall fashion, we believe there are two kinds of people: ones who reach into storage for last year's styles, and ones who look for fresh pieces to build a new collection. Fear not, those who are less-than-familiar with the concept of seasonal wardrobes. We asked Katie O'Donnell, our very fashionable branded content editor, to provide a little insight into her favorite looks for fall and how to change things up while still looking as cool as the outside temps.
On day-to-day style choices:
I'm the opposite of a morning person. However, whether I'm (literally) running to catch the train, on set for a photo shoot, or sitting at my laptop, style is always a priority. I love an easy wrap silhouette, flattering high-waisted pants, and interesting jackets that make a basic (or admittedly, lazy) look cooler.
On seasonal style:
Fall is by far my favorite season. It's a total texture party, with substantive fabrics and rich hues. I still like to keep things fairly simple, but layers come much more into play, and there's an added depth to my overall look.
I love the warmth of the traditional autumnal palette: deep marigold, oxblood, mustard-y brown, and chestnut. Sandro's fall collection incorporates similar tones with strong textures, especially in their outerwear. But I'm also into this season's trend toward unexpected brights like lime green and lilac mixed in with classics. A mantra to live by: Consciously choose pieces that make things a little more interesting.
On dressing effortlessly cool:
When I studied abroad in Paris, I was fascinated by the fashion. I learned that when you select clothing discerningly, with an eye for design and quality, those pieces do the work for you. You can throw on a great blazer and it stands well on its own.
I really appreciate that balance of sophistication and low-keyness in Sandro's collection — the pieces I love are elevated and trend-aware, but in a quiet, confident way. They're easy to wear, too; this studded denim jacket, mock-neck sweater, and striped dress are the definition of looking effortlessly cool.
On the one trend she hates to love:
All-black. I can't stand lint, which is especially noticeable on black clothing, so I don't personally subscribe to this one. But it looks so chic when I'm taking style notes on the subway, especially when paired with minimal fall layers like sleek coats, leather boots, and scarves.
On what you should never regret splurging on:
Amazing jeans, but they have to be an exceptional fit. My non-negotiables are a high waist and cropped length — free the ankles, always. Also, never regret coats you'll wear for years, well-made boots, or a beautiful, everyday bag.
On where to begin with personal style:
Pay attention to what you feel your best in, and buy more of it. Look to people whose style you admire. And finally, change where you shop. If you keep going to the same stores, you'll likely look a lot like everyone else.
With my personal style, I feel most myself when my look is comfortable but interesting. I prefer dipping a toe into select trends over trying to pull off a fully "of-the-moment" look. I'm trying to only buy what feels 100-percent me — it has to be an ecstatic, no-question yes.
Shop a few of Katie's absolute yeses from Sandro's fall collection, below.
This is paid content produced for an advertiser by New York Stories. The editorial staff of The Cut did not play a role in its creation.