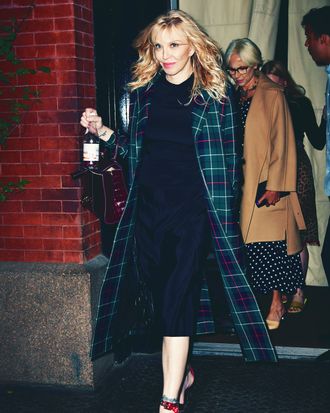 Courtney Love in a DUNCAN coat.
Photo: James Devaney/Getty Images
Last night at the Plaza Hotel, the worldwide editors of Harper's Bazaar celebrated their annual "ICONS by Carine Roitfeld" party to kick off New York Fashion Week in a blur of sequins, celebrity appearances, and Moët.
The fête celebrated the magazine's ICONS issue, which featured Celine Dion, Christy Turlington, Regina King, Kate Moss, Alek Wek, Shailene Woodley, Awkwafina, Lakeith Stanfield, and Devon Aoki this year: a diverse(ish) lineup of stars for a party consisting mostly of white people in evening attire. For the most part, the evening was full of lighthearted revelry (with no shoes thrown at anyone else this year), with Woodley, asked about her best and worst fashion-week moments, declaring, "I just really love life."
But Courtney Love, '90s icon and Hole singer, was thinking about the environment.
Dressed in a plaid coat, slinky black dress, and red heels with a crocodile bag, she pointed out that while the guests around us were drinking Champagne and attempting to climb velvet stairs in stilettos, "the Amazon is BURNING."
Asked how fashion week has changed in the last decade since 2009, she replied, "Well, really I've changed. No. More. Fur." But was she having more fun that she used to? "I'm sober now," she replied, adding that she was finally able to enjoy the shows with a clear mind. Then she asked us to reach under her coat so that we could feel her black peacock feathers — not real, we assume.