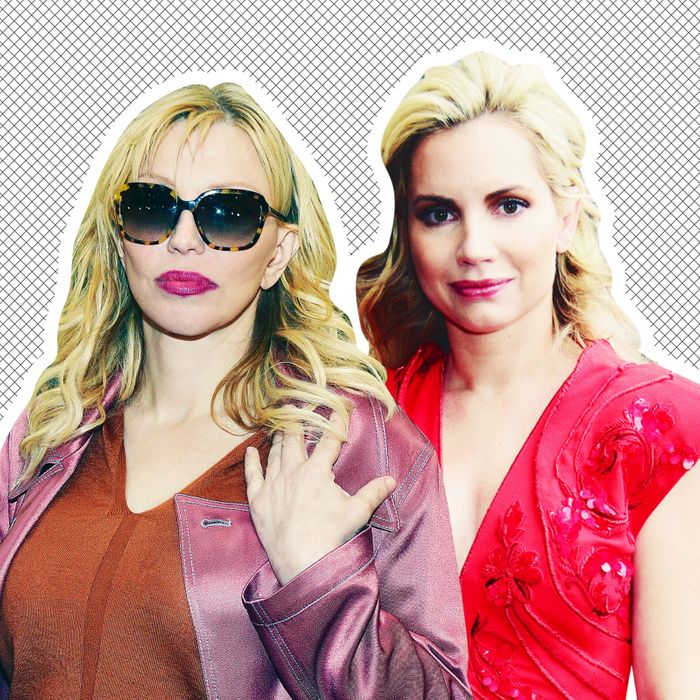 Courtney Love is not one to hide her feelings – doubly so if you piss her off. And she appears to have certainly been pissed off by Joss Sackler, of the Sackler family, the billionaire OxyContin manufacturers behind Purdue Pharma who have been accused of causing America's opioid crisis.
According to Love, Sackler and her team reached out to Love to attend an NYFW show of her clothing line, LBV, at the Bowery Hotel on Monday, offering her $100,000, hair and makeup, and a car service, as well as "a custom-made 'Phoenix' dress from LBV embroidered with 24-carat gold thread."
In February, when Sackler first debuted "LBV," she rejected any connections made between her line and Purdue, despite being married to David Sackler, a board member at his family's company from 2012 to 2018. Her team reportedly tried to emphasize this distance in their email to Love, saying that "the brand has no relation to Purdue … other than that Joss is married to the family." (David Sackler is named in a lawsuit, filed this year by the Massachusetts attorney general, as one of "eight people in a single family" who "made the choices that caused much of the opioid epidemic.")
After that initial fashion show, in response to questions about how she's paying for her fashion company, Sackler claimed that a male entrepreneur would not be subjected to the same scrutiny. She seems to have emphasized this dubious female empowerment angle in her second collection: When reaching out to Love, Sackler's team reportedly wrote she "best embodies the women" whom Sackler's line, is intended for: "strong and undeterred."
She might be regretting this tack, now that Love is showing just how undeterred she really is. A former Oxy addict herself (now one year sober), whose husband Kurt Cobain famously struggled with a heroin addiction, Love is calling Sackler's overture "shameless and offensive after everything I, many of my friends, and millions of other addicts have been through with OxyContin." "I'm sober," she said to Page Six, "but I will always be an opioid addict, it doesn't vanish. I will always be that, I am just in recovery."
"Joss is delusional," Love also told Page Six, "talking about her fashion line and private members club, their 'philanthropical arm.' What about instead giving money to rehab facilities, paying for Narcan (a medication that counters opioid overdoses) or creating a non-addictive painkiller?"
And she didn't stop there. Love has continued to excoriate Sackler on Instagram, with screenshots from articles about the Sackler family's involvement in working to create lethally addictive narcotics for huge profit. She even included a shot of the LBV "Phoenix" dress with the solid gold breast plate, "for??" Love wrote.
In one caption, Love compared Sackler to Eva Braun – "just an empowered woman who married into the Hitler family."
Love is not the only one avoiding Sackler's runway show. Apparently "a number of high profile invitees" also skipped it. Sometimes shame – "shame, shame, shame," as Love wrote – is the best medicine.
A previous version of this article misstated the circumstances of Kurt Cobain's death.