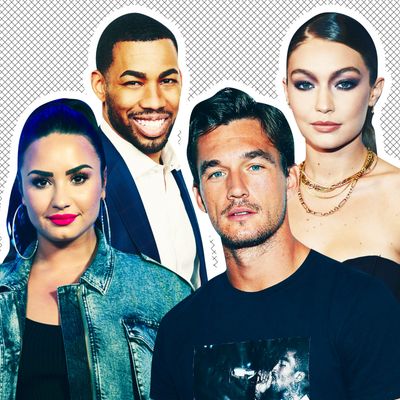 As the temperature drops, leaves change, and Hot Girl Summer slowly fades into Christian Girl Autumn, it's time to pull your sweaters out of the back of your closet, unpack your boots, and find a former Bachelorette contestant to hunker down with for the cold months ahead.
Like Gigi Hadid and Demi Lovato, who have been linked to Tyler Cameron and Mike Johnson, respectively. Hadid and Cameron have reportedly been dating for about a month, and things have gotten serious enough that she brought the season-15 runner-up to her grandmother's funeral earlier this month. And according to E!, after exchanging flirty social media posts on Instagram and Twitter, Lovato and Johnson have gone on at least one date, and "it's been going well."
"They seem to have a lot in common and are just enjoying getting to know each other," the source added.
As Glamour notes, back in July, when Johnson was still vying for Hannah Brown's love on national TV, Lovato posted footage of the Air Force vet on her Instagram Stories with the caption, "Mike I accept your rose." Then, after he was eliminated in week seven and tweeted, "Jus saying, my future wife though girl you ready for smiles, adventure, comfort, growth, honesty, laughter, me falling using my inhaler and kissing your stretch marks and imperfections. Where u hiding," Lovato responded to a fan who shared the post on Instagram, writing, "I'M RIGHT HERE MIKE I'M RIGHT HERE BOO MY MOM ALREADY LOVES YOU TOO."
Johnson, in turn, commented on Lovato's unedited bikini post on Instagram, saying, "Look at me like that again … love yaself."
He also told E! News that Lovato's comments "made me feel sexy," and that if the two met up, "I'm not gonna be giddy at all. I'm [going to be like,] 'What's up, sexy? You got a nice little booty on you. Let's talk.'" Aw.
For the rest of us, there are still thousands (millions?) of former Bachelorette contestants to choose from. Like Ryan, the banjoist, or Cam, who thought a human woman's gestational period is two weeks.