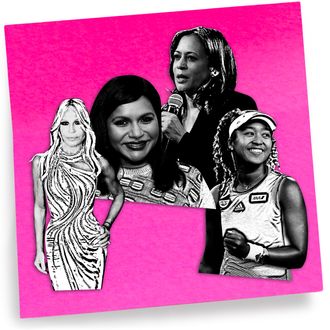 Donatella Versace, Mindy Kaling, Kamala Harris, and Naomi Osaka.
Photo-Illustration: by Stevie Remsberg; Photos: Getty
Doing the Most is a special series about ambition — how we define it, harness it, and conquer it.
Role models take on myriad forms, running the gamut from fictional characters to moms to friends to First Ladies. Below, 25 famous women including Ruth Bader Ginsberg, Tina Turner, Michelle Obama, and more discuss the inspirational figures who inspired them and helped them flourish in their careers.
1) Justice Ruth Bader Ginsberg
"Growing up … I had one real and one fictitious role model. The real one was Amelia Earhart. The fictitious one was Nancy Drew. But later in life, I had the good fortune to meet the first woman ever to serve on a U.S. District Court. She was Burnita Shelton Matthews. By the time I got to the D.C. Circuit, she was in her 90s, and I would lunch with her whenever I could to hear her stories. She had been counsel to the National Woman's Party. She was going to law school at night. She participated in the suffragist parades, and she picketed the White House, but she would never say a word. She would hold up her sign, Votes For Women, and not speak if she was hassled by the police because she didn't want to risk her chances for admission to the bar … She was a woman from Mississippi, so she spoke with a soft southern accent. She wore a lace collar and cuffs but she was a woman of real steel. And you think what it was like, for me, it was a piece of cake in comparison to what it was like for those women." —Stanford Rathbun Lecture, 2017
2) Grace Coddington
"Clare Rendlesham [a fashion editor at Vogue] was someone I watched very closely. I think she was an amazing editor. As was Sheila Wetton [also a fashion editor at Vogue]. She was a much older lady, but I loved her attitude to life. I always think I'm Sheila Wetton reincarnated. I love cats, I swear like a trooper and I used to be a model and so did she. I think she was extraordinary." —Vice, November 2013
3) Roxane Gay
"Novelist Tayari Jones has long been a mentor to me. I love her professionalism as a writer and how willing she is to nurture up-and-coming black writers and promote black writers in general, whenever she can. She has given me excellent advice on navigating the world of publishing, the tenure track and so much more. And she is an incredible, elegant and intelligent writer so she also leads through the example of her work … Having a great mentor earlier in my writing career really helped me to make good decisions that would ensure I could have a career and not be a one-hit wonder." —The Lily
4) Tina Turner
"My role model was always Jacqueline Kennedy Onassis … My taste was high. So when it came to role models, I looked at presidents' wives. Of course, you're talking about a farm girl who stood in the fields, dreaming, years ago, wishing she was that kind of person. But if I had been that kind of person, do you think I could sing with the emotions I do? You sing with those emotions because you've had pain in your heart. The bloodline of my family didn't come from that kind of royalty. Why I relate to it, I don't know. That's the class I wanted to be. But I wasn't, so I dealt with the class I was in." —Rolling Stone, October 1986
5) Taylor Swift
"We're taught to find examples for the way we want our lives to wind up. But I can't find anyone, really, who's had the same career trajectory as mine … I do have female role models in the sense of actresses like Mariska Hargitay. I think she has a beautiful life, and an incredible career, and I think she's built that for herself. She's one of the highest-paid actresses — actors in general, women or men — on television, and she's been playing this very strong female character for, what, 15 years now, something like that. And Ina Garten, the Barefoot Contessa. I really love her business, and how she sticks to who she is, and how people relate to it. In other industries, I have female role models. I just struggle to find a woman in music who hasn't been completely picked apart by the media, or scrutinized and criticized for aging, or criticized for fighting aging — it just seems to be much more difficult to be a woman in music and to grow older. I just really hope that I will choose to do it as gracefully as possible." —Time, November 2014
6) Jessica Alba
"Tory Burch, early on, was a great sounding board and mentor for me. She said, 'Just make sure to have people on your team that are aligned with your vision.' There's nothing worse than having a bunch of people on different pages, because then you never get anything done. I've made it a point to make sure we're always in alignment and that ultimately, we all want the same goal. You just have to constantly invest in the relationships with everyone at every level, and certainly your partners when you're starting the business." —Teen Vogue, January 2017
7) Oprah Winfrey
"[Barbara Walters] was a real mentor. For the first six months I was on the air, I imitated her like crazy. I'd be incredibly nervous interviewing her now. To have her sit in my home — I'd be worried that my lamps weren't good enough!" —Los Angeles Times, December 1987
8) Naomi Alderman, author
"[The Power] is also quite obviously a little tip of the hat to The Handmaid's Tale. Margaret Atwood was my mentor whilst I was writing this book, which is just an incredibly fortunate thing, God knows what horoscope I got to have that happen in my life, but you know, I can just be thankful for it." —Los Angeles Times, October 2017
9) Donatella Versace 
"If [my brother] Gianni wasn't there I wouldn't be here today. I'm a different kind of person. He broke barriers. Gianni wasn't afraid. I mean, he was showing sex. At that time, some people said it was vulgar, that was the word given to him, but, you know, women love what Gianni did, not because they showed skin, but because he empowered women. He told them not to be afraid of their sexuality. It's part of you, you know? We all talk about sex like it's nothing now, but Gianni did that years ago." —GQ, September 2018
10) Jen Rubio, co-founder and chief brand officer of Away
"I think of [mentorship] as having a board of directors for my career: who's the group of people with a range of experiences whose strategic advice I want as I evolve and grow? … My good friend Whitney Wolfe Herd [the founder and CEO of Bumble] is constantly pushing me to be a leader without sacrificing authenticity. Rashida Jones is a creative mentor of mine and pushes me go beyond what I think is possible." —Fortune, July 2019
11) Christina Tosi, chef
"My personal mentors are my grandmas — neither is still with me, but I use them as my moral compass. But my greatest mentor over the past few years has been my husband, Will Guidara. He knows me well enough to say, 'Your grandma wouldn't be cool with that,' and he's a restaurateur himself, so he helps me figure out how to bring the truest form of me to the table. I think a lot of people underestimate how many answers they have in themselves; oftentimes mentors are the ones who just help you find the key to unlock it. People who are the closest to you are your best mentors. It doesn't have to be someone who has 20 years on you, and it doesn't have to be someone in the same business as you, someone who has all the networks, secrets and connections. But it has to be someone you can be outrageously honest with." —Entrepreneur, September 2018
12) Martha Stewart
"I really found that I was drawn to what I call my mentors … They may be a farmer who milks his cows. They may be a very special professor. All different kinds of people fall into this group … It may be someone I've never met, but only read, like [Gabriel] Garcia Marquez. One of my dreams is to meet him. But those are my mentors. George Eliot, the great novelist. Jane Austen is a mentor of mine, in terms of language. So, I've informally constructed this structure in my life of mentors." —Academy of Achievement, June 1995
13) Sara Blakely, inventor of Spanx
"I memorized all 10 tapes [by Wayne Dyer, a motivational speaker] front and back. In high school, nobody wanted to be stuck in my car — 'Do not ride home with Sara because she's going to make you listen to that crap.' Then fast forward 15, 20 years, I end up on the cover of Forbes. I got so many texts from people from Clearwater High: 'Damn, should've listened!'" —Inc.
14) April Bloomfield, chef
"As a young cook, I can remember seeing Rose Gray and Ruth Rogers cooking simple Italian food on Channel 4. From then on, I dreamt of working at the River Café … Ruthie was the mother figure, Rose the more matter-of-fact and firm, with the occasional flicker of mischief. What I especially loved was that they didn't come from a culinary background like I did. They brought ease to their kitchen: it wasn't militant or stuffy like others I'd worked in. Everything was approachable, inspiring, and wholly new to the establishment of London's dining scene. And when I first ate their food it was like a lightning bolt — unlike anything I had tasted before." —The Guardian, August 2017
15) Naomi Osaka, tennis player
"My biggest role model is my mom. I saw everything that she was sacrificing to get me in this position and I always wanted to do well for her. And then, of course, Serena [Williams]. Beyoncé. I really like Usain Bolt, too." — The Lily, March 2019
16) Mindy Kaling
"I love Tina Fey, Vince Gilligan, Jonathan Franzen. B.J. Novak continually inspires me. Lorne Michaels is so stylish and has perfect taste. I strive to be as balls-out funny as Danny McBride, though who could emulate that, really? Nora Ephron, not only as a writer and director, but also as a hostess, a wit, a New Yorker. These are artists I want to copy and impress." —Rookie: Yearbook Two, October 2014
17) Lena Dunham
"Over the course of our year-and-a-half-long friendship, Nora [Ephron] introduced me to, in no particular order: several ear, nose, and throat doctors; the Patagonia jackets she favored when on set because they were 'thinner than a sweater but warmer than a parka'; ordering multiple desserts and having small, reasonable bites of all of them (I thought, Oh, so this is what ladies do); the photography of Julius Shulman; the concept of eating lunch at Barneys; self-respect; the complex legend of Helen Gurley Brown; the Jell-O mold; her beloved sister Delia…The opportunity to be friends with Nora in the last year of her life informs the entirety of mine. I am so grateful." —The New Yorker, June 2012
18) Senator Kamala Harris
"My uncle Sherman who was a lawyer … said, 'I'm going to teach you how to play chess because you need to understand strategy. You need to understand because chess is a metaphor for life in so many ways … there's the board, and there are all these different players that can move differently and they each have a power, a pretty profound power.' And he taught me through teaching me chess how, one, everyone can move differently, each has power — a pawn can take out a king — and also taught me to learn that you have to, you know, try to really think about the 10th step before you take the first step. So that's, early in my life, a mentor." —NPR, June 2019
19) Ali Wong
"I had a talk with Chris Rock about getting married and having kids, and I expressed to him that I was really anxious about it, and I was really worried about how it would affect my career. And he said to me, 'You know what, Ali? I think that if you do get married and have kids, that you will actually have a real shot at being truly famous, and I'm talking about the kind of famous where your mother knows who you are … like a mother, like a household name … because most of America is married and has kids.' And that really changed my perspective, because then it was kind of the beginning of me thinking about how to use my marriage and my pregnancy as — not a source of downfall and weakness — but instead as a source of power and relatability." —NPR, August 2016
20) Michelle Obama
"[Valerie Jarrett] has worked in our administration but I met her very early on before Barack and I even got married. She, for me, was one of the first examples of a strong professional woman who was a single parent, who was doing a phenomenal job as a mother and was just a boss at work. And watching her balance that and not losing herself in either role … I'd sit in a meeting with her and she'd be in the midst of business leaders sitting around the table … and her secretary would call and say her daughter had just got home from school and wanted to talk, and she turned herself off in a second, because she said, 'I will always make time for my daughter.' I saw how important it was that even in the height of your career putting your kids first was important." —Virgin, December 2018
21) Melinda Gates
"For me, it all started with my high school math teacher, Susan Bauer. She convinced the nuns in charge of my all-girls school to build us a computer lab so she could teach us how to code. She could tell computers were going to transform society in our lifetimes, and she wanted us to be a part of that. There weren't a lot of people focused on getting girls coding back in those days — and I'm so lucky that Ms. Bauer happened to teach in my high school." —CNET, August 2017
22) Saoirse Ronan
"Greta [Gerwig] has been a huge influence on me, just the way she's gone about really honing her director's skill, exposing herself to all of these great directors' work and compiling all that so she can do it herself. Greta has done such a brilliant job of it. And I just really admire her … I've always wanted to direct… Watching Greta do it, I see someone like that and I think, oh it can be done." —Smile Magazine, March 2018
23) Ty Haney, founder and CEO of Outdoor Voices
"Yvon Chouinard, the founder of Patagonia. I have not met him, and I really want to. I think what stands out most to me about him, and has influenced the way I've built [Outdoor Voices], is that he has this really strong set of cultural values at the company that have been intact for around 46 years. He's been definitely the person I've sought kind of guidance from, even though not personally or in real life … yet." —USA Today, January 2019
24) Indra Nooyi
"There's no question it's lonely [being a C.E.O.], but you've got to create your own ecosystem, and your own kitchen cabinet … I remember that we had a group of five C.E.O.s [and] we would meet every quarter. There was Jeff Immelt from G.E., there was Ken Chenault, Sam Palmisano, and then Ginni Rometty … And the five of us would get together every quarter … to talk about issues that were on our mind. And it was a good safe group for us to sort of bounce ideas off of each other … and say 'How did you do it? How did you accomplish the same challenge in your own way?' — those kinds of things." —Freakonomics, January 2018
25) Vera Wang
On Ralph Lauren: "It started with the interview: I'm sitting with him in his office — he already has an empire by then — and the first question he asks me is: 'What don't you like about my clothes?' It was like an asteroid coming at me. I said, 'Do you want me to answer with what you wish to hear? Or do you want me to tell you the truth?' And he said, 'The truth.' So I was honest, and I thought, I'm not getting this job. But I did. Ralph also has complete conviction about who he is and what his brand stands for. He is not swayed left and right by what goes on … I think when you work with someone who has that kind of vision, unless you're deaf, dumb, and blind, you've got to pick up something." —Harvard Business Review, July 2019