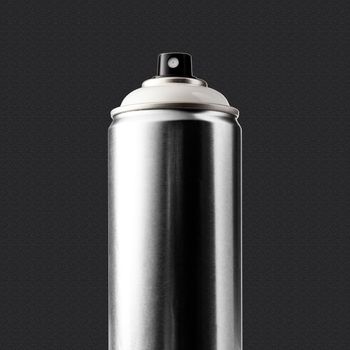 Photo: Floortje/Getty Images/iStockphoto
For the most part, beauty products are pretty harmless. It's easy to forget that many of them, particularly hair-care items, contain dangerous, flammable ingredients, despite warning signs printed on the labels. Unfortunately, a teenager in St. Peters, Missouri, got a hard lesson in the dangers of aerosol when her favorite dry shampoo exploded inside her Honda and blew a hole through its roof. Even worse, it was her brand-new car!
Christine Bader Debrecht told the Washington Post that her 19-year-old daughter had just bought the car — her very first — in June and that keeping beauty products in the vehicle was a common practice for the teen. "My daughter has been constantly on the go since she got her driver's license three years ago," she said. "She has always kept a stash of beauty products with her in her car, and dry shampoo has been among them." Who amongst us?
The explosion, which was caused by an overheated can of dry shampoo made by Equate, a generic Walmart brand, resulted in a hole in the car's sunroof and the hinges blown off the middle console. While the Post reports that the temperature outside was around 90 degrees, it was more than likely much hotter inside the vehicle. (A warning label on the can states that the product should be stored below 120 degrees.)
Michelle Francl, a professor of chemistry at Bryn Mawr College, reviewed the ingredients list of the Equate can. "It's got propane and butane in it, which are the same things that are in lighters," she told the Post. Debrecht was shocked to see those listed.* "At least if you are transporting butane or a propane tank, you know it's dangerous and can take special safety precautions," she said. "This was a seemingly innocent can of dry shampoo." A second can of dry shampoo, by the brand Dove, was also inside the vehicle, but it did not explode.
While it's a bummer that this poor girl has to now deal with expensive damages, her family is grateful that she wasn't in the vehicle when it happened. It's also an eye-opener to anyone who tends to leave the occasional beauty product in the car.
"I would not have wanted to be in the car when that happened," Francl said. "It's like a small explosive device."
*The original version of this article incorrectly attributed this quote to Francl, and has been corrected to reflect that it was in fact Debrecht.