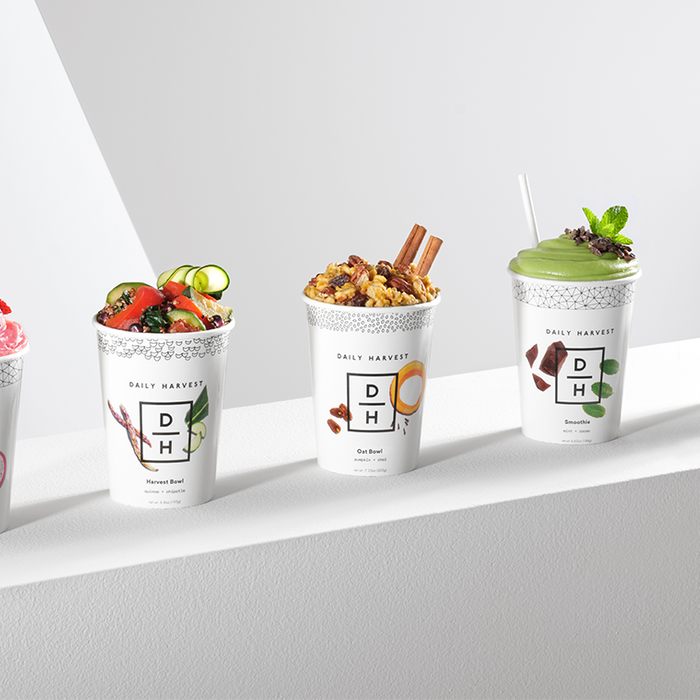 Photo: Courtesy of Daily Harvest
Eating fresh, nutritious meals with little to no processing should not be hard in 2019, but it can still feel that way, even when you have access to healthy food sources. Recipes billed as "easy" often require several steps, even more dishes, and the better part of an hour to cook and clean up after. That may work for a Sunday, but anyone with a full-time job and an even slightly busy life can hear the siren song of takeout during the week. To prepare for those inevitable moments, it helps to have options on hand that split the difference between eating out and cooking in.
Below, a few of our fellow staffers who love a high-nutrient, low-effort meal discuss how they simplified healthy eating and integrated more vegetables into their diets. Each one has welcomed Daily Harvest — those cups filled with colorful ingredients that you've likely seen all over social media — into their meal (and snack) rotation, but how each person uses it is completely unique.
Becca Hafter, senior marketing manager
How have your dietary habits changed over the years? 
I've always been focused on a full color spectrum of fruits and veggies, but I've embraced filling, delicious lunches recently — fewer salads, more grain bowls with vegetables and protein. I'm all about the southern-European model of big lunches and more modest dinners, and during the week, I want lunch to be filling enough to fuel me for the rest of the workday.
How have you made healthy eating sustainable, convenience-wise?
Meal planning is an essential part of my week! It's the opposite of boring for me — it gives me healthy, delicious lunches to look forward to versus scrambling to finish up a project and having to leave for a salad in the middle of the day.
How do you use Daily Harvest?
Grab-and-go options make meal planning super-easy, and I love the harvest bowls. My current favorites are the Butternut Squash + Kale Shakshuka and Red Lentil + Cumin — the latter reminds me of a curried lentil soup at a café around the corner from my apartment, and the lentils give me exactly the right amount of protein to keep me going until dinner.
Valentin Pertsov, senior audience development manager
How have your dietary habits changed over the years? 
I grew up in a no-soda, no-sweets house, so I would sprint toward any high-fructose corn syrup I could get my clammy little hands on. As I got older and realized eating well made me feel good, I swung the other way and tried to cut anything processed, sweet, or carb-y out. Now, I'm at a (mostly) happy medium.
How have you made healthy eating sustainable, convenience-wise?
I aspire toward a gluten-free, keto, intermittent fast-y diet, but then I snap back to reality when I realize I will, in fact, eat chips at 11 tonight. Mostly, I just try to moderate. I tend to err toward "clean" foods for breakfast and lunch and then do whatever soothes me for dinner. I also choose "healthier" versions of snacks (cassava flour tortilla chips, almond flour crackers instead of the real things). Am I deluding myself into thinking I'm snacking healthy? Yes. Do I like this delusion? Yes!
How do you use Daily Harvest?
I live and die for a smoothie moment, and my favorites are Daily Harvest's Acai + Cherry and Ginger + Greens. While I want my smoothie to be healthy, I don't want to feel like I'm drinking a salad, which is why these are perfect. They have a nice touch of tartness or bite.
Tori Young, copywriter
How have your dietary habits changed over the years? 
I'm from the South, so a lot of my meals growing up were made up of bread, butter, and more butter. Plus, I was totally addicted to sugar. When I finally took control of my health this year, it ended up being way easier and tastier than I imagined. I'm a big believer in balance so I never cut anything out entirely. Everything is on the (dinner) table, but I've taken a lot of comfort foods and other favorites and adjusted them to be cleaner and leaner. Daily Harvest's Broccoli + Cheeze bowl is a quick way to do this — it replaces cheese with a mix of sweet potato, red pepper, and nutritional yeast that's equally delicious.
How have you made healthy eating sustainable, convenience-wise?
Planning ahead! I'm not the most organized meal-prepper, but I'm good about taking a second to jot down what I'm in the mood for and what I'd like to try. I'm a fruit and veggie fiend, so anything pre-packaged or commute-friendly that checks those off is a friend of mine. I never want to give myself an excuse to eat what makes me feel like crap, so I try my best to fill my fridge (and schedule) with options. My Notes app is filled with grocery lists and recipe links, because food is my top priority. Always. Don't @ me.
How do you use Daily Harvest?
While not all smoothies are good for you, I've found the right ones give me a jolt of energy and help align my body for the day. I go for ones packed with greens and a pinch of tanginess to wake me up. I love the sweetness of Apple + Greens mixed with the turmeric — it amps everything up and gives it the kick I'm looking for in the a.m. Paired with the Broccoli + Cheeze bowl — at lunch, you can't go wrong.
Julia D'Orazio, designer
How have your dietary habits changed over the years?
Growing up, I was super-picky. I only ever ate PB&J, bagels, and mac 'n' cheese. Things only changed when I went away to Germany my senior year of high school: I lived with a host family and had to eat whatever they gave me. In college, I learned to cook the basics (pasta, chicken, eggs). Now I eat pretty healthy to support my lifestyle, as working out is my favorite hobby. So I try to incorporate greens, fat, fiber, and protein into each meal.
How have you made healthy eating sustainable, convenience-wise?
I've tried some different recipes over the years as well as places to grab healthy food, and I have found some go-tos like slow-cooker chicken and pre-seasoned frozen veggies. I'm definitely the type that never gets tired of eating the same thing, which makes eating healthy really simple for me.
How do you use Daily Harvest?
When I get home late from work, the last thing I want to do is cook. There have definitely been periods where I picked up something unhealthy or expensive on my way home out of despair. I started to use Daily Harvest to keep up with my healthy but busy lifestyle and have something to look forward to on my way home. I love the Cauliflower Rice + Pesto, but I'm a huge fan of sweet potatoes in any form, so the Sweet Potato + Wild Rice Hash harvest bowl is another favorite. There's lime and a smokiness that makes me feel like I'm eating a Mexican dish.
LaQuan Smallwood, sales planner
How have your dietary habits changed over the years?
I've found myself not craving as much meat as I once did. Instead, I've developed a deeper love for veggies — growing up, veggie dishes at home were very traditional (a.k.a., boring and unattractive). Now, with options like these harvest bowls, I've found a whole new veggie experience with great, unexpected flavors.
How have you made healthy eating sustainable, convenience-wise?
I wasn't always the best at planning out my meals. Every day, I would pretty much eat whatever seemed quick and convenient in the moment. The majority of the time, those options were not health-conscious but instead a costly quick fix. Recently, I've found that prepping meals has helped me drastically cut costs and save time.
How do you use Daily Harvest?
Convenience is definitely a game changer in any situation for me. I love how easy Daily Harvest smoothies are. The best part is all of your ingredients are already prepped and ready, and it only takes a minute to blend. My favorites are Apple + Greens and Strawberry Peach.
All images courtesy of Daily Harvest.
This is paid content produced for an advertiser by New York Stories. The editorial staff of The Cut did not play a role in its creation.