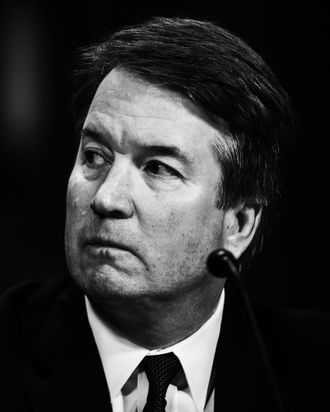 Brett Kavanaugh.
Photo: Gabriella Demczuk/Getty Images
We now have more information on how the New York Times published a messy excerpt of Robin Pogrebin and Kate Kelly's The Education of Brett Kavanaugh, with a very messy accompanying tweet.
To recap what was messy about it all: Pogrebin and Kelly's book contains powerful new information, including a newly public allegation of sexual misconduct that echoes those against Kavanaugh by Yale classmate Deborah Ramirez, and details about how this story and statements from other witnesses were not thoroughly investigated by the FBI.
However, the excerpt in the Times was framed as a long feature about Ramirez and Yale rather than as a news story; it did not name the person, Tracy Harmon Joyce, to whom Kavanaugh also once exposed himself according to fellow Yale classmate Max Stier; and it did not say that Harmon Joyce will not discuss Stier's account, and that her friends say she does not remember it.
Those critical of Kavanaugh's Supreme Court nomination were upset that this packaging both diminished the potency of the information in the article, as well as gave ammunition to conservatives, who accused the Times of engaging in partisan smearing. Their ire was only stoked by the accompanying Times tweet of the story, which began, bizarrely, "Having a penis thrust in your face at a drunken dorm party may seem like harmless fun … "
So here's what we learned from a Times Q&A with editor James Dao, published yesterday in response to the backlash: Pogrebin and Kelly's book excerpt was subject to "the same review process as outside writers," who decide what section excerpts should run in. He said it is "not unusual" for those that appear in the Sunday Review, part of the Opinion section, to break news. The story was framed around Ramirez and Yale because the book "explores in a nuanced way the social and cultural forces that shaped Justice Kavanaugh." And as for the tweet, the Times "process for writing and editing social media copy" was not followed properly.
Dao didn't address removing Harmon Joyce's name and the fact that she doesn't back up Stier's story. But authors Pogrebin and Kelly confirmed that it was indeed taken out of their draft in an appearance last night on MSNBC. Pogrebin offered an explanation that was pragmatic rather than nefarious: "I think what happened actually was that we had her name and, you know, the Times doesn't usually include the name of the victim," she said. "So think in this case the editors felt it was better to remove it, and in removing her name they removed the other reference to the fact that she didn't remember it."
Outside news outlets have also reported on what went down. Vanity Fair wrote that sources say "Kelly and Pogrebin initially pitched their scoop to the news side, but the top editors ultimately felt that there wasn't enough juice to warrant a story there, let alone a big page-one treatment." Politico claims that Pogrebin wrote the offensive tweet herself.
Regardless of what happened, we can be sure that this isn't the end of the fallout: Representative Ayanna Pressley is reportedly introducing an impeachment resolution against Brett Kavanaugh today.