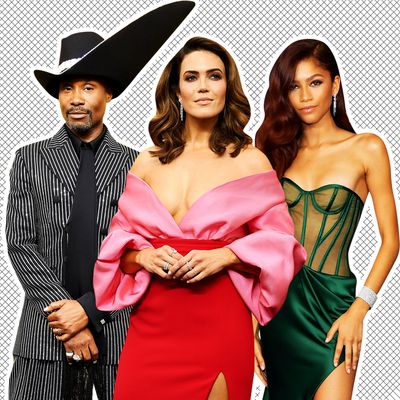 Billy Porter, Mandy Moore, and Zendaya.
Photo: Getty Images
The Emmys red carpet featured several a red and pink dresses and genteel Southern men (we're looking at you, Jeremy Strong and James Van Der Beek). There weren't quite as many showstoppers as there are at, say, the Oscars or the Met Gala, but when you invite Billy Porter, you're going to get at least one good look. Fortunately, we got even more than that. There was a strong showing of feminine, glamorous, outfits that didn't bore from actresses like Mandy Moore and Vera Farmiga. And a few wild cards, too, to keep things interesting and conjure up Jesus and dominatrices. Shall we?
Best Celery Impression: Greta Lee
This iridescent green color is dreamy on Greta Lee, who is nominated for her work on Russian Doll. The puffy top and ball-gown skirt wouldn't appeal if they were attached — too much volume. The strip of skin is what makes it work. Christopher John Rogers, the designer, proved to be one of the most exciting talents to show earlier this month at New York Fashion Week. Tracee Ellis Ross wore a similar look, in magenta.
Best Little White Cutout Dresses: Indya Moore and Jodie Comer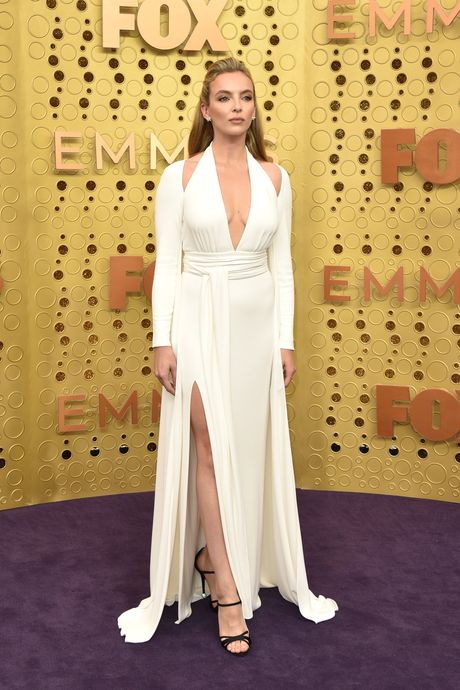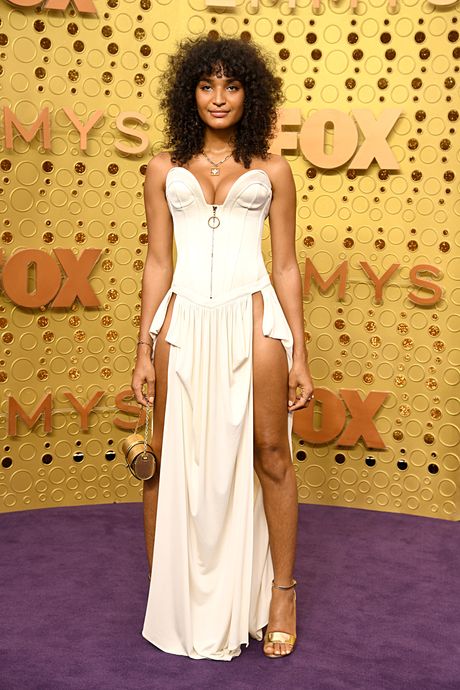 Moore's barely-there dress is reminiscent of a gladiator. A bridal gladiator, if you will. Meanwhile, Comer's halter top and flowing skirt scream Marilyn Monroe. That said, the sleeves are more sleek, and more Villanelle.
Best Suit: Ru Paul
By and large, the men of the Emmys went with basic, dark-colored tuxedos. It's a formula that works, but it's rarely landing you on any best-dressed lists. But Ru Paul took a risk that paid off. The pink suit with a black floral print and a pussy-bow blouse is something we'd wear ourselves.
Most Vampiric: Vera Farmiga
Miss Havisham meets Carrie. The sleeves, the shoulders, and the neckline all read very Victorian, but the blood-red hue makes it modern without sacrificing the Gothic vibe. Farmiga is no stranger to this kind of eeriness, being that she's well known for her roles in celebrated horror films. With a blunt bob, it's a win. A bun would have been too much.
Best Bows: Dascha Polanco
Sometimes you've got to go big. While I don't think the extra tulle bow in the back is really working, the giant bows, the fitted silhouette, the neckline, and the kicky pony all look like something Barbie would wear. And what would an award-show red carpet be without a little bit of pageantry? This risk is 100 percent welcome.
Master of the Trend: Mandy Moore
At the Oscars everyone wore big pink dresses, but today we graduated to pink and red. Marisa Tomei, Zoe Kazan, and Taraji P. Henson each wore variations on the budding trend, but Moore's Brandon Maxwell gown was the standout. Her voluminous hair, elegant neckline, and figure-hugging silhouette are Old Hollywood in the best way. The vivid, contrasting colors together become simultaneously romantic and attention-grabbing. And it all looks extremely expensive.
Most True to Character: Gwendoline Christie and Catherine O'Hara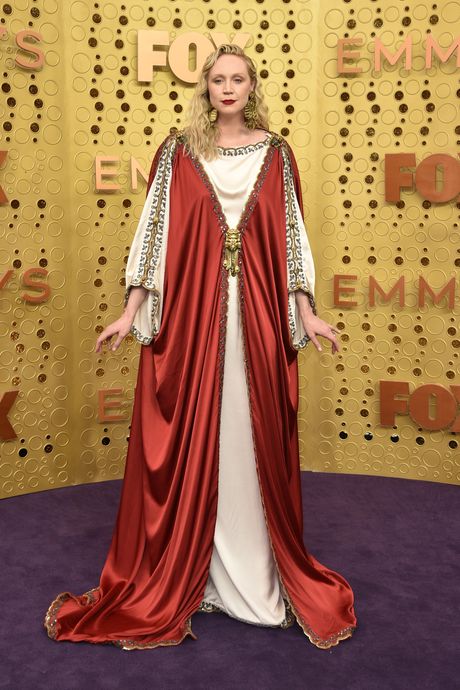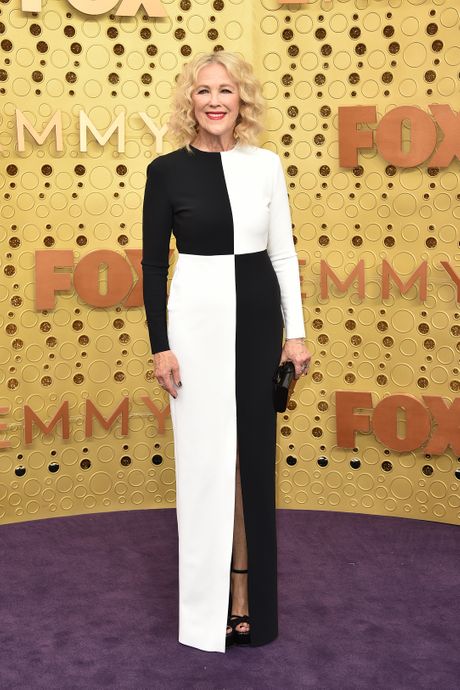 Gwendoline Christie's look was unlike anything else on the red carpet. It's been compared to Jesus, the Pope, and an unspecified Roman Emperor. Still, it doesn't look too costume-y. Part of that is owed to the beachy waves and red lip. Eagle-eyed Game of Thrones fans will notice that her brooch is a lion, a possible reference to the Lannister sigil. Catherine O'Hara also used her red carpet moment to nod to her on-screen character, Moira Rose. Rose wears exclusively black and white on Schitt's Creek. Referential or not, O'Hara's mod gown by Greta Constantine is fabulous in its own right.
Best Birthday Suit: Billy Porter
You knew Billy Porter wouldn't let you down, right? Today's ceremony coincided with the actor's 50th birthday, so it's only right that Porter was adorned in 100,000 crystals. This sparkly pinstripe suit is a bit like David Bowie's famous wide-legged jumpsuit, and the peep-toe platforms seal the deal. But let's look at the hat, which is like a cubist cowboy hat, also adorned with crystals. On a night when the menswear failed to inspire, Porter was characteristically a breath of fresh air.
Prom Queen: Sophie Turner
Sophie Turner almost always wears Louis Vuitton for special occasions (she's a face for the brand). There's something about this looks that reminds me of the bitchiest girl in your high school, the Regina George all grown up and in 2019. That's know a knock, though. It's powerful, sleek, and razor sharp.
Best Cape: Angela Bassett
It's a jumpsuit! It's a cape! It's a sparkly lollipop bag! There's no shortage of great details to latch onto in Angela Bassett's outfit.
Sexiest: Zendaya
If there's any look from tonight that's going to end up in red carpet lore, I'm betting on Zendaya's emerald green Vera Wang gown. Euphoria won't be eligible for Emmy nominations until next year, but she still came to show us what we have to look forward to. The corsetry, the draping, the leg slit – it's all gorgeous. And I love how relatively simple the accessories are. The diamond bangle is the exclamation point on an incredible dress that for the most part speaks for itself.
Best Variation on a Theme: Kendall Jenner
Remember Rachel Weisz's great latex and lace oscar look? This has a similar look. The top is BDSM and the bottom is Gone with the Wind. That juxtaposition is interesting on Jenner, who typically sticks to classically sexy red carpet attire.