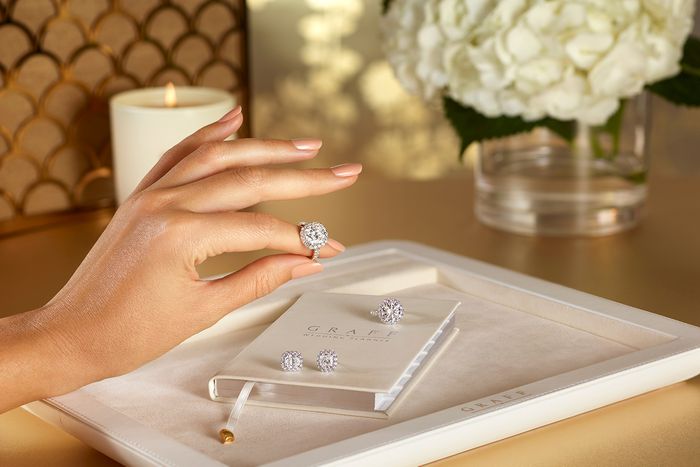 Buying an engagement ring can feel daunting, even for those among us who've been planning and prepping and social-media pinning forever. We've all heard the traditional advice (example: focus on the "4Cs"), but what does that actually mean when it comes to choosing a ring with personality — and maybe even enjoying the romance of the process?
For advice, we turned to Anne-Eva Geffroy, design director at the iconic jeweler Graff. The luxury house is known worldwide for its expertise in choosing exquisite stones and crafting unique settings for engagement rings, bridal bands, and wedding-day jewelry. (Notably, they've also cut and polished many of the most significant diamonds discovered this century.) Read on for Geffroy's guidance, plus some of our favorite creations from Graff.
Start With These Questions
So you've fallen in love, and you want to find a ring that represents that sweet feeling you get when you look at your partner. "Finding the right ring is a very individual journey for each couple," Geffroy says. And what you expect you might like — based on your own personal tastes or what you think your partner prefers, if you're buying for someone else — might not hold true for something that serves as a daily reminder of eternal love and commitment. (No pressure.)
"An engagement ring is the embodiment of your love, and a daily reminder of your cherished union," Geffroy explains. "It must reflect your unique personality, style, and ultimately, your love story." To begin the process, she recommends starting with some basic questions. Will the band be white gold, yellow gold, or rose gold? Do you or your partner already have a shape and silhouette in mind? Will it feature a traditional white diamond or a more uniquely colored stone? Those ideas can help narrow the field as you start to browse engagement rings.
Try on Different Stone and Setting Options
Geffroy recommends that the would-be wearer try on a variety of stone shapes while shopping, even if the decision already seems set. Hand shape is one factor to consider: Elongated shapes, such as pear or marquise, can appear to lengthen the wearer's finger, while round jewels flatter slimmer fingers. And the center jewel's setting, meaning how the stone is held in place on the band, can add interest and dimension.
"The setting dramatically alters the overall look of your ring, making it crucial to consider the finer details of the band style and surrounding stones," Geffroy says. For instance, Graff's Constellation designs feature a central stone haloed by smaller pavé gems, creating more brilliance.
Choose the Diamond That Speaks to You
While you finesse your design, Graff helps relieve some of the pressure of finding the stone to place within it. Geffroy says the 4Cs (cut, carat, color, and clarity) are still important guidelines but adds that "each diamond has a very unique character and personality, which must also be interpreted." In other words, you should fall in love with the stone (almost) as much as you've fallen in love with your partner.
"The central stone is more than just a stone: It's the jewel that will represent your love throughout the decades," Geffroy explains. "You must be inextricably drawn to it and be proud of its provenance." At Graff, each engagement ring features a center stone personally selected by a member of the Graff family, spanning several generations of diamond experts. The jewels in every ring have met the house's stringent standards, meaning clients can spend their time focusing on other design details rather than trying to become a self-taught gemologist.
Consider What Traditions You Want to Keep…or Break
Today, an increasing number of couples are going for nontraditional engagement options, Geffroy says. For instance: selecting colored stones instead of a white diamond or "layering together several different bands to create a striking stack of gems." The pink diamonds on this rose-gold Flame Emerald Cut Engagement Ring are perfect if you're looking for a unique color combination, or the brand's Laurence Graff Signature setting offers a distinctly contemporary twist on a classic silhouette. (For the more traditional: Graff's Promise designs feature a central diamond bordered by smaller side stones.)
In the end — regardless of style — the most important aspect of a ring is the love it represents and its significance to a couple, Geffroy adds as a reminder. "Engagement and wedding rings have such a rich history, and it's the pure romance of the concept that has kept this tradition alive," she says. "It's a beautiful symbol worn every day to remind you of the commitment and love that you share." No matter what ring you choose, what's more special than that?
All images courtesy of Graff.
This is paid content produced for an advertiser by New York Stories. The editorial staff of The Cut did not play a role in its creation.