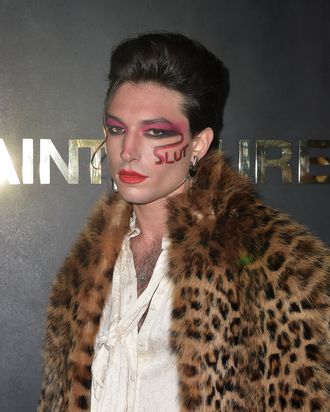 Photo: Dominique Charriau/WireImage
If you've mastered every iteration of the smoky eye and want to try your hand at a bold look the goes beyond the glittery tears and rhinestone-studded eyelids of Euphoria, take a cue from Ezra Miller and write the word slut on your face.
Miller attended the Saint Laurent show at Paris Fashion Week in leopard-print shorts, a matching fur coat, a pussy-bow shirt, silver glitter boots, and makeup with a very interesting message. Underneath his smoky red and black eyeshadow, the word slut was drawn on his cheek.
What was the inspiration for this look, besides making nanas clutch their pearls everywhere? According to makeup artist Lisa Houghton, it was all Miller's idea. On a post on her Instagram, Houghton said that Miller knew what he wanted, right from the get-go. "'I want you to write the word slut on my cheek' was literally his opening statement when asked about his desires for the look," she wrote, calling the move "personal to Ezra and his spiritual and political ethos."
Yes, but what does it mean? Is Miller a slut? Are we the sluts? Is the world a slut? All three?
Of course, this look is part of Miller's signature, as the actor has been known to fearlessly experiment with his style over the years. Previous red-carpet looks have included Harry Potter spells written on his palms, a goth sleeping bag, and multiple eyes painted on his face in an optical illusion for this year's Met Gala. Beauty brand Urban Decay obviously noticed Miller's penchant for daring makeup looks, making him one of its "global citizens," alongside Lizzo and Joey King in June of this year.
While we might not know exactly what Miller wanted to convey with his edgy makeup of choice, we do know one thing: He'll never look boring.