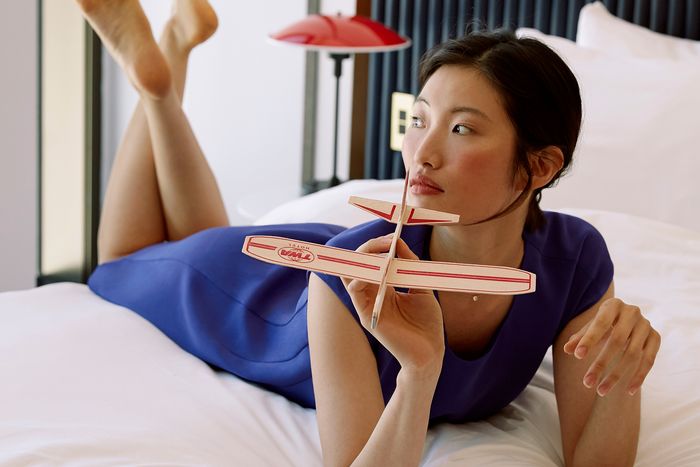 Photo: Courtesy of M.M.LaFleur
Sometimes, business travel requires a polished look fresh off the jet, yet most clothes achieve the exact opposite outcome. Enter M.M.LaFleur. The brand has already mastered the art of stylish workwear, and this month, it launched a genius travel line — Up, Up, & Away. If you travel regularly for work, this collection will change your life.
The travel-optimized collection includes a mix of delightfully light, breathable, yet elegant apparel made specifically for frequent flyers. With style-conscious tops, bottoms, and mix-and-match origami suiting (yes, designed for efficient folding), Up, Up, & Away focuses on indispensable — and wrinkle-resistant — pieces that can be worn straight off the plane and into your next meeting without needing to step away with your travel steamer. High-powered women of the world, rejoice.
Read all about our must-haves below; then, shop the full collection here.
The Ismelka Top—Soft Wave
We imagine this top doing well for both in-office meetings and 2-for-1 happy hours. The scarf situation is built in, so you can glide this baby on and choose your own neckline for optimal chic. Yes, it's machine-washable, and dreams really do come true.
The Maggie Dress
The best thing about this dress is its ability to go from day to night with the click of your heels (or flats, or sneaks, etc.). The flattering shape was inspired by that of a wine bottle, which doubles as a conversation starter and just a really fun fact.
The Angelina Top
There's so much to say about a tie waist and none of it is bad. This top is another machine-washable wonder, and is meant to pair with The Foster Pant for a professional, elongated, sort-of suit. Give it a whirl when you don't feel like wearing a real suit.
The Foster Pant
Picture your favorite pair of yoga pants. Now, picture them as work-appropriate and still just as comfortable. This is how we imagine these cigarette pants to be, considering their stretchy fabric and fitted shape. The Foster Pant is The Angelina Top's partner in crime, and oh! Did we mention it's machine-washable?
The Jensen Trench
For any bad-weather forecasts, pop this classic trench in your bag and call it a dang day. It's water resistant, has a belted waist, and provides two perfectly roomy hand pockets. Will travel for pockets.
The Emiko Top
We love a good trick of the trade. Another day-to-night transition piece, this tastefully ribbed top made our favorites list for its sneaky detail — the woven cuff peeking out gives the appearance of two tops for the price (and packing room) of one. Typical sweaters wish they were so efficient.
All images courtesy of M.M.LaFleur.
This is paid content produced for an advertiser by New York Stories. The editorial staff of The Cut did not play a role in its creation.