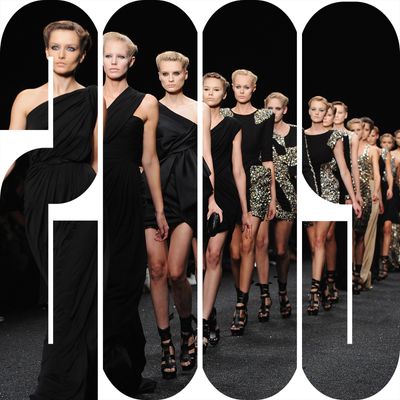 Can you spot the pattern?
Photo-Illustration: by Stevie Remsberg; Photo: Getty
In 2009, I was full of doubts about fashion. Not because of the trends (although one musn't forget about stacked platform pumps and peplum tops), but because my place within it was in flux.
I had just graduated from graduate school at Columbia University, earning my masters in African American Studies. My mentor wanted me to pursue a Ph.D., but I was set on getting a job in "corporate fashion." I wanted a salary and a desk and I didn't want to stand on my feet all day the way I had working retail. True, I had just dedicated two years of my life to adding corrective, restorative, and prescriptive discourse to the canon of black studies. But fashion — a path I knew to be largely white, deeply insular, and often exploitative — had gotten hold of me years earlier.
I was the only daughter in a house full of boys, and my mother treated me like a doll, dressing me up in designer pinafores purchased from the Bloomingdale's children's department. Bonnets, bows, matching play sets — my parents made an incredible fuss over what I wore, and I responded in kind. I loved the trappings of dress-up, especially on Sundays.
"Sunday best" was an age-old tradition in Southern black Christian households. Churchgoers put on their best looks for styling and profiling in the sanctuary. Noticing I was developing a real fashion sense, my father began taking me to Plum Tree, a Dallas designer children's boutique, to pick out pieces for Sunday service. This is where my personal style blossomed. I loved how clothes made me feel mature and seen; I was young but an individual.
I often skipped Saturday morning cartoons to watch Fashion Television and Videofashion Weekly!. At 13, I bought my first Vogue at the local Eckerds in my suburban Texan neighborhood, and soon my childhood bedroom was littered with copies. I read each magazine from front to back, decoding the hieroglyphics of fashion like an archaeologist. And as I came to understand its esoteric symbols, I also understood that fashion was racially exclusive. Luxury catered to a primarily affluent white audience and was made up of white players. From the editors who decided the season's biggest trends to the designers who emerged at the end of the catwalk to take their celebratory bow to the models who showcased their wares, the decision-makers in the business were all one-note. This was not to discount the tremendous careers of figures like André Leon Talley, Naomi Campbell, and Iman. But I knew that fashion's interest in black people was scant, selective, and short-lived.
Still, I wanted in. Maybe it was naïve or masochistic, but I thought eventually the world of fashion would accept me. Or perhaps it's something like that Groucho Marx quote: "I would never belong to a club that would have me as a member" — the terrible trick of fashion being that you're drawn to its exclusivity. It makes people want the very inclusion and acceptance it will never give them. And somehow, I found an opening: a personal shopper gig at a tony luxury e-tailer. It offered me not just proximity to luxury fashion, but also enough disposable income to purchase it in the middle of a recession. In a sprawling office in New York, I sat perched each day in front of my computer screen, hawking pointy-shouldered Balmain blazers and Alexander McQueen armadillo platforms to the beau monde.
Initially, I struggled with ambivalence toward my job. A years-long internal battle was nagging at me: mixed feelings that had me, at once, feeling plenty of shame around my interest in the exclusionary world of fashion, and yet still maintaining a vested interest in changing it. The struggle first started in college, where I wrote my undergraduate Gender Studies thesis on the commodification of black female beauty. Creating a historical arc that scaled from Saartjie Baartman (Hottentot Venus) to Josephine Baker to Naomi Campbell, I argued that the black female body has always been a source of appropriative fascination for a white audience. In graduate school a few years later, it was par for the course to get into a heated exchange around, say, how Beyoncé's "Sasha Fierce" alter ego bifurcated black female sexuality. Fists pounding the table, we'd argue about how the pop singer continued to exist within this dichotomous matrix that black women have historically occupied: at once hypersexualized and asexual. Sure, it could get jargon-y, but this was the type of critical engagement around fashion and culture I was used to.
Now, my new co-workers were more than happy to fully discount the influence of black entertainers altogether. As they dissected the red-carpet appearances of their favorite cultural heroines, I recognized the women they chose were always white, tepid, and safe. That may have been a matter of taste, but I always picked up on the subtext: black women weren't to be followed or emulated. I floundered finding a way to relate.
But one day something clicked — or rather I clicked with one of my clients, Selma, a Brazilian socialite who toured the world aboard her husband's yacht. She was exactly what you'd expect from the wife of a tycoon: loud, spirited, tasteful, with no budget. But she was also chatty and warm, opening up her world to me in a way that felt truly personal; I wasn't the faceless help, but someone whose opinion on fashion she respected and whose company she enjoyed. Constantly traveling, she would call me from far-flung locales, and in her thick accent, discuss her family life, health, and the $20,000 orders she was hoping to place. "Marjon, you'll come to Brazil to see me one day, yeah?" As she cruised through Croatia and the Amalfi Coast, we'd talk for hours, discussing everything from the joys of parenting to how I would be sending her the entire Lanvin collection to try.
Now, I couldn't ignore the fact that Selma's glamorous lifestyle was an obvious result of class inequity, but our calls humanized her and helped me to find the joy in my job. Luxury personal shopping wasn't purely transactional; I was being paid to connect with interesting people and geek out on the pure, unadulterated love of clothes. Wasn't this what all those years spent studying Vogue had prepared me for? I wasn't just a bookworm, after all, but a fashion nerd — one who had accumulated a vast body of knowledge around cut, proportions, and fabric. Here I was finally putting it to good use, while still promoting human connection. Soon, I understood each client's taste and quirks, and they filled me in on their massively glamorous lives of multiple homes, businesses, and assistants.
But while I was growing in my position, I also recognized almost immediately I was one of the few black women in the whole company with a senior role. Although the company was led by women, those women were very much all white — and there didn't seem to be a plan to change that. Thin and hawkish, they headed up each department — buying, styling, merchandising — filling the ranks with women who looked just like them. The only areas where black and brown women outnumbered white women were in the customer service call center and order fulfillment warehouse, jobs that were never public-facing. All menial and custodial grunt work lay in the hands of women of color. Black and brown women could assist, but were not decision makers — nor did we own equity in the business, unlike some of my white co-workers. Over drinks one evening, a tipsy colleague revealed that as soon as the company went public, she would see a windfall.
I was infuriated and frustrated by that knowledge. To my white co-worker, talking about her stock gains and investments in the company probably seemed like innocent inner-office gossip, but for me, it was evidence of how the chips are stacked so differently for black and white women in this industry. Although she was senior to me and in a director role, she wasn't inherently better suited for her job in fashion; she simply had access to a career, unlike the majority of women of color manning the warehouse or phone switchboard. She knew the right people (namely the company's founder), had most likely been coached and encouraged from a young age, and been given opportunities that guaranteed her success. And moreover, she was educated on exactly how to become profitable in the business. I understand that most business practices, no matter the industry, are shrouded in secrecy; it's supposed to be difficult to penetrate the inner circle. But if black and brown women could barely enter the industry, how were we supposed to succeed in it? Well, we weren't: I remained the only black hire in my department until I left nearly two years later.
In 2019, words like "diversity" and "inclusion" are everywhere in fashion. (I'm not saying the concepts are actualized everywhere, but the words sure are.) In 2009, they were nowhere. But I saw small rumblings of an industry shift. Street-style photographers began narrowing their lenses upon the likes of Tamu McPherson, Shala Monroque, and Julia Sarr Jamois, while a handful of black celebrities began to receive equal attention from luxury brands. Rihanna, Kanye West, Ciara, and Beyoncé were being considered bankable enough that brands were willing to hang entire campaigns upon them.
But while black folks and our style sizably influenced trends and designers, we did not own stakes within it — at least not in the ways that, say, a Bernard Arnault did. As my career in fashion progressed and I became a journalist, I found that I was often the only black woman in the room.
By the time I got to Vogue in 2015, as a senior fashion writer, the temperature had changed drastically within the business, and my approach was sizably different from the beginnings of my career in fashion. Social media was helping democratize the industry — bloggers, influencers, and photographers of color were generating their own content independently of major publishers, and using their own platforms to become more vocal about fashion and popular culture. If, say, Black Twitter accused Valentino of cultural appropriation for braiding models' hair into cornrows, that conversation became headline news, rather than being siloed to the classroom like years before. This made it easier for myself and my black peers to move those conversations to fashion's center.
While I was not expressly hired at Vogue to write about more inclusive topics, it felt natural and important to use my platform to underscore the black and brown celebrities and tastemakers that so often go ignored. I found it rewarding to feature my cultural heroes and heroines in one of the biggest institutions in fashion, and to broaden the idea of who exactly was deemed "stylish." This wasn't lost on my editors, who encouraged me to dig my heels in deeper.
Simultaneously, a changing of the guard was unfolding in fashion. Words like "disruptor" were being used to describe a new breed of celebs, models, actors, designers, musicians, and photographers, and the industry was taking notice. Iconoclasts, thinkers, and activists, ran the gamut of race, size, age, and nationality.
Fashion was gradually becoming more enlightened, and the results were impactful. There was the appointment of Edward Enninful as the editor-in-chief of British Vogue, Virgil Abloh as the creative director of Louis Vuitton menswear, Dapper Dan teaming up with Gucci to create an in-house brand (after a cultural-appropriation embarrassment), brands Telfar and Pyer Moss taking home the CFDA Fashion Fund back-to-back, Rihanna launching her own brand with LVMH, the September cover "black out" of last fall that saw a constellation of black models and stars splashed across the front of nearly every top fashion periodical. Runways, campaigns, and the Met Ball's red carpet runneth over with black luminaries, poised at the center of the industry's biggest moments and considered its lodestars.
However, by and large, true leadership positions still elude black players. Far too often am I sitting across from white gatekeepers in meetings who remain tone-deaf, complacent with aligning themselves with black creatives but never investing fully in our futures. With rare exceptions, brands and periodicals want our ideas and cache, but aren't quite prepared to hand the keys over. The fashion industry is finally confronting some ugly truths about itself — the way its business model has grossly contributed to the planet's decay, the way it's tangled up with this current administration through shadowy investments — but it remains preoccupied with and stumped by race. While it changes steadily, it's evolving at far too slow a pace for my tastes, which is why I have one foot in and one foot out now as a freelancer.
But then again maybe I have always operated this way? Even when I was working at fashion's most famous magazine, there were inner circles I wasn't able to penetrate. In a way, my ambivalence now reminds me of my former self, fresh out of grad school and unsure how to reconcile my interests.
High style still excites me in the ways that it always has: I geek out over wearing a Christopher John Rogers original dress on occasion, and I spent all of Labor Day weekend watching stylist Jason Bolden and Adair Curtis's Netflix show, Styling Hollywood. Clothes remain an incredible tool for escape and expression for me, and they always will. But without real inclusion, the fashion world in 2019 — the kind practiced by the main gatekeepers — feels no more relevant than it did ten years ago. In fact, it feels less relevant than ever.