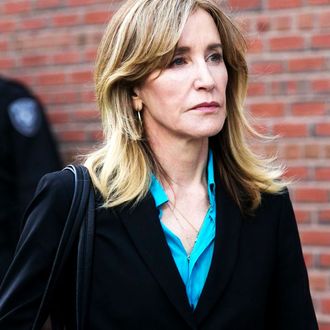 Photo: Katherine Taylor/EPA-EFE/Shutterstock
Earlier this month, Felicity Huffman was sentenced to 14 days in jail due to her involvement in the college admissions scandal, after she entered a guilty plea to the charges of conspiracy to commit mail fraud and honest-services mail fraud — a.k.a. paying $15,000 to fabricate a higher SAT score for her daughter. Now, that daughter wants to leave the family's scamming days in the past and ethically retake the exam. Per TMZ, Sophia Grace Macy "wants to go to college and must take a legit SAT test," which will be allowed by the exam's College Board organization, as there was no evidence during Huffman's trial that suggested her daughter knew about the scam. Interestingly, if it was revealed during the trial that Macy indeed knew a scam was afoot, she would've only been barred from taking the SATs for six months by the College Board.
Upon her sentencing — which also included a fine of $30,000, a year of supervised release, and 250 hours of community service — Huffman issued a statement of apology for her Operation Varsity Blues ties. "I am ashamed of the pain I have caused my daughter, my family, my friends, my colleagues and the educational community," she wrote. "I want to apologize to them and, especially, I want to apologize to the students who work hard every day to get into college, and to their parents who make tremendous sacrifices to support their children and do so honestly." Can't wait till the movie!