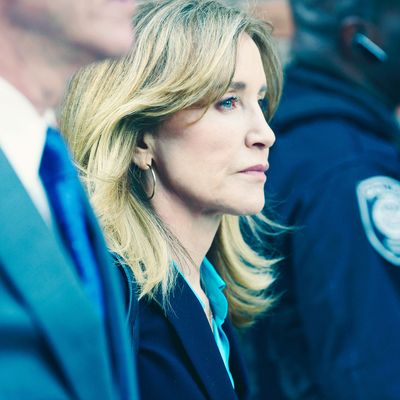 Photo: Joseph Prezioso/AFP/Getty Images
Until now, Felicity Huffman and husband William H. Macy have been relatively tight-lipped on how Operation Varsity Blues and Huffman's impending sentencing have affected their family. We've witnessed some sad balloon shopping and your standard pleading out, but not much else to go on. Letters by Huffman and Macy to the judge presiding over her case offer the most illuminating glimpse to date into just what the hell Huffman was thinking and what the fallout has looked like.
On Friday, in her letter to the judge, Huffman framed her decision to pay college admissions consultant Rick Singer $15,000 to falsify her daughter's SAT score as the unfortunate fate of a woman trying to be a good mother. To wit:
"In my desperation to be a good mother I talked myself into believing that all I was doing was giving my daughter a fair shot. I see the irony in that statement now because what I have done is the opposite of fair. I have broken the law, deceived the educational community, betrayed my daughter, and failed my family."
Prosecutors have recommended as Huffman's restitution one month in prison, a $20,000 fine, and a year of supervised release. Huffman's legal team has countered with a suggestion of probation, a $20,000 fine, and 250 hours of community service.
"I honestly didn't and don't care about my daughter going to a prestigious college," Huffman added, implausibly. "I didn't want my daughter to be prevented from getting a shot at auditioning and doing what she loves because she can't do math." Honestly, nothing would be funnier to me than if all the rich parents linked to the college admissions scandal penned an open letter condemning the real culprit: math.
In his letter to the judge, Macy wrote that as a result of the scandal Huffman's relationship "with her daughters exploded." He continued, "Rebuilding that relationship will be a long process. But I also want you to know Felicity has raised two amazing young women." Macy wrote that their 19-year-old daughter Sophia "has nightmares from the FBI agents waking her that morning with guns drawn," referring to mass arrests in March of 33 parents in Manhattan and Los Angeles who were implicated in the admissions scandal.
Macy also insisted that the unnamed school his daughter applied to, "ironically, doesn't require SAT scores." But the reality, as we all know, is that every bit helps.