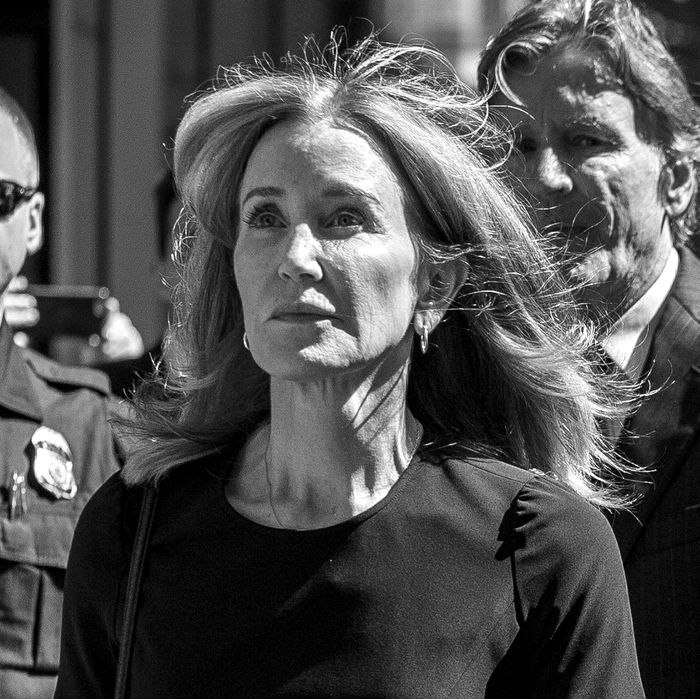 Photo: Boston Globe/Boston Globe via Getty Images
A Boston judge has sentenced actress Felicity Huffman to 14 days in prison, making her the first parent sentenced in the nationwide college admissions scandal uncovered earlier this year. Huffman will also be subject to a supervised year of release, serve 250 hours of community service, and must pay $30,000 in fines.
Huffman was in federal court today facing one count of conspiracy to commit mail fraud and honest services mail fraud, to which she pleaded guilty in May. As one of the parents implicated in the college admissions scandal — a.k.a. Operation Varsity Blues — that has rocked Hollywood and dozens of wealthy families in California and beyond, she admitted to paying William "Rick" Singer $15,000 to falsify her daughter's SAT scores.
Prosecutors asked for $20,000, a year of supervised release, and one month jail time for Huffman, whose attorneys argued instead that she should be put on probation, pay the fine, and serve 250 hours of community service. Huffman was the first of nearly three dozens parents caught up in the scheme. Her husband, William H. Macy, wasn't charged. Huffman's attorneys have argued that Huffman should be treated with more lenience because she paid the smallest amount for Singer's services and did not involve her child in the scheme, unlike some parents, including, allegedly, Lori Loughlin, who is accused of trying to pass her daughters off as crew-team members to help their applications to USC.
The severity of Huffman's punishment has been a public flashpoint, in the context of how severely nonwhite, non-wealthy defendants also accused of nonviolent crimes like mail fraud are routinely sentenced. At the sentencing, according to a court reporter, U.S. Attorney Eric Rosen said, "If a poor single mom from Akron … goes to jail, there is no reason why a wealthy privileged mother should avoid that same fate." Last week, in a letter submitted to the judge in the case, Huffman said she "talked myself into believing that all I was doing was giving my daughter a fair shot. I see the irony in that statement now because what I have done is the opposite of fair. I have broken the law, deceived the educational community, betrayed my daughter, and failed my family."
At the sentencing, when it was her turn to speak, a reportedly tearful Huffman said that she "was frightened, I was stupid and I was so wrong. I am deeply ashamed of what I have done."
In her sentencing remarks, the judge, Hon. Indira Talwani, said that "the outrage in this case is a system that is already so distorted by money and privilege in the first place … In a system in that context, that you took the step of having one more advantage to put your child ahead."