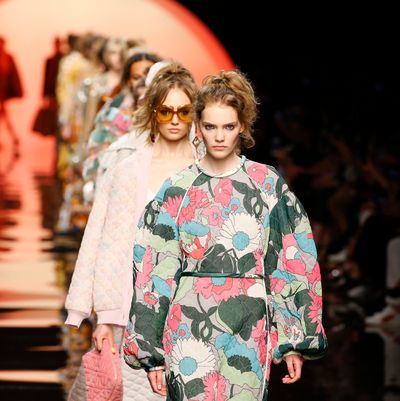 Photo: Estrop/Getty Images
The fall 2019 Fendi show ended with an emotional video of the late Karl Lagerfeld, who died a few days before Milan Fashion Week in February. David Bowie's "Heroes" played and a clip of Lagerfeld showed him sketching the first outfit he wore to Fendi in 1965. The spring 2020 collection, which showed today, hit the reset button.
In her first womenswear collection for Fendi, Silvia Venturini looked to bold, beautiful things: Bette Davis's film The Anniversary, oversize florals, and the psychedelic late 1960s. The models, including Gigi Hadid, Bella Hadid, and blonde Kendall Jenner, took their final walk to the 1969 hit "Aquarius/Let the Sunshine In." The song talks about the dawn of a new era of peace, love, and change. Surely it's not a reference to our current political era, so let's assume it's about the house itself.
The clothes included see-through gingham tees and Lurex baby-doll drseses, and the show closed with a magnificent floral gown that was made out of quilted fabric, like a grandmother's throw blanket. Venturini Fendi was inspired by summer holidays, particularly Italian ones (naturally), when you're relaxed and liberated and free. In addition to the Bette Davis film, she also screened Carry on Camping, a sexy slapstick film from the '60s.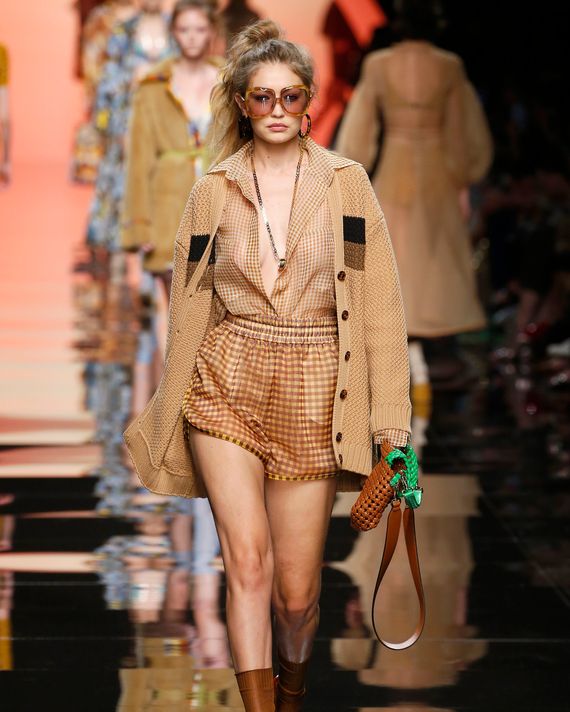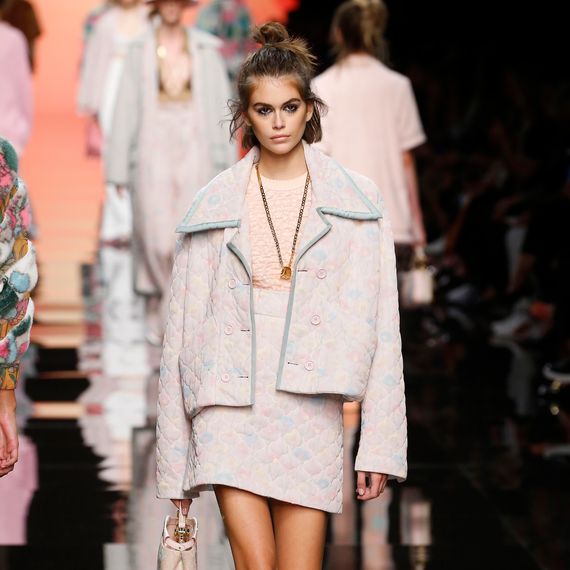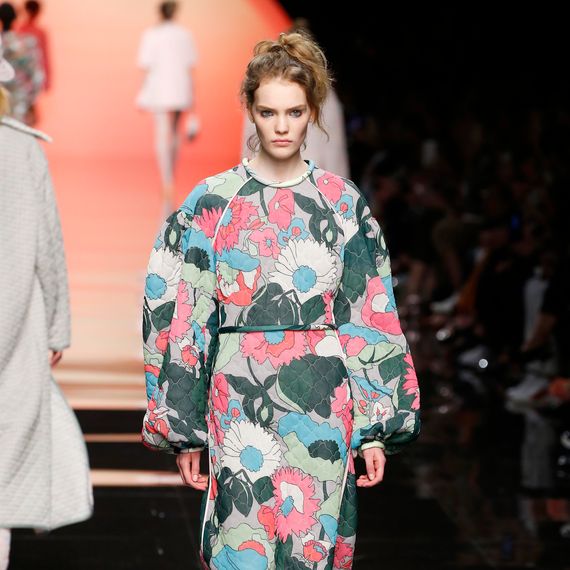 In an interview with Business of Fashion, Venturini talked about life at Fendi without Lagerfeld, who had been with Fendi since 1965. "Karl was with Fendi for 54 years, so it doesn't sound 'natural' to refer to 'the Karl Lagerfeld era.' Now it's just the way we all think here." Now, she informs her collections with the Lagerfeld-ian sensibility. The mourning period is over, as far as runway collections are concerned, but his influence is not gone.
More hints that Fendi is moving forward? Nicki Minaj is designing a 127-piece collection for the house, a sexy collection made for people with curves like Minaj's — her words. The collection is logo-heavy, with bikinis, body-con dresses, and pink purses. Minaj told Elle she "want[s] to feel like I'm back in Southside Jamaica, Queens, New York, wearing Fendi. I don't only want to be front row rocking my Fendi; I want to be in the hood rocking my Fendi, too." Fendi has done streetwear collabs before, recently with Fila, but this is the first that spotlights women who aren't sample size (although that's based on quotes from Minaj — no word on what the size range will be). The late '60s Dolce Vita collection we saw on the runway today didn't feature any curvy models. But perhaps a new era really is dawning.