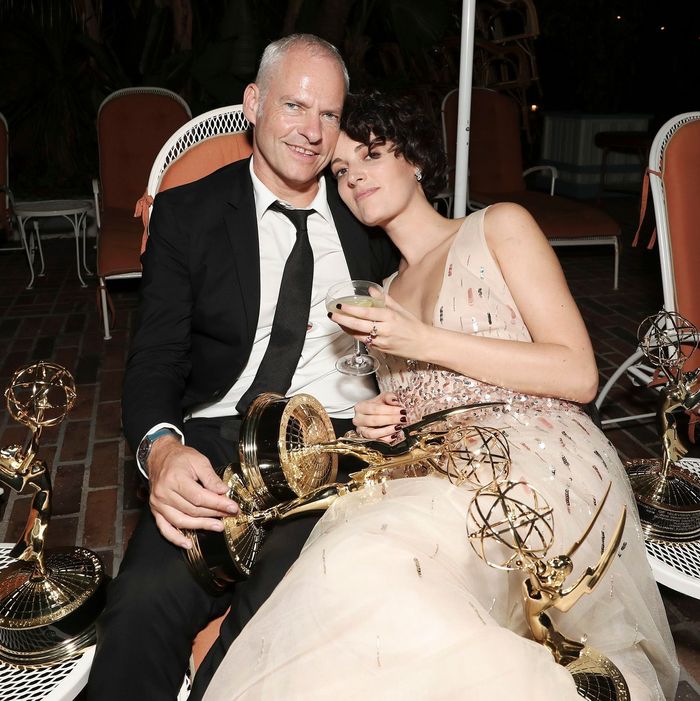 Martin McDonagh and Phoebe Waller-Bridge.
Photo: Todd Williamson/JanuaryImages/Shutterstock
Sometime on Monday morning, the day after the 2019 Emmy Awards, out of the ether emerged a stunning visual that has entranced basically every person who has laid their eyes on it: a photo of Fleabag creator Phoebe Waller-Bridge, elegantly reclined in a chair and surrounded by her three Emmys at the Chateau Marmont, taking a drag from a cigarette in one hand, and clutching a coupe with the other.
The photo, which has been shared repeatedly on Twitter with captions like "happy bi visibility day" and "I'm unWELL," captured a beautiful, rare sight — a rightful award-winner basking in the glory of their deserved recognition. Earlier in the night, Waller-Bridge had won three of the four Emmys for which she was nominated, including Outstanding Lead Actress in a Comedy. So of course, at the conclusion of the awards show, she was ready to party. So she smoked. And she had at least one drink, though probably more like two or six. And throughout it all, she looked incredibly cool. (Alas, this is also where I must emphasize that smoking is bad.)
While the aforementioned photo has garnered the most adulation on social media, every photo and video to have surfaced of the Fleabag celebrating her multiple wins have been glorious.
Watch her hold back uttering "fuck" after winning one of her three awards.
And juggle them at the show's conclusion.
And smile alongside the Hot Priest, who can pull off a suit just as well as he can a clerical robe.
(And one more smoking picture, taken by Josh Cole from BBC Studios, for good measure.)
To the higher power who bestowed upon us these joyous images of Phoebe — and for Phoebe herself, for giving us a truly perfect season of TV — we are eternally grateful.