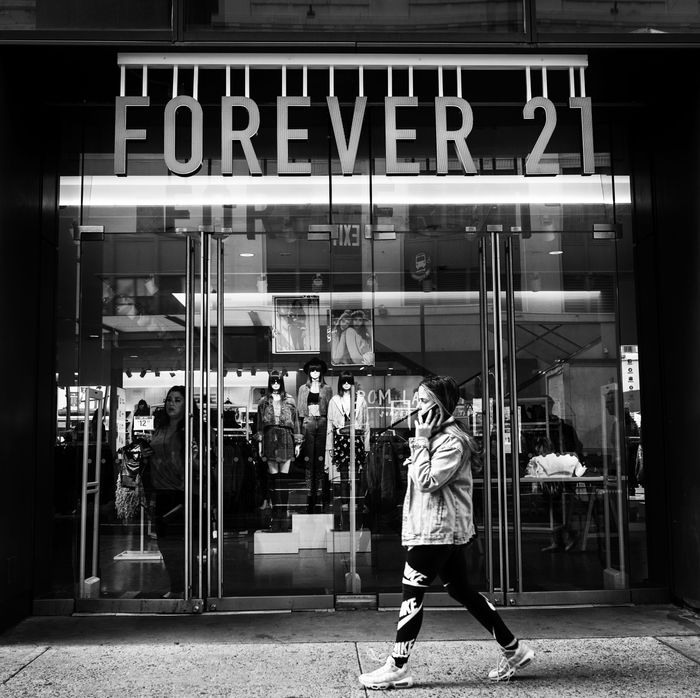 Forever 21.
Photo: Drew Angerer/Getty Images
Between struggling to keep teen shoppers interested and attracting the ire of Ariana Grande, Forever 21 has had a rough couple of years. After months of speculation, the retailer confirmed last night that it would file for Chapter 11 bankruptcy. It will cease operations in 40 countries and close up to 178 stores in the U.S. and up to 350 worldwide (Forever 21 has 800 storefronts).
The chain, which traffics in $10 crop tops and logo tees (who doesn't want to wear a shirt that says "There's No Way You Woke Up Like That?"), has been in restructuring talks for months. Executive vice-president Linda Chang told the Times, "What we're hoping to do with this process is just to simplify things so we can get back to doing what we do best." The Times article also reported that Forever 21 earned $3.3 billion last year, down from $4.4 billion in 2016. But the new, restructured company aims to make $2.5 billion a year. It's ironic but not surprising that the company that partially wrote the handbook for excessive fast fashion is now focusing on simplicity.
Forever 21 has struggled to stay relevant in a rapidly changing retail climate. Its competitors are no longer just mall brands like Zara and H&M but super-fast e-commerce sites like Fashion Nova, which can churn out knockoffs of whatever Kim Kardashian West posts on Instagram in days and doesn't have to pay storefront rents — rents that, coincidentally, contributed to Barneys New York's own Chapter 11. Combine that with falling foot traffic to malls and it's clear that although Forever 21 may be fast fashion, it's not quite fast enough to keep up.
This article has been updated throughout.