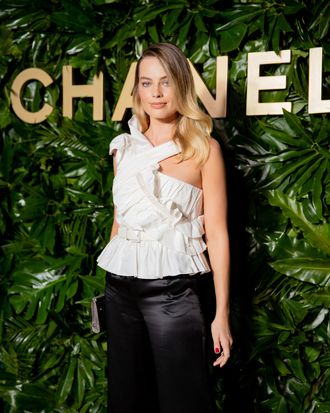 Margot Robbie.
Photo: Kevin Tachman
The scent of Chanel was in the air. Last night in West Hollywood, leading ladies and ingenues alike alighted on the Bar Marmont for an evening celebrating Chanel's new fragrance, Gabrielle Chanel Essence. The notes: tuberose, jasmine, ylang ylang, and orange blossom. The face: Margot Robbie, who, fresh off playing Sharon Tate in Once Upon a Time in Hollywood, Quentin Tarantino's alternative history of the Manson era, held court in an ivory ruffled top and black feather-embellished pants from the house's couture collection.
While making her rounds, Robbie took a moment to discuss fragrance-application techniques and all things olfactory with the Cut. "I hope I'm not doing it wrong," she said with a laugh when asked how she applies her Gabrielle Chanel Essence. "I spray it on my wrists and then I spray it kind of on my neck. Is that how you guys do it?" After some discussion of the "spray-and-prance-through" method, Robbie was inspired. "I feel like it might be more fun to do it that way, but I feel like I'd get less of the perfume on me," she ruminated. "I might try that next time, just for fun." As for her favorite smell in the world? "I'm going to sound very whimsical, but I like the smell just after it rains," Robbie said. "I feel like it has a very distinct smell. It rarely rains in L.A., so thunderstorms are something I miss about home."
The Haim sisters, all in Chanel, posed for pictures together before greeting friends, while Euphoria's Maude Apatow casually dodged interviews in a winning fuchsia Chanel sweater, which she tucked into belted high-waisted jeans. What do the characters on Euphoria smell like? The Cut was keen to find out — but that will have to wait for another occasion.
After the attendees — Rainey Qualley, Dree Hemingway, and Harley Viera-Newton among them — filtered in, everyone made their way poolside, where musician and Bob Marley granddaughter Zuri Marley presided over the DJ booth in a pink tweed Chanel jacket and long tables were festooned with white flower arrangements and charcuterie.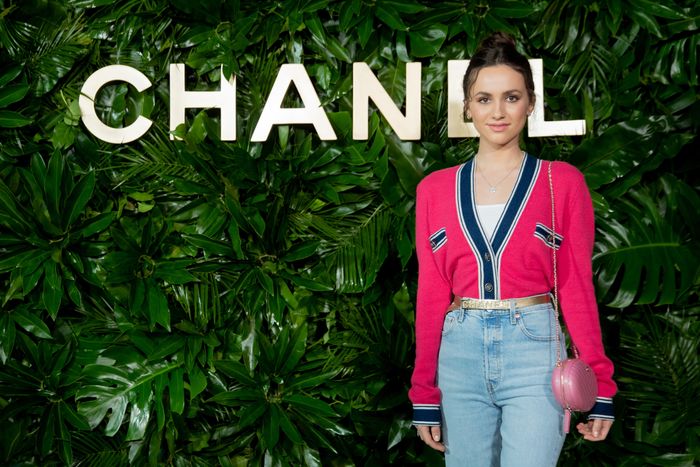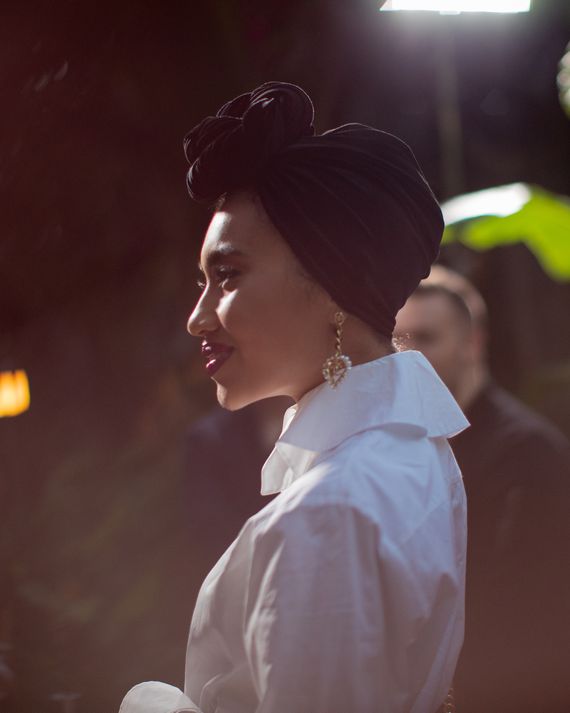 As the first course — heirloom tomatoes with burrata — was served, Robbie made a toast, thanking Chanel In-House Perfumer Creator Olivier Polge, "Not just because he flew all the way from Paris just to be here, just for dinner, but because he invented and created this amazing perfume." She continued, "It is such an incredible honor to represent this fragrance, because it bears the name of an incredible woman, Gabrielle Chanel, who I admire greatly, because she invented her own destiny and she kind of changed the world forever by creating the house of Chanel. So, I'd also like to thank the house of Chanel."
And as the night progressed, Shaed took to the proverbial stage to play a trio of songs, including the hit "Trampoline," while guests including Rachel Zoe (clad in sequins) and fellow musican Yuna (stunning in a head wrap) whipped out their phones to preserve the moment in their Instagram stories.
On the way out, guest were invited to take home the new Gabrielle Chanel Essence fragrance, so they too can smell like the fashion legend — or Margot Robbie.
Once upon a time in Hollywood, indeed.