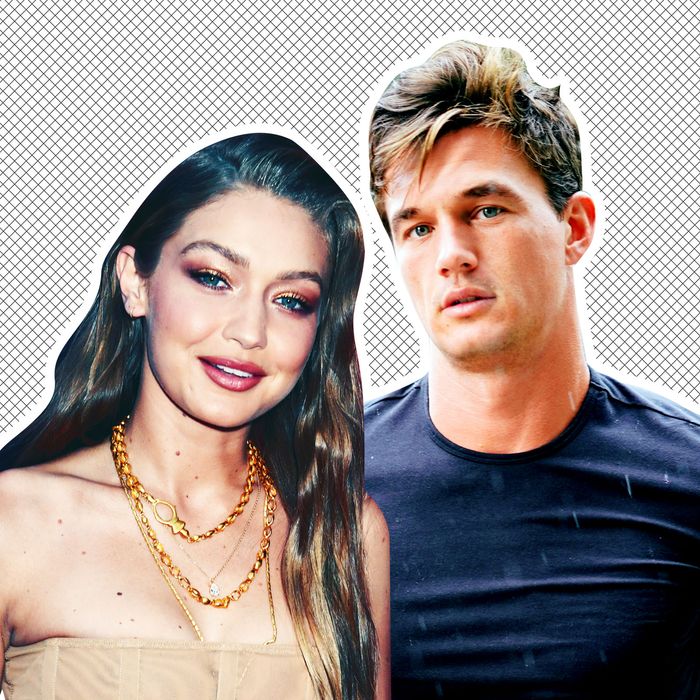 Gigi Hadid and Tyler Cameron.
Photo: Getty Images, SplashNews
Gigi Hadid may not be ready to officially call Tyler Cameron her boyfriend, but she is, apparently, serious enough about their relationship to invite him to her grandmother's funeral abroad. Congrats to the couple on this major, albeit unfortunate, relationship milestone?
On Thursday, the Hadid family came together in Rotterdam to celebrate the life of Ands van den Henrik, Gigi's grandmother, who passed away at 78 after battling cancer. But the Hadids weren't the only ones present at the funeral: In photographs published by the Daily Mail, you can see that Gigi brought along the former Bachelorette star, whom she's only been dating for a month.
I know what you're thinking: Isn't it a little soon to bring your partner of one month to a funeral? Especially to one that's abroad? Maybe! But things might be different when you're famous, who knows.
Since Gigi and Cameron were first spotted together in early August, they've been on six dates, including a mini-vacation upstate. Also, Hadid introduced Cameron to Serena Williams, which feels like another significant celebrity milestone. (And Bella just followed Cameron on Instagram!)
For what it's worth, it appears that moving quickly with your significant other is a trend in the Hadid family. According to Elle, Anwar, who has been dating singer Dua Lipa for two months, also brought her to the funeral. In fact, he even one-upped Gigi: According to the Sun, he and Dua Lipa are already thinking about moving in together.