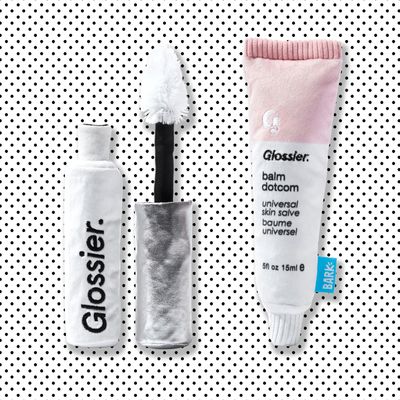 We want to give our animals everything. We love them, they are our best friends, and they deserve the world. It's sad that we cannot share all of our most favorite things with them — coffee, grapes, etc. — but now, finally, we can at least give them our favorite daily face enhancers: Glossier's Boy Brow and Balm Dotcom.
This week, the beauty brand released a collaboration with doggy monthly subscription service BarkBox, which reimagines two of Glossier's most popular products as soft little toys that make both a crinkly noise and a squeaky noise. (The toys promptly sold out, but we're told they'll be back in stock on September 18.) Do our animals feel as enthusiastic about the products as we do? We put it to the test.
Here is what five dogs and one cat think of the toys.
Katie Heaney, Senior Health Writer + Rindy, Dog
Rindy reacted to the Glossier toys the way she does most BarkBox toys: with initial excitement that soon wanes into ambivalence. Personally, I think the pretend little Boy Brow and Balm Dotcoms are sooooo cute, almost painfully so, but because Rindy has no attachment to their inspiring products, she doesn't seem to feel the same way. She has chewed some fluff out of the Boy Brow wand, though, and I can see it being something she returns to when she's bored, and sturdier bones/toys aren't available.
Amanda Arnold, Writer + Paulie, Cat
While my veterinarian would describe Paulie as a felis catus (that means cat), I find that his energy is closer to that of a dog's, which is why I volunteered him to test out Glossier's new dog toy. One thing to know about Paulie: He's not picky when it comes to objects he can play with or destroy. But his reaction to being given the Glossier toy was more than enthusiastic — he loved it. He licked it! He wrapped his lil baby legs around it! He even took a little nap with it! Paulie, my son, is a fan. However, I would still like to urge Glossier to release a cat-specific line for all the other feline sweeties out there who don't give off dog energy. Every pet deserves a toy!
Kelly Conaboy, Writer-at-Large + Peter, Dog
Oh my gosh, I love these toys. Peter has a BarkBox subscription and receiving it is the most exciting thing that happens to me every month — guessing what the theme will be, seeing the toys, showing Peter the toys. When I die, ideally I'd like to come back as "someone who works at BarkBox." Compared to my own enthusiasm, Peter's typically seems somewhat muted, and this was true of our comparative reactions to the Glossier-themed toys, too. He liked them in a chill way, which is his nature. Still, he played with them the way he plays with all of his toys which is: booping me with his nose as a way to say, "Please try to take this toy away from me as a game."
Madeleine Aggeler, Writer + Cleo, Dog
Cleo is a 5-year-old Shih Tzu/Cocker Spaniel mix whose favorite activities are napping and getting petted. In the two years that I've known her, she has never once played with a toy, but I thought maybe this stuffed Boy Brow would inspire her, because it's very cute, and also she sees me use real, non-stuffed Boy Brow every day. Alas, it did not. I put it next to her while she was napping on my bed, and she completely ignored it, so then I put it between her paws so she could see that it was soft, and made a fun crunchy sound when you press on it. She yawned, rolled her eyes at me, and went back to napping.  She did fart on me right after this picture was taken though, so it seems like the toy relaxed her.
SHE LOVES IT!!!!!
Jane Larkworthy, Beauty Editor-at-Large + Remy, Dog
What I admire about Remy is how she juggles high/low so seamlessly. When it comes to dog toys, her favorites are the ones I find in the children's stuffed animal bins at Ikea, so maybe Glossier's Toy Brow or BalmDogCom are too fancy?
I smiled when I received the toys from BarkBox and placed them on the floor for her to pick up. She didn't, so I picked up Toy Brow and offered it to her. She took it into her mouth almost begrudgingly and brought it to her favorite chew spot on the dining-room floor, then promptly dropped it and walked away. But, in the name of content, I was not ready to give up yet. I grabbed my phone and the toys and led her outside, where I placed them in the grass near her paws (she wouldn't let me put them too close, though) then took the picture.
And that was the end of the BarkBox love story, of which there never really was one. Maybe it's because there is no hint of Swedish meatballs embedded into their fabric, or maybe she sees the Glossier name and equates that with MOM'S BOY BROW, so she knows to steer clear.
If you buy something through our links, New York may earn an affiliate commission.