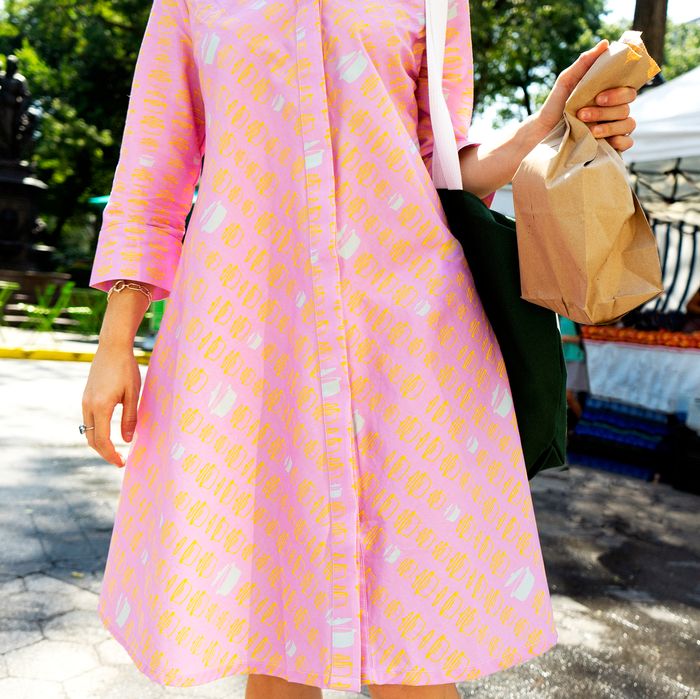 What better outfit to wear while having people over than a brightly colored dress with pots on it? This one has a maximalist, on-the-nose charm that would make everyone's favorite host — Amy Sedaris — proud.
Great Jones, the brand of very pretty pots and pans helmed by Sierra Tishgart (a former Grub Street editor) and Maddy Moelis, partnered with the ethical fashion brand Zuri on a block-printed, pink and orange dress. It's decorated with Great Jones's eternally instagrammable dutch oven, the Dutchess. Given that Great Jones became well known in part because of its gorgeous attention to design and savvy social-media presence, it's not super surprising that the brand has branched out into clothing. Food is having a fashion moment. And it's impressive that Zuri turned a pot print into something that looks playful in a modern way, not a granny way.
Fittingly, they all celebrated in style, with a party at Tishgart's apartment attended by designer Susan Alexandra and Bon Appetit star Molly Baz. Moonlynn Tsai, a chef at Kopitiam, served coconut rice topped with dried anchovies, oyster omelets, and a delicious milk-bread sandwich filled with thick, coconut-y kaya jam. If that inspires you to host a dinner party, go to a farmer's market, or make your own indulgent sandwich, consider wearing a Zuri dress to fully match the vibe.
Available in sizes XXS-XL.
If you buy something through our links, New York may earn an affiliate commission.